PHIL RANELIN



This page is updated: April 2, 2022 6:34 PM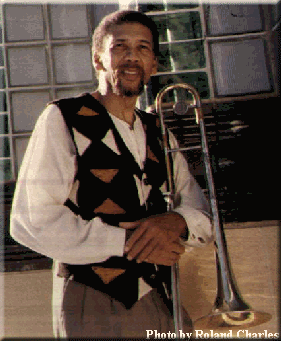 Phil Ranelin, Trombonist & soloist, USA
Trombonist, Composer, Arranger, Producer, Band Leader, Educator Phillip Arthur Ranelin was born in Indianapolis, Indiana where he grew up under the influence of J.J. Johnson, Wes Montgomery, Earmon Hubbard, Pookie Johnson, Russell Webster, Willis Kirk, Jimmy Coe and Melvin Rhyne. Ranelin is loved and respected around the globe as a master trombonist of the J.J. Johnson tradition, as former Freddie Hubbard sideman and as co-founder of Detroit's famed TRIBE Records.

Ranelin has studied and played with some of the most highly respected Jazz and classical educators in the business, including professors David N. Baker, Larry Ridley, Nathan Davis, Bunky Green, Dr. Louis Smith and Donald Byrd with whom in 1976 he received the key to the city of Detroit. Ranelin's Jazz performance credits include: Norman Connors, Ella Fitzgerald, Art Pepper, Teddy Edwards, Gerald Wilson, Vi Redd, Freddie Redd, Marcus Belgrave, Wendell Harrison, Harold McKinney, Ray Appleton, Roy Brooks, Sarah Vaughan, Larry Gales, Tootie Heath, James Spaulding and Freddie Hubbard with whom in 1981 he appeared on MISTRAL, Japan's #1 Jazz record of the year. As a leader, Ranelin has shared the bill with Stanley Clarke, Christian McBride, Les McCann, Sonny Rollins, David Sanchez, Pharoah Sanders, Wayne Shorter, Jimmy Smith, O.C. Smith, Leon Thomas and McCoy Tyner.

As co-founder of Tribe Records, Ranelin launched into uncharted territory for musicians to take charge of their own careers in producing, publishing, managing, marketing and distributing their own musical works of art. As a Los Angeles resident since 1977, Ranelin has also earned the respect of the Jazz community as a composer and arranger as evidenced by the popularity of his 1996 self-produced CD, "A CLOSE ENCOUNTER OF THE VERY BEST KIND" (Lifeforce). He has also been designated by official resolutions as a "Rare and Valuable Cultural Treasure" and as a "Cultural Ambassador throughout the Nation and to the world audience" by the Mayor and the City Council of Los Angeles, by the Los Angeles County Board of Supervisors, by the California Senate and by the California Assembly. Ranelin's 2001 Juneteenth performance in Pacoima was officially honored by United States Senator Barbara Boxer and on November 30, 2001, performing at Watts Labor Community Action Committee's Phoenix Hall in tribute to the culmination of John Coltrane's 75th birthday year, Ranelin was also honored by the United States Congress via California Congresswomen Juanita Millender-McDonald and Maxine Waters with certificates of appreciation for community service and excellence as an artist.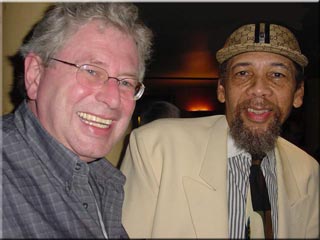 Phil with René Laanen at the North Sea Jazz Festival in The Hague, Netherlands 2004

Also in Los Angeles Ranelin has earned another title of respect as a band leader. Under the banner of The Phil Ranelin Jazz Ensemble, Ranelin has amassed some of the most dynamic musicians in the Los Angeles area. Each performance of The Phil Ranelin Jazz Ensemble is a musical treasure, such as the now legendary tribute to Freddie Hubbard's 60th Birthday, April, 1998 at the Vision Theatre in Leimert Park; his tribute to the late Horace Tapscott at the Skirball Cultural Center where he debuted an entire original suite in tribute to Tapscott, with whom Ranelin played as a permanent member of the Horace Tapscott Sextet and as a member of Tapscott's Pan Afrikan Peoples' Arkestra; his free concerts in tribute to Duke Ellington's Centennial Year for the Los Angeles Department of Cultural Affairs via a Regional Arts Grant to perform for under-served communities at two Los Angeles City Parks in the San Fernando Valley; his free concert in tribute to Louis Armstrong's Centennial Year at the State of California's African American Museum sponsored by The Times/Mirror Foundation; his five-trombone tribute to J.J. Johnson at the 2002 International Association for Jazz Education Conference at the Long Beach Convention Center; his tribute to Eric Dolphy at the Culver City Radisson Hotel; his Howling Monk Jazz Coffee Bar performance in tribute to John Coltrane's 76th birthday; and his presentations of Phil Ranelin & Tribe Renaissance at the 2000 Pasadena Playboy Jazz Festival, the Los Angeles County Museum of Art, at WLCAC mentioned above, Jazz At Drew, USC's Bovard Auditorium as part of LA JAZZ 2002 by Spectrum, at Santa Monica,s hot spot, The Temple Bar, and at UCLA's 2002 Annual Reggae and Jazz Festival - all showcasing a trombone-led all-star saxophone quartet front line and a four-piece rhythm section reminiscent of Ranelin's Tribe hey-days in Detroit.

Ranelin's discography is extensive. Clint Eastwood produced MONTEREY JAZZ: 40 LEGENDARY YEARS (Warner Brothers 1997) which included Freddie Hubbard's 1980 performance featuring Ranelin on trombone. Another compilation featuring Joe Henderson, Eddie Harris, Eddie Henderson, Woody Shaw, Johnny Coles and Tom Harrell also features one of Ranelin's original compositions, "Ya Know What I Mean," the final cut from A CLOSE ENCOUNTER OF THE VERY BEST KIND. Ranelin is also proud of his community involvement track-record in Los Angeles. He has enjoyed the trombone of choice seat in the Horace Tapscott Sextet, The Pan Afrikan Peoples' Arkestra, the Michael Session Sextet and Taumbu International Ensemble. His WLCAC performance in Phoenix Hall in homage to John Coltrane, his Howling Monk Tribute to Melba Liston and his IAJE five-trombone tribute to J.J. Johnson were both made possible in part by a highly competitive three-year grant from the California Arts Council. Ranelin is currently focusing on securing concert and festival bookings for his nine-piece Phil Ranelin & Tribe Renaissance band in order to promote the Hefty Records June 2001 reissues of VIBES FROM THE TRIBE and THE TIME IS NOW which was voted 4th in Jazz Times' top ten Best Reissues (two CDs or more) for the year 2001! In 2002 Ranelin was nominated as Best Jazz Artist of the Year in the LA Weekly Music Awards.

For more information please visit:
Hefty Record's Home Page
- Phil Ranelin's Home Page

-



Copyright 2022 René Laanen - Trombone Page of the World
Please direct comments and questions about this web site to René Laanen ~ contact