B





Mark Babbitt - All Styles
USA - Ellensburg, WA


Getzen 3047AFR
Mark Babbitt is Assistant Professor of Trombone and Associate Director of Bands at Central Washington University. He teaches the trombone studio, directs the trombone choir, and conducts the symphonic band. He is also a member of the acclaimed resident faculty brass quintet Brass Central.





Donald 'Don' Babcock - Classical
USA - Ypsilanti, MI
As a teacher, performer, and clinician, Dr. Donald Babcock is busy throughout the Detroit-Metro area. He currently plays principal trombone in the Ann Arbor Symphony and the Michigan Chamber Brass. He visits local schools and gives frequent solo recitals.





Ron Babcock - Classical
USA - Portland, OR
Ron Babcock received his Bachelor of Arts at Louisiana Tech University, a Master of Music in trombone performance at the University of Oklahoma and his Doctorate in trombone performance at the University of North Texas.





Armin Bachmann - Classical - Armin Bachmann [bio at this site]
Switzerland - Wolfwil
Studium: Posaune bei Prof. B. Slokar (Bern und Trossingen) und Dirigieren bei A. Benz (Luzern) Instrumentarium: Posaune, Alphorn, Euphonium, Bassflügelhorn, Dirigentenstab Solist: Mit Sinfonieorchester (Kammerorchester München, Sinfonie).






Robert Bachner - Jazz Improv - Robert Bachner [bio at this site]
Austria - Vienna
Composer & Arranger born on 27th of April 1972 in Vöcklabruck, Upper Austria (UA), Austria/Europe Living and working in Vienna/Austria since 1996. Since March 2008 he is teaching at the "University of Music And Performing Arts" in Vienna, Austria.





Craig Bailey - All Styles
USA - Gainesville, GA


Edwards 350 / Bach
Director of Bands: Gainesville Middle School Member of Northwinds Symphonic Band, Atl anta Trombone Ensemble, Gainesville Theater Alliance Orch., Former 2nd Trombone Imperial Orchestra, Lakeland, FL. Private studio. Bands consistantly recieve Superior ratings at District and Regional Concert Festivals.






Taswell Jr Baird - Jazz Improv 1922 - 2002
USA
Baird was born in St. Louis in 1922. Also known as "Little Joe," after his middle name, Baird received his first trombone at age 12. Both he and his brother Bill went on to travel the country, playing gigs and recording albums with jazz greats from Dizzy Gillespie to Lena Horne.





David Baker - Jazz Improv
USA - Bloomington, IN
Composer-cello-educator; b. 12/21/31 Indianapolis, IN A true jazz renaissance man, David Baker has been active in the jazz community as musician, composer, educator, conductor, and author. Of all the NEA Jazz Masters, he is one of the most active as a college and university educator.





Buddy Baker - Swing
USA


CG Conn 100H / Doug Elliott LT G99
Buddy Baker received his BM and MM degrees in Trombone Performance and a Performer's Certificate from Indiana University. He has toured and recorded with Stan Kenton and has toured with Woody Herman and Henry Mancini. Buddy was principal trombonist (1965-1998) with the Greeley Philharmonic Orchestra.





Brett Baker - Brass Band
UK - Chester


Michael Rath R4 / Denis Wick sm4
Brett is a trombonist who combines robust flair with delicacy, technical accomplishment with a warm audience personality.





Jonathan Baker - All Styles
USA - Macon, GA


Edwards Bass Trombone / 454-DE
Mr. Baker holds a Master of Music degree from the New England Conservatory of Music, Boston, MA, and a Bachelor of Music degree from the Chicago College of the Performing Arts, Chicago, IL. He has studied with the leading trombonists in the country including Douglas Yeo, of the Boston Symphony Orchestra; Joseph Alessi, of the New York Philharmonic; and Charles Vernon of the Chicago Symphony Orchestra.




Tony Baker - Classical
USA - Denton, TX
Baker is currently a faculty member at the University of North Texas College of Music. Previously, he served as assistant professor of trombone at Ohio University and as visiting assistant professor of trombone and euphonium at Kent State University.





Tom Ball - All Styles
USA - Arvada, CO


Bach 16 / Doug Elliott 100 C
Tom Ball has been working as a freelance trombonist and euphoniumist since 1990 and currently resides in the Denver Colorado area. Mr. Ball has been teaching private lesson in the Denver area since 1995.





Darren Bange - Brass Band
USA - Washington, WA
Staff Sergeant Darren Bange joined "The President's Own" United States Marine Band in May 2001. SSgt Bange began his musical career at the age of 5. Upon graduating in 1995 from Owings Mills High School in Owings Mills, Md., he attended the Peabody Conservatory of the John Hopkins University.





Clarence Banks - Jazz Improv
USA - Englewood, NJ
Born in Englewood, NJ, Clarence started playing professionally in high school. He graduated from Fairleigh Dickinson University with a BA in music education.





Stan Bann - Swing
USA - Eden Prairie, MN
Born and raised in Edina, Minnesota, Stan Bann began his musical career playing the baritone horn (or euphonium). Adding trombone as a "double" in high school his switch to trombone as his primary instrument was completed with his enrollment at Berklee College of Music in 1974.





Lucien Barbarin - Jazz Improv
USA New-Orleans, LA


Edwards
Barbarin is recognized as one of the finest practitioners of traditional jazz trombone in the world today, and is highly regarded for both his audience-thrilling live performances and his recordings.





Chris Barber - Swing
UK


Schmelzer
British jazz trombonist Chris Barber celebrated his 50th year as a bandleader in 1999. Inspired by the King Oliver Creole Jazz Band, Chris formed his first Barber New Orleans Band in 1949 at the age of nineteen.





Roland Barber - Jazz Improv
USA - Manhattan, NY
Born in Nashville, Tennessee on April 2 nd, 1980, along with twin brother (and accomplished saxophonist) Rahsaan Barber, Roland's earliest influences include the spirited gospel sound of the St. Luke C.M.E church founded by the twins' great-grandparents and their families.





Bill Barbour - All Styles
USA - Sterling Heights, Michigan
Bill Barbour has been an active Detroit-area jazz, classical and pop trombonist since 1977. He holds a Bachelor of Music degree from The University of Michigan and a Master of Music degree from Wayne State University. He has studied with Bill Lane, Glenn Smith, Joseph Skrzynski, Robert Jones and Ray Turner. bbarbour57@wowway.com





Edward Bard - Classical
Canada - Orillia, Ontario


Bach 42BO / Bach 6 1/2 AL
Orillia Wind Ensemble, Orillia, Canada





Glenn Bardwell - All Styles (click the link for a large picture)
Australia - Melbourne
Freelance bass trombone and sackbut player in Melbourne, Australia - Glenn has completed a masters of performance (bass trombone and sackbut) at Melbourne University Victorian College of the Arts. Studied early trombone (sackbut) in Europe (Switzerland, Holland and England) and modern orchestral bass trombone in th USA (Chicago, New York City). He works with the two fulltime orchestras in town as well as a variety of groups and musicals. He is the regular bass trombonist with the Australian Pops Orchestra. He performs early music with a variety of groups including La Compania which have recorded for major films ( Elizabeth, Noaha's Ark).





Dave Bargeron - All Styles - Dave Bargeron [bio at this site]
USA - Athol, MA
He won his first lead trombone job playing with Clark Terry's Big Band and from 1968-1970 played Bass Trombone and Tuba with Doc Severinsen's Band. In 1970, he joined "Blood, Sweat and Tears." Dave's recording and concert schedule worldwide with BS&T includes eleven albums.





Robert 'Bob' Barker - Jazz Improv
USA - Sparks, NV


Bach LT16M / Bach 11c Mt. Vernon
Oakland Hight School The Bill Smith big band. Studied trombone with Frank Webber, French Hornist and Ralph Leis e, Houston Symphoney while stationed at Ellington AFB, Texas. Played leasd trombonist in Air Force field bands for 12 years and attended the Air Force School of Music in 1959 -60.





Samuel Barlow - Brass Band
USA - Washington, WA
Staff Sergeant Samuel Barlow joined "The President's Own" United States Marine Band in June 2004. SSgtt Barlow began his musical training at age 12. Upon graduating in 1995 from Northside High School in Jackson, he attended Austin Peay State University in Clarksville, Tenn.





Art Baron - Jazz Improv
USA - New York, NY
Art Baron joined the Duke Ellington band in August 1973 at the age of 23, the last trombonist Ellington ever hired. Previously he had spent time on the road working with Buddy Rich, Stevie Wonder, and James Taylor.





Dan Barrett - Swing
USA - New York, NY
b. Dec. 14, 1955, Pasadena, CA A major player in the small-group swing movement of the 1980s and '90s, Dan Barrett's trombone is equally at home in Dixieland and swing settings. He started on trombone in high school and played in California with the South Frisco Jazz Band and the Golden Eagle Jazz Band.





Walter Barrett - Classical - Walter Barrett [bio at this site]
USA - Garrison, NY


Yamaha
Walter Barrett performs as a free-lance musician throughout the New York area on Alto, Tenor & Bass Trombones, Bass Trumpet, Euphonium, and Tuba. He has performed with the Westchester Symphony, Yonkers Philharmonic, Philharmonic Symphony of Westchester, and the Hudson Valley Philharmonic, to name a few. >>> more





Ron Barron - Classical - Ron Barron [bio at this site]
USA - Boston, MA


Edwards
Ron has been Principal Trombonist of the Boston Symphony Orchestra since 1975. He joined the orchestra in 1970 after being a member of the Montreal Symphony Orchestra, and also served as Principal Trombonist of the Boston Pops for thirteen seasons.






Richard 'Rick' Bartkus - All Styles - Richard Bartkus [bio at this site] 1953 - December 4, 2019
USA - Mission Viejo, CA


Getzen 3508R jazz/rock / Schilke 47B
born in Oak Park, Illinois in July of 1953 and the first born son of Jerry & Sara Bartkus of Chicago Illinois. While Rick spent many summers visiting his grandparents in Chicago, he actually grew up in Long Beach California and attended Stanford Jr. High and Millikan High School.





Peter Bassano - Classical - Peter Bassano [bio at this site]
UK - London
Peter Bassano is Music Director of the Oxford University Sinfonietta, City of Cambridge Band and the professional choir The Gentlemen of the Chappell. From September he will become conductor of the City of Rochester Symphony Orchestra.





Ian Bateman - Jazz Improv - Ian Bateman [bio at this site]
UK - Swindon, Wiltshire


King 3B
Ian has been a professional jazz trombonist in the UK for over 30 years. He is currently playing with Acker Bilk and his Paramount Jazz Band, as well as Andy Cooper's Top 8 Band and is also featured solist with the Back To Basie Orchestra.





James Bauchert - All Styles
USA - Loma Linda, CA


Getzen David Taylor / Monette BT-1L, Prana
Bass trombonist, CA. Played semi-professionally for 40 years, including h is first field of study, Music Education at The Ohio State University, where he studied euphonium under Dr. Paul Droste. So, it is long past time he joined the community.





Paul Bauer - All Styles
USA - DeKalb, IL


Edwards 2 indep. valve / Schilke custom
Professor Paul Bauer is Director of the Northern Illinois University School of Music, and he has served in that role since 1994. Dr. Bauer has also served on the faculties at Chicago State University, Northwestern University, and Southwest Missouri State University.





Yves Bauer - Classical - Yves Bauer [bio at this site]
France - Lille


Bach
Yves Bauer studied music at the Strasbourg Conservatoire. He then went on to study at the Paris Conservatoire, where he obtained First Prizes in bass trombone and chamber music.





Konrad 'Conny' Bauer - Jazz Improv
Germany - Magdeburg
Konrad was born in Sonneberg in Thuringia, Germany. As student at senior high school in Sonneberg between 1957 and 1961 he was enthusiastic about modern dance music like Swing, Boogie-Woogie, Blues and Rock'n'Roll. He learned self-educated to play guitar and piano.





Stephen 'Steve' Baxter - Funk
USA - Hollywood, CA


Yamaha 500 bore / Bach mt. vernon 6
In the LA area as a freelance musician, have played and recorded with a lot of artist around the world.





Burak Baydar - Classical
Turkey - Antalya


Bach 42 BO / Bach 4G
BMus Dokuz Eylul University, PGdip RNCM, PPDip RNCM UK, MMus Dokuz Eylul Music Faculty, Soloist Nationwide, Principal trombonist, and director with the Antalya State Symphony Orchestra in Turkey.




Kelly Beaman - All Styles
USA - Rockford, IL


Bach 36B / Bach 6 1/2
Kelly Beaman is a trombonist, arranger, ASCAP composer and vocalist. He's performed professionally at Walt Disney World and Madison Square Garden and has studied and performed with some of the best in the industry. Past experiences include free-lance work in Chicago, New York and Orlando.





Scott Bean - All Styles
USA - DENVER, CO
Mr. Bean is currently Professor of Trombone and Euphonium at the University of Denver's Lamont School of Music. Prior to moving to Denver, Scott was Professor of Low Brass and Music History at the University of Wisconsin-La Crosse, was on faculty at Central Connecticut State University from 2002-2012 and The Hartt School (University of Hartford) from 2003-2010. In addition, Mr. Bean is on faculty at the Yale School of Music, Norfolk Chamber Festival as a teacher and artist.




David 'Hillburg' Beatty - All Styles
USA - Glendora, CA


Yamaha YBL-622 / Bach 1 1/4 GM
A freelance trombone player in Los Angeles since 1978. Credits include numerous commercials, phonograph, television and motion picture recording. Former member of Bill Watrous big band, currently first trombone for the Ralph Carmichael big band.





Christopher 'Chris' Beaudry - All Styles - Christopher Beadry [bio at this site]
USA - Boston, MA


Shires / Doug Elliott
Boston area Bass Trombonist, Chris Beaudry performs regularly with the IRIS Chamber Orchestra, and has perfor med with the Rochester, Buffalo, Rhode Island, and Plymouth Philharmonic Orchestras as well as the Portland and New Hampshire Symphony Orchestras.





Pierre Beaudry - Classical
Canada - Montreal, Quebec
Bass Trombone, Montreal Symphony Orchestra Musician of the OSM since: 1982 Academics and teachers: Conservatoire de musique de Trois-Rivières with Joseph Zuskin (second trombone at the OSM until 1985).





Pascal Beck - All Styles - Pascal Beck [bio at this site]
France - Strasbourg


King 5B / Denis Wick 5AL
Lives in Strasbourg and plays in France, Germany and Switzerland. Jazz: Orchestre Regional de Jazz d'Alsace, Opening, VSP orkestra. Latin and caribean: Jean - Michel Cabrimol, Candela, Sonando, Freek.





Fred Beckett - Jazz Improv
USA
Jan 23, 1917 in Nellerton, MS Trombonist Fred Beckett is best known as a member of the Lionel Hampton Big Band prior to the Second World War. A subsequent tour of duty with the army turned out badly for Beckett, who contracted tuberculosis while enlisted and died a few years later.





Michel Becquet - Classical - Michel Becquet [bio at this site]
France - Lyon


Courtois
Michel Becquet was born on February 4, 1954 in Limoges,Grâce. With the smoothness of his playing, his great sensitivity and his unique sonority, Michel Becquet is considered to be one of the best representatives of the French school of wind instruments in the entire world.





Douglas (Bugs) Beddow - All Styles - Douglas Beddow [bio at this site]
USA - Detroit, MI


Holton TR158 / Bach 2G
born in Detroit May 17, 1953 started playing trombone at age 9 - Houghton Elementary School Detroit, MI Groves HS Birmingham, MI 1970 Northern Michigan University Bachelor of Music Education 1975 Madonna University Masters of Music Education candidate 2006 Taught music at: Leland Public Schools Leland, MI.





Bob Beecher - All Styles
USA - Los Angeles, CA


Holton TR158 / King 2B
Principal trombonist with the Los Angeles Pierce Symphonic Winds. Also playing swing jazz in the LA Winds Big Band. Both groups perform regularly in the Los Angeles area and have toured the US, France, Italy, Germany, Austria, Hungary, and the UK.





Richard Begel - Classical
USA - Washington Township, OH
Trombonist with the Dayton Philharmonic, Brass Trilogy, and the Cleveland-based North Coast Chamber Players. He is also a substitute with the Cincinnati Symphony, Cincinnati Opera, Richmond Symphony (IN), Dayton Philharmonic Concert Band, and other ensembles.





David Begnoche - Classical
USA - Boston, MA
David Begnoche was inspired to play trombone by the abundance of small town concert bands in his native Connecticut. Having received his Bachelor's Degree from the New England Conservatory of Music, and Master's Degree from The Manhattan School of Music.





C.L. Behrens - Classical
USA - San Jose, CA
C.L. Behrens is the bass trombonist with Opera San Jose, Symphony Silicon Valley, and the Stockton Symphony. Mr. Behrens previously played with Opera Cleveland. In addition to his orchestral pursuits, Mr. Behrens can be found playing in an assortment of commercial music projects. When C.L. isn't transcribing horn charts for cover bands, he likes to work on his minimalism compositions. Mr. Behrens maintains a private studio in the San Jose area, and is faculty at the Five Seasons Chamber Music Festival in his hometown; Cedar Rapids, Iowa. C.L. earned his Masters from San Francisco Conservatory of Music and his Bachelors from Oberlin Conservatory of Music. His teachers have included John Engelkes, James DeSano, Thomas Klaber, and William Behrens.






William 'Bill' Behrens - All Styles 1955 - 2004
USA
Former Low Brass Instructor at Coe College - Mr. Behrens was tragically killed in an automobile accident in April 2004. William Behrens was a member of the Cedar Rapids Symphony Orchestra from September 1980 until his death in 2004. Mr. Behrens also performed with the symphony brass quintet.





Noah Bellamy - Jazz Improv
USA - Miami, FL


King Liberty 2B / Doug Elliott
Noah Bellamy has spent the last ten years as an in demand performer, arranger, and educator. He h as arranged music that has been performed by Wynton Marsalis and The Lincoln Center Jazz Orchestra, Grammy Award Winner Bob Belden, Grammy Award Nominee Fred Hersch, and Grammy Award Nominee Conrad Herwig.





Alessandro Benazzo - Classical - Alessandro Benazzo [bio at this site]
Italy - Porlezza
Alessandro Benazzo was born in Lugano, Swiss.





Brian Bender - All Styles
Brian Bender (trombone, piano, melodica, percussion, composer) has performed in the Cape Verde Islands (West Africa), Egypt, Israel, Alaska, France, Italy, the United Kingdom and throughout the United States. He has performed at Carnegie Hall as well as the Presidential Inauguration of Bill Clinton. He is based in the Northeastern USA.





Les Benedict - All Styles
USA - Los Angeles, CA
Les Benedict is a versatile musician who performs on alto, tenor and bass trombones, euphonium and tuba, and sundry other brass instruments. He recorded with Clare Fischer's "Jazz Corps" on Eb Cornet, Eb flugelhorn, and Eb helicon tuba, covering three octaves of instruments.





Robert Bennett - All Styles
USA - Long Island, NY


Bach 42 / Bach 5G
Robert Bennett is a young talent who is on the threshold of his career. He is a recent graduate of the Cr ane School of Music with a degree in Music Education along with a Certificate in Performance and Jazz Studies minor.





Neal Bennett - Classical
Canada - Vancover, BC
Neal Bennett is one of Canada's leading trombonists. In 1997 he earned his Premiere Prix under the tutelage of international soloist Alain Trudel and won the prestigious Prix des Anciens in the same year.





Mark Benson - All Styles
USA - Princeton, NJ





Clifton 'Cajunbone' Bergeron - All Styles
USA - Rohnert Park, CA


Holton TR-180 / Bach 6 1/2
Born and raised in New Orleans. Played with numerous community organizations. Currently first chair trombone with Rohnert Park Community Band and am trombonist with Crossfire, a 10 piece funk/soul/R&B based out of Santa Rosa, California.





Jim Bermann - All Styles
USA - Miami, FL
Edwards
Bass Trombonist Miami City Ballet, Florida Grand Opera, Florida Classsical Orchestra, Peter Nero, Florida Symphonic Pops, Richard Hayman, Sunset Entertainment, Palm Beach Pops, Faculty Florida Atlantic University. Edwards Instrument Co. Artist.





Paul Bernardi - Swing Dec. 1, 1948
USA - Mahopac, NY
Paul Bernardi has done on and off-Broadway shows; composed and arranged scores for radio and t.v. commercials,concerts and orchestrated and arranged "Ahm Yisroel Chai " for the Holocaust Remembrance in Phila. Pa. in 1985...narrated by Robert Merrill and Tovah Feldshuh; composed and arranged scores for R.F.T. Music Publishing Corp.






Milt Bernhart - Swing 1926 - 2004
USA
Bernhart was as good-natured a man as jazz ever produced, self-deprecating and always able to see the humor in a situation. He began playing the tuba at ten but had switched to trombone by high school.





Bob Bernotas - Swing - Bob Bernotas [bio at this site]
USA - Brooklyn, NY


CG Conn 6-H
Bob Bernotas is a freelance author and jazz journalist-historian. He also is a student of master jazz trombonist Benny Powell, and plays the same Conn 6-H that Powell used during the 1950s when he was with Count Basie. [Top Brass book now is available from his new website]






Eddie Bert - Swing - Eddie Bert [bio at this site] - May 16, 1922 - September 28, 2012
USA


Yamaha
The first thing to note, with no equivocation, and also without fear of contradiction is that everybody likes Eddie Bert - both as a person and as a great jazz musician.





Maurice 'Bert' Bertram - Swing
USA - Seattle, WA
Maurice (Bert) Bertram started playing professionally at age 14. After studying trombone at the College Conservatory of Music in Cincinnati, Ohio, Bert worked his way through the University of Cincinnati electrical engineering college playing swing and progressive jazzwith several bands.





Mark Bettcher - All Styles
USA
Mark Bettcher, has worked with some of the top names in jazz and pop music, including Phil Collins, Tony Bennett, The Temptations — and Frank Mantooth.





Harold Betters - All Styles - Harold Betters [bio at this site]
USA - Connellsville, PA
Harold is a remarkable man who has enjoyed a career spanning over four decades and is admired and respected by fellow musicians, friends, and fans nation-wide.





Hans-Heiner Bettinger - All Styles - Hans-Heiner Bettinger [bio at this site]
Germany - Pfaffenhofen
Hans studied trombone at the Hochschule fur Musik in Mannheim with Professor Paul Schreckenberger, and at the University of North Texas with Professor Royce Lumpkin. He has been playing and recording for Michel Legrand, the Ojay's, Georg Lucas Film Productions, Silvester Levay, Eberhard Schoener, Konstantin and many others.





Harry Betts - All Styles
USA - Los Angeles, CA
Harry Betts joined the Stan Kenton Band right after leaving the US Air Force following WWII. In 1953 he settled in Hollywood where he supported his family by doing studio dates. One of the best was a Pete Rugolo/Four Freshmen album, "Four Freshmen and Five Trombones."






Thomas Beversdorf - Classical 1924 - 1981
USA
b. Yoakum, Texas on August 8, 1924. d. February 15, 1981 He began studying piano at age six, and at seven baritone horn with his father, a band director in Yoakum. He started playing trombone in high school, also under the guidance of his father.





Eitan Bezalel - Classical
Israel - Jeruzalem
Born in Jerusalem January 12, 1958, Eitan Bezalel began his musical training at the Rubin Academy of Music in Jerusalem studying the violin and trombone. At that time he joined the Jerusalem Youth Orchestra with whom he toured Europe in 1975 as trombone soloist.





James Bicigo - Classical
USA - Fairbanks, AK
Dr. James Bicigo is Associate Professor of Low Brass and Composition at UAF. He is a member of the Borealis Brass and performs with the Fairbanks Symphony and Arctic Chamber Orchestras.





Robert Biddlecome - Classical
USA - New York, NY
Robert Biddlecome (bass trombone, euphonium) began his music studies with piano lessons and later took up the euphonium, then the trombone. With only a few lessons he demonstrated a musical talent that brought encouragement from his teachers to continue his studies and to follow a musical career.





James Biddlecome - Classical
USA - Teaneck, NJ
Mr. Biddlecome has had a long and varied career. He began his musical studies with Claude Shappelle at Somerville (NJ) High School. He attended the Juilliard School of Music from 1956 to 1960 where he majored in trombone with the late Roger Smith.






Ralph Bigelow - Classical 1928 - 2003
USA
Raph Bigelow was Director of Bones West From 1983-2002. A graduate of Eastman (B.Mus. '51; M.Mus. '53) in trombone and theory, his professional career evolved into university administration. He was formerly Emeritus Dean of Admissions and Records at CSU Fullerton.





Matt Bilyk - All Styles - Matt Bilyk [bio at this site]
USA - Hackensack, NJ


Schmelzer Model 2 / Bach 6 1/2 AL
Matt Bilyk received his BA in Jazz Performance from Manhattan School of Music in 1997. During his enrollment at MSM, he took time off to tour with the Tommy Dorsey Orchestra. The tour spanned the USA, Europe, and South America and concluded with a television special for PBS.





Uli Binetsch - Swing - Uli Binetsch [bio at this site]
Germany - Lindau, Bodensee
Worked with with Peter Herbolzheimer, Bobby Burgess, Al Porcino, Jose Luis Cortes (Irakere), Marcel Schefer, Peter Eigenmann, Peter Madsen, Joo Kraus, Chucky C, Martin Schrack, Jiggs Whigham, Rüdiger Baldauf, see more at his site!





Vic Bird - Swing
USA - Orlando, FL
Vic has been an accomplished musician since childhood. Born in Muskegon, Michigan to a musical family his father played sax and guitar and was the leader of one of the most popular big bands in the midwest in the 40's and 50's.





Jeb Bishop - Jazz Improv
USA - Chicago, IL
Jeb Bishop has been active in jazz and improvised music in Chicago since 1993. He has performed, toured and recorded with groups including the Vandermark Five, the Peter Brötzmann Chicago Tentet, Ted Sirota's Rebel Souls, Terminal Four, School Days, Ken Vandermark's Territory Band, and his own Jeb Bishop.





Roger Bissell - All Styles
USA Orange, CA


Bach 16 / Bach 12C
Disneyland Band (Anaheim, CA) - Roger was born in 1948 and has been a professional since his freshman year in high school. After leaving college in 1971 with an M.A. in performance and literature (B.S. in theory and composition), he worked as a free-lance trombonist and arranger.





Bill 'Big Bill' Bissonnette - Swing
USA - Bridgeport, CT


King 2B
b. Feb. 5, 1937, Bridgeport, CT A strong advocate of New Orleans jazz as played be the veteran Black musicians, Big Bill Bissonnette in the 1960s ran his own group (the Easy Riders Jazz Band), formed his own label (Jazz Crusade) and organized Norhern tours for such veteran players as Kid Thomas Valentine.





Oddur Björnsson - Classic
Principal trombone Iceland Symphony Orchestra
Reykjavík, Iceland






Lou Blackburn - All Styles 1922 - 1990
USA
With some musicians, their career represents an actual odyssey or travel through musical situations both geographical and aesthetic, and trombonist Lou Blackburn is a perfect example.





David Blake - All Styles
USA - Simi Valley, CA


Bach 42 / Laskey 93B
David Blake has degrees in music education from Te nnessee Tech University and The University of Tennessee. He received instruction from Larry Hoepfinger at Tennessee Tech and Don Hough at The University of Tennessee.






Samuel Blaser - All Styles [super talent] - Samuel Blaser [bio at this site]
USA - La Chaux-de-Fonds / Brooklyn, NY
Samuel Blaser was born in 1981. He's the young lion in Switzerland. He played with the Vienna Art Orchestra, Bert Joris, Clark Terry, Phil Woods, Jimmy Heath, Benny Golson, NY voices, and many others





Josh Bledsoe - All Styles
USA - Pensacola, FL
Yamaha





Noah Bless - Jazz Improv (latin) | New CD Release
USA - New York, NY
A 30-year veteran of New York's rich Latin jazz scene, trombonist-composer Noah Bless has immersed himself in Afro-Cuban music, soaking up mambo and rhumba while getting the clave ingrained into his DNA. A graduate of internationally renowned Cincinnati Conservatory, with a master's degree in jazz from the Manhattan School of Music.





Scott 'Bleegs' Bliege - All Styles - Scott Bliege [bio at this site]
USA - Oakland, FL


King 3B-1951 / Warburton Bliege Model
Scott does a lot of recordings, shows, and commercial work. He has been in many situations in which he had to use his King 3B, and Conn 88HYO to double on.





Roger Bobo - All Styles
Japan - Tokyo
Brass Legend, Virtuoso Soloist, World Renown Teacher… These are just a few catch phrases associated with Roger Bobo. He is in demand world wide as a teacher of all brass instruments, adjudicator at major international competitions, and as a conductor. Roger Bobo currently resides in Japan.





David Bobroff - All Styles
Iceland - Reykjavik
David Bobroff was born in Chicago, Illinois (USA) in 1958. His family eventually settled in Talladega, Alabama where he first took up the trombone at age 14. Following graduation from high school he entered Jacksonville State University in Jacksonville, Alabama. There he studied with Dr. James Roberts.





Dan Bochard - All Styles
USA - Torrance, CA


Bach
He has a Bachelor of Music and Music Education from the University of Oregon, and a Master of Arts in Trombone Performance from Western Washington University. Former Jr. H.S., H.S. and University Band Director. Presently a freelance Trombonist in the L.A./Hollywood area for the past 20 years.





Stan Bock - All Styles
USA Salem, OR


CG Conn





Walter Boenig - Swing - Walter Boenig [bio at this site]
USA - Las Vegas, NV


King 2B / Giardinelli custom
Walt Boenig was raised in Beeville, Texas where he began his trombone career at an early age in high school. He then went on to Sam Houston State University (Huntsville, Texas) where he devoted all his studies to music. His career as a professional trombonist included such road bands as Glenn Miller.






Bert Boeren - Jazz Improv Bert Boeren [bio at jazzmasters]
Netherlands - Den Bosch


Michael Rath
Education: '81-'83 Conservatory for classical music in Utrecht. '83-'88 Conservatory for jazz-music in Hilversum under Bart van Lier. '83-'88 Workshops with John Clayton, Bill Holman, Frank Foster, Mel Lewis, Bob Brookmeyer, Jerry van Rooyen. '87-'90 Teacher at The Rotterdam Conservatory. '88-'91.





Nikolai Bogelund - Jazz Improv
Denmark - Aarhus


Bach 16M / Bach 6 1/2 AL
Studied trombone 5 years Danish Conservatory Esbjerg. [www.vmk.dj], and Arhus, [www.musik-kons.dk]. Played at a lot of Albums, all styles, Salsa, Jazz, Pop-Rock etc. Been playning Leadtrombone in one af the finest big bands in Denmark, [www.kluversbigband.dk], arranges for the band as well.





George Bohanon - Jazz Improv
USA - Los Angeles, CA
It is no small wonder that the National Association of Recording Arts and Sciences awarded George Bohanon the "Most Valuable Player" award in 1980. His genius approach to trombone playing creates a lyrical quality that rates high in tone color and dynamics.





Blair Bollinger - Classical
USA - Philadelphia, PA


Edwards E-B454
As a soloist, Blair Bollinger has performed with the Philadelphia Orchestra, the Atlanta Symphony and the Savannah (GA) Symphony. He has also performed recitals and given master classes in Brazil, Chile, China, Holland, Israel, Japan, Poland and throughout the United States.





Günter Bollmann - Jazz Improv
Germany - Cologne


Bach 12 / Marcinkiewicz 8-S
Günter is the Lead Tb-player of the Radio Big Band in Frankfurt/Germany (HR Big Band).
He played/recorded with many Big Bands, e.g. Peter Herbolzheimer, NDR BB, SWR BB, Rias BB, Pauil Kuhn etc. Solo recordings: "Smile" (Bollmann), "Let´s get lost" (with Tony Lakatos, A. Schlosser, HD Sauerborn/rec. in N.Y.)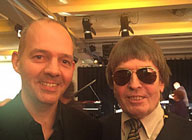 HR Big Band (Radio Big Band Frankfurt) featuring: Günter Bollmann
Örjan Fahlströmarrangements from J.A.Keller (2010)





Norman Bolter - Classical
USA - Boston, MA
Norman Bolter, (trombonist, composer) joined the Boston Symphony in 1975 at age 20. Principal trombone of the Boston Pops since 1984. A founding member of the Empire Brass Quintet. Director of the Frequency Band. Extensive discography includes his own works. - > Norman's blog.





Debbie Boltinghouse - All Styles
USA - Los Angeles, CA
Debbie Boltinghouse graduated from California State University at Northridge in 1977. Since 1973 she has been a freelance musician throughout California.





Jim Boltinghouse - All Styles
USA - Los Angeles, CA
Jim Boltinghouse is a Los Angeles area freelance trombonist most often associated with his current role as facilitator of the 57-year old trombone ensemble known as Hoyt's Garage. Jim has played with the Garage beginning with its L.A. Valley College concert in October 1973.





OleKristian Bonden - Classical
Norway - Sandefjord, Vestfold


CG Conn 88H-cl / Bach 5GS
Vestfold Symphony Orchestra, Sandefjord, Norway - Norwegian Kings Garde Band. Studies music in Bergen on the Grieg Academy.





Nick Bonenfant - All Styles
Canada - Quebec, Quebec


Bach 42BOG / Denis Wick 4AL
Bass and tenor freelance trombonist and low brass player. Graduate in performance at Laval University, QC. Brass repair technician, mechanical engineering technologist and machinist.





Martin Bonilla - All Styles
Costa Rica


Edwards T350
Martín Bonilla is the trombone and euphonium teacher at the University of Costa Rica Music School and euphonium professor at the National Institute of Music of Costa Rica. He is also a freelance trombonist, participating several times as trombonist of National Symphony Orchestra of Costa Rica.





Luis Bonilla - Latin - Luis Bonilla [bio at this site]
USA - New York, NY
The California-Costa Rican trombonist/ composer/arranger is heard on the New York and international jazz and Latin scenes. Luis tours with his quintet, TromBonilla, and is a co-leader of the brass ensemble Low Blow. Luis is also a member of the Village Vanguard Jazz Orchestra.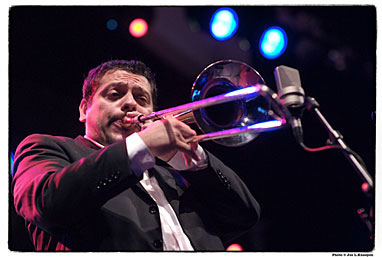 Rob Boone - Jazz Improv
USA - Tucson, AZ


Bach 16M / Doug Elliott custom
Rob Boone was born in Cleveland, Ohio 10/26/58. Freelance trombone player and arranger living in Tucson, Arizona. Former jazz editor for International Trombone Association. Former teacher at the University of Arizona. Won the ITA Frank Rosolino jazz award in 1982.





Bill Booth - Classical
USA - Los Angeles, CA


CG Conn
Bill Booth has over 20 years experience in the Los Angeles music industry, and is a veteran performer with experience in most aspects of the music business. His recording credits include over five hundred motion pictures, numerous phonograph records, television shows and jingles.





Lawrence Borden - Classical
USA - Nashville, TN
Lawrence Borden is the Associate Professor of trombone at Vanderbilt's Blair School of Music. A graduate of Northwestern University, Mr. Borden has just recently completed work on a Bachelor of Science degree in Teaching and Learning at Vanderbilt.





Michael Boscarino - Jazz Improv
USA - Astoria, New York


Edwards 4177CF Jazz / Stork T1
New York trombonist Michael Boscarino is a native of Cranberry Township, Pennsylvania. He began his musical studies at age 7 on the piano. At age 11, he began playing the trombone on the advice of his grandfather and hasn't looked back since. Michael holds a Bachelor of Music degree from Youngstown State University and a Master of Music degree from Manhattan School of Music.





Jimmy Bosch - Latin - Jimmy Bosch [Bio at this site]
USA - New York, NY


Yamaha
Jimmy Bosch plays it, lives it, and tells it like it is! A fiery exponent of the progressive sound often referred to as the most awesome Salsa band to dance to, listen to and watch in a concert setting, Bosch masterfully portrays his life experiences and musical inspiration creating Salsa.





Peter Bouchard - All Styles
USA - Burlington, VT
Affiliate Artist Peter Bouchard has been teaching trombone, euphonium and tuba at the University of Vermont since 2002. He has been active as a performer and teacher in Vermont since 1987. Among the groups with which he has performed are the Hanover Chamber Orchestra, Vermont Mozart Festival, Opera North, and many more





Louk Boudesteijn - Jazz Improv
Netherlands - Rotterdam
Louk Boudesteijn (1977) studied trombone at the Brabants Conservatorium with Hans Sparla and later with Ilja reijngoud and Bart van Lier (Rotterdams Conservatorium), had also privat lessons from Benjamin Herman.





Hector 'Butch' Bourg Jr - Swing
USA - Stone Mountain, GA


King 2B / Jet Tone Urbie Green MB
As is the case with many trombonists, He has two main occupations: gra phic designer and trombonist. He was educated at the University of Southern Mississippi and played with several bands there. After moving to the Atlanta, GA area he found and joined the Sentimental Journey Orchestra .





Bryan Bourne - Brass Band
USA - Washington, WA
Principal trombonist Master Gunnery Sergeant Bryan Bourne joined "The President's Own" United States Marine Band in January 1984. He was named principal trombone in 1990. MGySgt Bourne began his musical training at age 12. He graduated in 1975 from J.J. Pearce High School in Richardson.




Ian Bousfield - Classical - Ian Bousfield [bio at this site]
UK - York


Yamaha Xeno 8820b -F attachment / Doug Elliott LT S102
Ian Bousfield was born in York, England, in1964 and began playing the trombone at the age of seven.





Bryan Bowen - Swing
USA - Minneapolis, MN


King 2B Silver Sonic / King 7C
Bryan Bowen was the lead trombonist for the 101st Airborne Division Army Band. H is favored playing styles include Swing, Funk and Latin. Bryan did a six year stint as the lead trombonist with Salsa Recording Artist Willie Crespo.





Carl J. Bowers - All Styles
USA - Sonoma County, CA
Bass Guitar, Electric Upright Bass, Tenor Trombone
Carl performed the works of classical composers on piano, flute and guitar before taking an interest in jazz trombone and the electric bass in 1973. Strong reading skills afforded him the opportunity to work with greats like David Baker, Louis Mandrell, the Aldridge Sisters and many more. Residing in Sonoma County, he performs regularly in the studio and on the stage. He is currently a member of the "Volker Strifler Band", "Shade" and "A Case of the Willys!".






Gordon Bowie - Classical - passed of cancer on January 5, 2012
USA


Edwards 454 / Doug Elliott 110 K.8
Gordon W. Bowie, bass trombonist, composer and conductor, is director of the Montgomery Village Community Band in Montgomery County, Maryland. He is bass trombonist for the National Concert Band of America, the Virginia Grand Military Band, and other DC area ensembles.





Joseph Bowie - Funk
USA - Maryland, MD
Joseph Bowie's life has been dominated by music since childhood. Son of a retired St. Louis music teacher and younger brother of Broadway arranger Byron K. Bowie and legendary trumpeter Lester Bowie, Joseph began trombone lessons at age 11.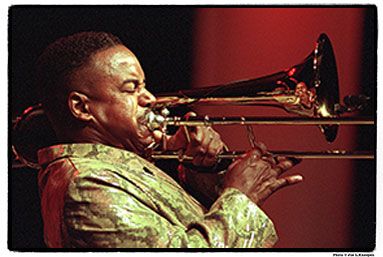 James Box - Classical
Canada - Montreal, Quebec
Principal Trombone, Montreal Symphony Orchestra Musician of the OSM since: 2001 Previous employments: Canton (Ohio) Symphony Mississippi Symphony Wheeling (West Virginia) Symphony Academics and teachers: M.Mus., Cleveland Institute of Music B.Mus.





Greg Boyer - All Styles
USA - Columbia, MD


Amrein Modell Schneider no. 9 / Wedge Mouthpiece
Greg Boyer was formally introduced to music when he took up alto sax at 10. He eventually switched to tuba and trombone and played in the St. Mary's College of Maryland jazz band at 16. Greg soon joined George Clinton's P-Funk All-Stars (Parliament/Funkadelic) with whom he would be part for the next 19 as trombonist & horn arranger. His resumé also includes Prince, Chuck Brown, Maceo Parker, George Duke, Stanley Clarke, Alex Bugnon, David Sanborn, Eric Benét, Bootsy Collins, Sheila E, Richard Smallwood, and many others.






Will Bradley - Swing 1912 - 1989
USA
b. Jul. 12, 1912, Newton, NJ d. Jul. 15, 1989, Flemington, NJ Will Bradley was a reluctant celebrity. His name became closely associated with boogie-woogie due to the commercial succes of ôBeat Me Daddy, Eight to the Barö but he much preferred to play ballads.




Kevin Bradley - All Styles
USA - Woodland Hills, CA


Williams 6 / Bach 11C
Kevin was born and raised in the San Fernando Valley, He started playing trombone in 7th grade taking private lessons from John Daly (Principal Trombone for the Colorado Symphony). After attending Sequioa Jr High &Chatsworth High School . He enrolled at Cal State Univ. Northridge (CSUN).





Ger Brady - Classical
Ireland - Mullingar, Westmeath


Bach 43T / Bach 6.5 AL
Irish Army Band, Ireland.
"There are currently vacancies in Defence Forces Bands for Brass,Woodwind and Percussion players.
Check out the link!" - 'Defence Forces School of Music-Ireland'





Earlie Braggs - Jazz Improv
USA - Cleveland, OH


King
Earlie Braggs is a freelance musician in the Kalamazoo area. He spent many years traveling the U.S. and performing with various music ensembles. Some of the most noted artists include Della Reese, Cab Calloway, Cat Anderson, Kansas City favorites pianist Jay "Hootie" McShann and Claude "Fiddler" Williams.





Wayne Branco - All Styles - Wayne Branco [bio at this site]
USA - Lowell, MA


Lawler Custom
Wayne is a trombonist living and performing in the greater Boston area since he started playi ng in 1970. He was a music major at the University of Massachusetts (Lowell) and studied with both jazz and legit teachers, including Hal Janks and Phil Wilson. Wayne is co-leader of the Branco / Stamas Big Band.





Jan van den Brandt - All Styles
Netherlands - Bavel


Bach 36B / Bach 6,5
Jan van den Brandt, born on 28 January 1958 in Breda, the Netherlands, plays his first notes when he''s 9 years old. He started to play trumpet by a show band Ulvo from Ulvenhout, a little place in the south of the Netherlands, so there arise a basis for the future.





Wesley 'Wes' Branstine - All Styles
USA - Arkadelphia, AR
Dr. Wes Branstine earned his B.M.E. from Henderson State University, M.M.E. and D.M.A. degrees from North Texas University. He has taught low brass, music education, and directed the H.S.U. Brass Band and Brass Choir here at Henderson for the past twenty four years Dr. Branstine is very active as a player.





Tom Brantley - Classical - Tom Brantley [bio at this site]
USA - Tampa, FL
Tom Brantley, trombone professor at the University of South Florida and trombonist with the Rhythm & Brass, has recently agreed to accept the position of ITA News Coordinator. In his new role, he will collect and edit the news for both the I.T.A. Journal and the I.T.A. Website.





Karl Braun - All Styles
USA - Amsterdam, NY
Karl earned a Bachelor of Music degree in trombone performance, from the Cincinnati College-Conservatory of Music. A few of the musical groups Karl has Performed with over the years are: the Carnegie Arts Center Brass Choir, Covington KY; Blue Ash Symphony Orchestra, Blue Ash OH; Hilton Head Orchestra.





Bruce Braun - All Styles
USA - Lynchburg, VA
Trombonist for 40 years. Bruce has played Principal and Bass Trombone professionally in Symphony Orchestras, Jazz Groups, touring companies and recording sessions for more than 30 years. Now, he mainly plays as a hobby and simply for enjoyment of music.





David Bremner - Classical
New Zealand - Auckland
David Bremner was appointed Principal Trombone of the New Zealand Symphony Orchestra in 2002. Prior to this appointment he was Principal Trombone of the Auckland Philharmonia. Born in New Plymouth, David has been a finalist in the NZ Young Musicians Competition, performing 2 concertos with the NZSO, and many more





Per Brevig - All Styles
USA - New York, NY
Per Brevig's career as a trombonist stretches back to his first solo radio performance in Norway in 1956, after which he was offered a post as trombonist with the Bergen Philharmonic Orchestra. He began to study with Palmer Traulsen in Copenhagen.





Dr. Paul Brewer - Jazz Improv
USA - Grand Rapids, MI


Edwards T-302 508 bore / Monette TS 6
Dr. Paul Brewer, Associate Professor and Director of Instrumental Music at Aquinas College holds a Doctorate of Musical Arts in Music Composition and Jazz Pedagogy from the University of Northern Colorado.





Nathaniel Brickens - Classical
USA - Austin, TX


Bach
Nathaniel Brickens, Professor of Music at The University of Texas at Austin, teaches trombone and serves as director of the award winning and internationally acclaimed UT Trombone Choir. Dr. Brickens holds a D.M.A. from The University of Texas at Austin, an M.M. from the University of Michigan.





Ryan Bricknell - All Styles
USA - Las Vegas, NV


King 3B / Giardinelli 5M
Graduated from the University of North Florida with a degree in Jazz Studies. ccepted a graduate assistantship at the University of Nevada Las Vegas. Freelance trombonist and educator.






Lillian Briggs - All Styles 1932 - 1998
USA
Rockabilly bombshell Lillian Briggs was born in 1932 and raised in Allentown, PA. She was splitting duties playing trombone in Joy Cayler's All-Girl Orchestra with her day job driving a laundry truck when in 1952 she was discovered by legendary DJ Alan Freed, who featured Brigg sin New York.





Donald 'Don' Brill - All Styles
USA - Wilmington, Delaware


Bach 36LTG / Schilke 50
Delaware Trombonist (http://www.afm21.org/) A Delaware native, Donald Brill holds a Bachelor of Arts in Music from the University of Delaware . A faculty member there recommended Don join the American Federation of Musicians while a freshman. Since that time, Don has played in many Big Bands.





Philip Brink - Classical
Thailand


Edwards B-454 / Schilke D6.0
Has moved to Thailand where he has lived since 2007. He has played with the Thailand Philharmonic orchestra and teaches at the Mahidol University College of Music.





Dede Briscoe - Swing - Dede Briscoe [bio at this site]
USA - Las Vegas, NV
In the showrooms of Las Vegas and Atlantic City, she was the first female horn player in history to play in both venues, and at 21 years of age! Here are just some of the entertainers she has worked with over the years: ,Burt Bacarach,Donna Summers, Natalie Cole, Wayne Newton, Dom Deluise, Donald O Conner, and many more





Tobi Briscoe - All Styles
USA - Las Vegas, CA
Tobi has been around the music business his entire life. Going to rehearsals with his Mom and Dad, he did karate with Englebert Humperdink, played cars with Anthony Newley, and had the great Sarah Vaughn sing and rock him to sleep. These experiences started a life long interest in music.





Doug Bristol - All Styles - Doug Bristol [bio at this site]
USA - Montgomery, AL


Shires TB 47 / Doug Elliott LT N101 F8
Trombonist and composer Doug Bristol is Professor of Theory and Technology at Alabama State University where he maintains a varied teaching schedule. In addition to teaching theory, ear training, and technology courses, Doug is Director of Jazz Studies and supervisor of the music computer lab.






Bob Brookmeyer - Jazz Improv - Bob Brookmeyer [bio at this site] 1929 - 2011
USA - Grantham, NH
Bob Brookmeyer has long been the top valve trombonist in jazz and a very advanced arranger whose writing is influenced by modern classical music. He started out as a pianist in dance bands but was on valve trombone with Stan Getz (1953).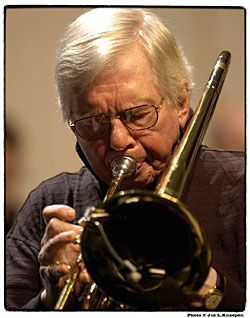 Bill Broughton - All Styles 1946 - June 2019
Australia - Adelaide, South Australia
As a new permanent resident of Adelaide Australia, William Broughton (composer/artist/conductor/producer) spends his time composing and arranging commissions for various genres in Orchestra, Concert Band, Brass Band, Big band and other musical groups. He is part-time lecturer at Adelaide University Elder.






George Broussard - All Styles .... - March 2017
USA - Greenville, NC
George is professor of trombone and jazz studies at the East Carolina University School of Music where he teaches jazz history and conducts the trombone choir and the Jazz 'Bones (two five trombone and rhythm groups). Active in both the International Association of Jazz Educators and the ITA.





Garnett Brown - Jazz Improv
USA - Los Angeles, California
Composer, arranger, and trombonist, Garnett earned his B.S. in music at the University of Arkansas at Pine Bluff, and went on to study film scoring and electronic music at UCLA. His numerous performances and recordings include those with Herbie Hancock, Lionel Hampton, Manhattan Transfer, Quincy Jones, and many more





Kevin Brown - Classical
Australia Brisbane, Queensland
Trombonist, Queensland Symphony Orchestra Committee Member Australian Trombone Musical studies he commenced trombone at the Sydney Conservatorium of Music completed undergraduate studies at Queensland Conservatorium and a Master Degree at the University of Queensland.





Roy Brown - All Styles
USA - San Diego, CA


Bach 36 / Bach 6 1/2





Joshua Brown - Classical - Joshua Brown [bio at this site]
USA - Dallas, TX
Bass trombonist, and ITA webmaster. Joshua Brown is a freelance bass trombonist living in Dallas, Texas. He received a Master of Music from the University of North Texas in 1999. While in Denton, he performed in the UNT One O'Clock Lab Band. Prior to UNT, Joshua attended the University of Texas at Arlington.





Julius Brown - All Styles - Julius Brown [bio at this site]
USA - Wilmington, DE


Bach 42BO / Schilke 51G
Julius Brown - Bachelor's of Music - Instrumental Music Education, Concentration on Trombone Trombone and Soloist, with Grammy Award Winning, Johnny Neel - " Sugar Stock" 06' Soloist, with Grammy Award Winning, Dirty Dozen Brass Band - New Orleans, Louisiana - 2002 Baritone Vocalist, Delaware Symphony Orchestra and many more






Lawrence Brown - Swing 1907 - 1988
USA
One of the great swing trombonists, Lawrence Brown tends to be underrated because he spent so much of his career with Duke Elllington's Orchestra.





Tom Brown - Swing 1888 - 1958
USA
b. June 3, 1888 - d. March 25, 1958 Tom Brown, sometimes known by the nickname Red Brown was an early New Orleans jazz trombonist. He also played string bass professionally. Tom Brown in the early 1910s Tom P. Brown was born in Uptown New Orleans, Louisiana.





Josh Brown - Jazz Improv
USA - New York, NY


King / Bach 8
Known for his warm dark sound and effortless sense of swing, Canadian-born Josh Brown has become one of the leading young trombonists in New York City. Josh has performed with some of jazz's leadin igures, including Charlie Persip, Jimmy Cobb, Grant Stewart, Joe Cohn, William Ash, Ari Roland, Pat LaBarbera, and many more





Daniel Browning - All Styles - Daniel Browning [bio at this site]
UK - Leeds, West Yorkshire


Bach 32 / Denns Wick Heritage 9BS
A freelance professional Tenor and Bass Trombonist, Session, Big Band, Orchestral, West End, Touring Shows. Born and raised in Leeds, West Yorkshire. He studied performance at Leeds College of Music and the Royal Northern College of Music, Manchester. He gained a BMus (Hons) Degree from University of North Wales, Bangor in Electroacoustic composition in 1998. He has held resident position as Bass Trombonist with the Blackpool Tower Ballroom Big Band and also held the position of Principle Trombonist of the English Brass Consort and the English Brass Quintet. Dan is currently touring World Wide.





Chris Brubeck - All Styles
USA - Wilton, CT
Chris is the third son in the musical Brubeck family, and is a composer, lyricist, orchestral arranger, musical educator and performer who plays bass, bass trombone, guitar and piano. He enjoys a very active and diverse career and is equally at home playing Jazz, Rock, Folk, Funk and Classical Music.





Herb Bruce - All Styles - Herb Bruce [bio at this site]
USA - North Port, FL


Lawler .525 Herbicide / Stork Custom
Tours: Herb Bruce spent many years in Nashville, where he worked with many Nashville stars. His major tours include: Boots Randolph, the Nashville Brass, and The Jack Daniels Silver Comet Band. He's been around the world with the Spiritual to the Bone and the premiere Salvation Army Brass Bands.





Andy Bruce - Jazz Improv - Andy Bruce [bio at this site]
Netherlands - Amsterdam
Andy Bruce is a Granny Nominated Recording Artist hailing from Scotland. His fanatical interest in the Brass Band movement of Scotland was put down to a perfectly healthy fixation with all things shiny. Andy's breakthrough came when he took the 3rd prize at the Scottish Amateur Brass Band Association.





David Bruchez - Classical - David Bruchez [bio at this site]
Switzerland
Swiss trombonist David Bruchez is Principal Trombone of the 'Zurich Tonhalle Orchestra' and Professor at the 'Hochschule für Musik in Detmold. He completed his musical studies at the Lausanne Conservatoire, and went on to further study in New York, London and at the "Herbert von Karajan" Academy.




Dr. Jon Brummel - All Styles
USA - San Francisco, CA
Freelance Trombonist & Educator Jon Brummel is the founder and head administrator for Summer Music, freelance performer, educator, and technologist. He has previously served on the faculties at California State University, Stanislaus and Los Medanos College as Professor of Low Brass and lecturer.






George Brunies - Jazz Improv 1902 - 1974
USA
George Brunies aka Georg Brunis (February 6, 1902 - November 19, 1974) was a well known early jazz trombonist. George Clarence Brunies was born in New Orleans, Louisiana on February 6, 1902 into a very musical family.





Dennis Bubert - Classical
USA - Fort Worth, TX
Dennis Bubert has been a trombonist of the Fort Worth Symphony Orchestra since 1981, a post he previously held with the New Mexico Symphony Orchestra. A native of Illinois, his principal teacher was Edward Kleinhammer, long-time bass trombonist of the Chicago Symphony Orchestra.





David R Bubsey - Classical - David Bubsey [bio at this site]
USA - Johnson City, TN


Bach 42BO / Doug Elliott 104H8
Dave is presently the instructor of trombone at East Tennessee State Universitry. In additition to his responsibilities with the trombone studio and directing the ETSU Trombone Choir, he teaches Introduction to Music and Jazz History classes as well as performing in the ETSU Faculty Brass Quintet.





Jeffrey Budin - All Styles
USA - San Francisco, CA
Currently principal trombone with the San Francisco Ballet Orchestra, Jeffrey Budin also has held principal trombone positions in the Pittsburgh Symphony Orchestra, the Orchestre Symphonique de Montréal, the Orquestra de la Ciutat de Barcelona and the Honolulu Symphony Orchestra.





David Bugli - All Styles - David Bugli [bio at this site]
USA - Carson City, NV


CG Conn 79H / Curry
David C. Bugli has a Bachelor of Science Degree in music education from Ithaca College, New York, where he studied composition for four years with Karel Husa. He has a Master of Music Degree from the University of Massachusetts. He has participated in Conductors Workshops presented by the American Symphony.





Joost Buis - Jazz Improv - Joost Buis [bio at this site]
Netherlands - Amsterdam


CG Conn 78H / Tilz Nea 6,5 AL
Joost Buis is a trombonist, improvisor, composer, bandleader, concert organiser and lap steel guitarist in Amsterdam. He has played with a wide variety of Dutch groups and projects such as the Ab Baars Quartet, the Willem Breuker Kollektief, Sean Bergin & M.O.B., Corrie & de Brokken, Palinckx, New Cool and many more





Richard Bullock - All Styles
USA - Los Angeles, CA


Shires
Born in Magnolia, Arkansas on November 1, 1954. Started playing trombone in 1965 while a fifth grade student in Warren, Arkansas. Moved from El Dorado, Arkansas, to Long Beach, California in June 1969 prior to starting ninth grade at Jefferson Junior High School (now Middle School).





Douglas Burden - Classical
Canada - Ottawa, Ontario


Yamaha
Douglas Burden has been the Bass Trombonist of the National Arts Centre Orchestra for over twenty-nine years. He has taught at the University of Ottawa for more than twenty-six years and continues to do so. Recently Mr. Burden was invited to join the teaching staff of the McGill Faculty of Music.





Thomas Burge - Classical
USA - Charlotte, NC


Bach 42B / Bach 4G
2nd trombonist, Charlotte Symphony, NC. Tom graduated from the Australian National University in 1992 (a student of Michael Mulcahy). In 1994 Thomas received a coveted 'Queens Trust Scholarship' to study with Joseph Alessi. He graduated in 1996 with a Masters in Music from the Julliard School.





Eric Burger - Swing - Eric Burger [bio at this site]
USA - Elgin, OK


Olds F E
Eric Burger has performed with: Frank Sinatra, Ella Fitzgerald, Louis Belson, Pearl Bailey, Lou Rawls, Ray Charles, AJ Croce, The Blues Brothers, Temptations, Rudy Salvini Big Band, Herb Harisson Jazz Orchestra, Wolf Kaiser Big Band, LA Jazz vocal group, various US Army Big Bands and ensembles.





Michael Burgess - Jazz Improv
USA - Coppell, TX


King 2B Plus / Bach 7C
Mike holds a Bachelor of Music degree from the University of North Texas where he performed with the 2 O'clock Lab Band and studied improv with Rich Matteson ad Dan Haerle. After graduation in 1980, he joined the West Point Military Academy Band playing lead and jazz trb with the Jazz Knights.






Bob 'Butter' Burgess - Swing 1929 - 1997
USA


Schmelzer
Born in Centralia, Illinois on October 4, 1929, Bobby was teacher, devoted friend and mentor to a countless number of famous and near-famous players on such legendary orchestras as Kenton's, Woody Herman's, Dizzy Gillespie's, Maynard Ferguson's and the Thad Jones/Mel Lewis ensemble.





Sam Burtis - All Styles - Sam Burtis [bio at this site]
USA - New York, NY


Shires
Trombonist / Lower Brass Player / Composer / Arranger / Educator Attended: Ithaca College, 1963-1965, majoring in tuba and composition. Berklee School of Music, 1966-1968, trombone and composition major. Studied with and played professionally w/ Herb Pomeroy, John La Porta, Alan Dawson, Charlie Mariano, and many more





David Butler - Jazz Improv
USA - Dallas, TX


Butler carbon fiber trombone / Dennis Wick 10cs.
Graduate of NTSU 1:00 lab band. Performed with Lou Rawls, Tony Bennet, Ela Fitzgerald, Natale Cole, and many other shows as a freelance performer in Dallas. Have worked in th e Emerald City Band for 23 years. Also have recorded many radio and TV ID's and jingles. Other local bands include Them Bones, and many more





Isrea Butler - All Styles - Isrea Butler [bio at this site]
USA - New York, NY


Edwards Tenor / Greg Black 1,5M
A Graduate of the Eastman School of Music BM 04, Performer's Certificate and MM 06. Isrea Butler has freelanced in both Classical and Commercial Music on both coasts and performed all over the globe in all kinds of playing situations on land and at sea.





Mitch Butler - All Styles
USA - Durham, NC
Mitch is a native of Raleigh, NC and a graduate of East Carolina University receiving his Bachelors and Masters degree in music performance. With the reception of awards such as Top Soloist in the UNC-W Jazz Festival, Butler has been recognized for a burgeoning career in the music field.





Monique Buzzarte - Classical - Monique Buzzarte [bio at this site]
USA - New York, NY


Bach 42GB / Bach 5G
Monique Buzzarté is an avid proponent of contemporary music, commissioning and premiering many new works for trombone alone, with el ectronics, and in chamber ensembles. A former student of Stuart Dempster and Ned Meredith.






Billy Byers - Swing - 1927 - 1997
USA - Los Angeles, CA





Jonas Bylund - Classical
Sweden
Jonas Bylund (b. Sweden, 1963) is a classical trombonist. After a successful orchestral career in Scandinavia and Germany he is now a concerto soloist and eminent trombone teacher. After studies at the State Academy of Music in Stockholm he played principal trombone with the Oslo Philharmonic Orchestra.





Joshua L. Bynum - Classical
USA - Pine Bluff, Arkansas
Joshua L. Bynum currently serves as Instructor of Low Brass at Ouachita Baptist University and is a member of the Pine Bluff Symphony Orchestra. He enjoys an active performance schedule balancing roles as soloist, chamber musician, and orchestral trombonist.





Richard Byrd - All Styles - Richard Byrd [bio at this site]
USA - The Woodlands, TX


Edwards B454
Dr. Richard L. Byrd, the music director of the Woodlands Concert Band, holds advanced degree s in music composition and conducting, and is active as a composer, conductor and low brass clinician. Byrd's works have been performed over the southeast, Chicago, Michigan, and California.





Nick Byrne - Classical
Australia - Sydney, New South Wales
Rogen International Chair of Trombone, Sydney Symphony Orchestra Born in Sydney in 1970, Nick completed his Bachelor of Music at the Canberra School of Music in 1991. He subsequently undertook further post-graduate study with Charles Vernon at De-Paul University in Chicago.





























Copyright 2022 René Laanen - Trombone Page of the World
Please direct comments and questions about this web site to René Laanen ~ contact