M





David MacArthur - All Styles
Australia - Melbourne, Victoria


Bach 36B - King 3B+ Bb/F - Rath R9 - Bach 36B / Denis Wick 4BS - Yamaha Bass
Melbourne Sinfonia/U3A Hawthorne Started playing trombone at school late 1950s. Played in amateur orchestras, brass bands, concert bands, pit orchestras etc.





Kathryn Macintosh - Classical
Canada - Edmonton, AB
Assistant Principal Trombone, Edmonton symphony Orchestra Kathryn Macintosh was born in Montreal but spent her formative years in the Maritimes. She attended Acadia University, Wolfville, Nova Scotia, and the University of Toronto. Kathryn started playing with the Edmonton Symphony Orchestra in 1983. She is active in the Mill Creek Colliery Band, a British-style brass band.





Kyle Mack - All Styles
USA - Fargo, ND


King
Dr. Kyle Mack has been a member of the North Dakota State University faculty since 1993. He teaches applied low brass, music education classes, and basic conducting. He directs the jazz program and the Varsity Band and assists with the Gold Star Marching Band and Concert Band.





Tom MacTaggart - All Styles
USA - Hampton, VA


Edwards Custom / Schilke 51
Earned BME from Northern Illinois; a MM from Florida State; studied at University of Southern Mississippi. Freelanced. He is now in the Army.





Rolf Madestrand - Classical
Sweden - Stockholm


Bach 42 / Parke Friedman 1000-7
Trombonist and Euphonium player, he startet as a military musician 1965. Educated at "Royal College of Music" in Stockholm,Sweden 1972-1974. His trombone teacher was John Petersen "Royal Philharmonic Orhestra"in Stockholm. He is working now as a freelancer here in Sweden.




Peter Madsen - All Styles
USA - Omaha, NE
Dr. Pete Madsen is an Assistant Professor and Director of Jazz Studies at the University of Nebraska at Omaha. His duties at UNO include directing the jazz ensemble and combo, and teaching applied low brass, jazz survey, low brass ensemble, and improvisation.





Hugo Magliocco - All Styles - Hugo Magliocco [bio at this site]
USA - Macomb, IL
(Ritired) Professor of Music, Trombone and Euphonium, at Western Illinois University since 1963. Degrees include: B.S., Duquesne University; M.S., University of Tennessee; D.M.E., University of Oklahoma; additional study at Southern Illinois University in Carbondale and Columbia University.





Patrick 'Pat Booner' Magnusson - All Styles - Patrick Magnusson [bio at this site]
Sweden - Gothenburg


Martin Urbie Green / Schilke





Johanna Mahmud - Jazz Improv - Johanna Mahmud [bio at this site]
USA - Chicago, IL


Yamaha TS 1
Johanna Mahmud breaks the mold of your average musician, holding talent and force to be rec koned with. Johanna is not your normal single-sided cat as he transcends genres not only in jazz and latin, but also in rock. A double threat to the industry Johanna plays to all sides of the spectrum.





Roy Main - All Styles
USA - San Luis Obispo, CA
Applied Trombone, Tuba, Euphonium; Trombone Choir Roy Main is a native of Los Angeles, California. His career as a freelance studio trombonist spans virtually every form of live and recorded professional music performance. Main has performed at all of the major television and film studios.





Rafi Malkiel - All Styles - Rafi Malkiel [bio at this site]
Israel - Jerusalem
Composer, trombonist, band leader and euphonium player Rafi Malkiel, originally from Jerusalem, has shared his talent with audiences around the world, playing Jazz & Latin music in his captivating style. Leading his quintet, Malkiel plays original compositions, as well as unique arrangements fusing Jazz.





Andy Malloy - Classical
USA - Los Angeles, CA
Andrew Malloy has lived in Los Angeles for over twenty five years. He is a New Hampshire native and attended the University of Massachusetts where he graduated magna cum laude with a Bachelor of Music Education degree. He continued his education at The Juilliard School where he received a Master of Music.





Tom Malone - (wikipedia)
USA - New York, NY
Tom "Bones" Malone began his professional career on a job playing lead trumpet with Brenda Lee at a club in Jackson, MS, while enrolled at the University of Southern Mississippi. In response to a call from Warren Covington, leader of The Tommy Dorsey Orchestra, he expanded into contracting musicians.





Chuck Mandernach - All Styles
USA - Dallas, TX
Chuck Mandernach has been a "first-call" studio and freelance musician in Dallas since 1965. His work has ranged from classical to commercial, night clubs to stage shows, country to rock, and jazz to society bands. He has been a member of The Dallas Symphony, Summer Musicals, Ballet, and Lyric Opera and many more





Mark Manduca -All Styles
USA - Gorham, ME
Mark Manduca has a B.S. degree from the University of Maine and a M.M. degree from Boston University. Mark plays regularly with the Portland Symphony Orchestra, the Portland Brass Quintet, and the Five Cylinders Jazz Band. He has backed up such artists as Clark Terry, Johnny Mathis, Bob Hope, Guy Lombardo, and many more.





Albert Mangelsdorff - Jazz Improv 1928 - 2005 - Albert Mangelsdorff [bio at this site]
Germany
Albert Mangelsdorff, probably the most important jazz musician in post- war Germany, died on the morning of Monday, July 25th, 2005 in his hometown Frankfurt am Main, Germany, after long illness. Albert Mangelsdorff had violin lessons as a child and was self-taught on guitar.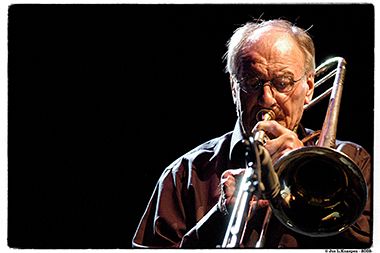 Natalie Mannix - Classical
USA - Wahington DC, WA
BMA University of Michigan, MM The Juilliard School, DMA Catholic University of America. Student of Joe Alessi. Principal trombonist in the Delaware Symphony Orchestra. Has performed with the National Symphony, the Kennedy Center Opera Orchestra, the Philharmonic of the Nations and the Annapolis, Maryland.





Romeo 'Romi' Mano - Classical
Albania - Tirana


CG Conn 88h-cl / Bach 5G
1990 BA of Music 1991 co-principal of the Tirana Opera House Orchestra 1993 principal of the Tirana Opera House Orchestra.





Bruce Mansfield - All Styles
Italy - Napels


Bach 50 / Greg Black BM
Currently living and performing in Europe. Bass Trombonist with the CNE Band located in Naples Italy. I spent 4 years freelancing in the San Diego and Los Angeles area whil e working with Navy Band Southwest. Prior to joing the Navy I was freelancing in Pittsburgh, PA.





David Manson - All Styles
USA - St. Petersburg, FL


Weril Alpha / Bach 5GS
David Manson is a trombonist, composer, improvisor, presenter and music technologist. His degrees include a doctorate from the Cincinnati College-Conservatory of Music. Early awards include Second Prize in the 1982 Fischoff National Chamber Music Competition (for the Cincinnati Trombone Quartet).





John Marcellus - Classical
USA - Rochester, NY


CG Conn
Past President ITA (1988-1990) - Professor of Trombone at the Eastman School. Professor of trombone and woodwind, brass, and percussion department chair. 1982-83 Kilbourn Professor, as a member of the Eastman Brass. BS, University of Maryland; MM, DMA, Catholic University.




Dan Marcus - Swing
USA - Lynwood, WA
Dan, early on, was a member of the Big Bands of Ray Charles and Woody Herman, and had performed in upwards of 100 countries by his early 20's. Dan comes from a musical family in the San Francisco Bay Area, and attended Cal State Northridge.





James Markey - Classical
USA - New York, NY
James Markey joined the New York Philharmonic as Associate Principal Trombone in 1997. Previously, Mr. Markey was the Principal Trombone of the Pittsburgh Symphony Orchestra - a position he assumed after his second year at the Juilliard School, studying with Joseph Alessi.





Delfeayo Marsalis - Jazz Improv - Delfeayo Marsalis [bio at this site]
USA - New Orleans, LA
b. Jul. 28, 1965, New Orleans, LA Delfeayo Marsalis was born in New Orleans, Louisiana. He began studying trombone at age 13. After producing his first recording at age 17, Mr. Marsalis attended the prestigious Berklee College of Music, majoring in both performance and audio production.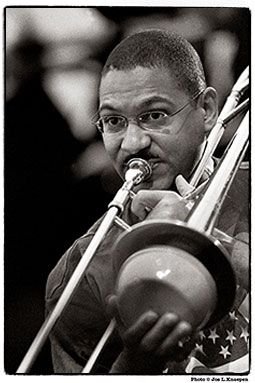 Loren Marsteller - All Styles
USA - Long Beach, CA
National Academy of Recording Arts and Sciences (the Grammys) "Most Valuable Player Award" nominee Loren Marsteller is a graduated from the University of Southern California (B.M.) with a major in trombone performance. He joined "The President's Own" United States Marine Corps Band in Washington, D.C.






Robert Marsteller - Classical 1919 - 1976
USA
Robert Marsteller (1919-1975). Prominent US symphonic trombonist and music educator. He was a graduate of the Eastman School of Music, where he studied under Emory Remington. Marsteller was the first trombonist with the National Symphony Orchestra and then principal trombonist for 25 years with the Los Angeles Symphony.





Dave Martell - Jazz Improv
USA - Union City, CA


King 2B / Bach 6.5 AL Megatone
Dave has been playing professionally for over 30 years. He received an Associate of Arts degree in Music from Los Medanos College in Pittsburg, CA and a Bachelor's Degree in Music from Cal State University at Los Angeles. He also has a teaching credential in music from Cal State University Hayward.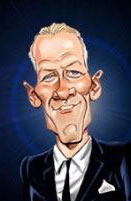 Andy Martin - Jazz Improv
USA - Los Angeles, CA


CG Conn
Andy belongs to a musical family: his father plays trumpet and both of his brothers are professional musicians. Along with private studies with Charlie Shoemake and Roy Main. Andy was a student of music at California State University Long Beach and Golden West College with Tom Kubis. Andy is also playing in Gordon Goodwin's: Big Phat Band.




Arch Martin - Jazz Improv - Arch Martin [bio at this site]
USA - San Diego, CA


CG Conn 100H Sterl. Bell
Born in Independence, Missouri. Graduated from William Chrisman High School. Early 50s, played around Kansas City and toured with various bands. 1956 toured Europe with Claude Thornhill Orchestra 1957-58 toured with The Woody Herman Band 1959-69.





Jeff Martin - All Styles
USA - Bolling, DC
Master Sergeant Jeffrey B. Martin is a jazz trombonist for the Airmen of Note, The United States Air Force Band, Bolling Air Force Base, Washington, D.C. Originally from Newton, Kansas, his Air Force career began in 1996. A 1991 graduate of Newton High School, Sgt. Martin was a member of All-State bands.





Marco Aurellio Martins - All Styles
Brazil - Florianopolis, Santa Catarina


Bach 42 BO / Doug Elliott LT 101,G,G8
Born in 24 of August of 1965 in Florianópolis, capital of Santa Catarina. In 1977, with 11 years of age it initiated its musical studies with its father, who was sergeant musician of the Band of Music of the Military Policy of Santa Catarina.





Elliot Mason - All Styles
USA - New York, NY
In 2007, He was invited to become a member of the Jazz at Lincoln Center Orchestra directed by Wynton Marsalis. While a performer with the JLCO, he continues to co-lead the Mason Brothers Quintet with his brother. In 2008, he joined Northwestern University's faculty as the jazz trombone instructor..





George Masso - Swing
USA
b. Nov. 17, 1926, Cranston, RI An excellent trombonist who currently records for Arbors, George Masso has had a long if somewhat underrated career. Other than some early gigs (including a 1948 association with Jimmy Dorsey), Masso made his living from teaching in schools up until 1973.





Mike Mathews - All Styles
USA
St. Joseph, MO


Holton TR 181 / Marcinkiewicz G. Roberts
BM (1960) & MM (1962) from the U. of Mchigan and PhD (performance, theory, history) from Michigan State U. Thirteen years as public school music teacher in Westarn Michigan and 28 years teaching at Missouri Western State College (now "University").





Garner Mathiasmeier - Classical
USA - Albuquerque, NM


Getzen hack / Denis Wick bucket
UNM Symphony Orchestra, Albuquerque, NM Graduate student at UNM.





Eric Mathis - Classical Eric Mathis [bio at this site]
Canada - Halifax, Nova Scotia


Bach 42B / Griego 4NY
A proud Prince Edward Islander, Eric Mathis returned to Maritime Canada after fourteen years as Associate Principal Trombone of the Honolulu Symphony. He began his career performing with Symphony Nova Scotia, the Charlottetown Festival Orchestra and the Northumberland Brass.




Brien Matson - All Styles
Honolulu, HI



Originally from Los Angeles. Hedid some studio work in the mid-late 70s, toured with Harry James in 1977, Tina Turner in 1978, and Tom Jones from 1980 through 1990. He is currently living in Hawaii, and still active on Trombone, he is also the President of the Hawaii Musicians' Union.





Thomas Matta - All Styles - Thomas Matta [bio at this site]
USA - Chicago, IL


Edwards B454 (1239 bell) / Schilke 60 (gold)
Thomas has earned a B.M. and M.M. (Theory and Composition) from the University of Minnesota-Duluth and the University of Northern Colorado, respectively; he also holds a Certificate in Performance (Bass Trombone) from DePaul University.





Chris Matten - All Styles
USA
Senior Master Sergeant Chris A. Matten is bass trombonist with the Concert Band and manager of the Band's technical support shop, The United States Air Force Band, Bolling Air Force Base, Washington, D.C. Originally from Catasauqua, Pennsylvania, his Air Force career began in 1983.





Dave Matus - Swing
USA - West Chester, PA





Jacques Mauger - Classical
France - Paris


Besson BE944
Jacques grew up in Normandy (France) and studied trombone at the "Regional Conservatoire National" in Rouen and subsequently at the "Conservatoire National Supérieur de Musique de Paris". He won prizes at international competitions in Markneukirchen, Germany and in Toulon.





Peter Maunder - Classical
New Zealand - Wellington


Michael Rath
Peter Maunder was born in Hull in 1960 and began his music making at the age of 9 on the guitar. He took up the euphonium at 11 and later the trombone, which he went on to study in Huddersfield with Barrie Webb as trombone tutor and Michael Holloway for composition.





Felix Mayerhofer - All Styles
USA - Palmdale, CA
Trombone, Palmdale, CA Bands of Randy Brooks, Bobby Byrnes, Sonny Dunham, Eddie Grady and the Commanders, Charlie Barnet, Billy Mays, Fred Waring and the Pennsylvanians, Billy Eckstein, Buddy Greco, show bands of Las Vegas, Reno, Lake Tahoe; 552 Air Force Band; Potsdam State Teachers College, NY (B.S.).





Anthony 'Tony' Mazzocchi - All Styles - Anthony Mazzocchi [bio at this site]
USA - Maplewood, NJ


Bach 42 / Greg Black Mazzocchi
A native of Maplewood, New Jersey, Anthony Mazzocchi began studying trombone at the age of eight. While receiving a Bachelors and Masters degree from the Manhattan School of Music in NYC, he studied with Per Brevig of the Metropolitan Opera Orchestra, Steven Norrell, David Finlayson and Joseph Alessi.





Justin McAdara - All Styles
USA - North Hollywood, CA


Shires Custom / Bach 12C
Graduated fr om Hemet High School and went to Fullerton College where he played in a variety of groups including the Jazz I Band. From there he went to Fresno State and played in the Wind Ensemble and University Brass Quintet.





Martin McCain - All Styles
USA - Austin, TX


Edwards/Giddings and Webster
Martin McCain is a member of the trombone faculty at Texas State University. In addition to the trombone area, he also teaches courses in jazz studies and directs the Jazz Lab Band. Dr. McCain, a fourth-generation musician, maintains a versatile schedule as a performer in the classical and jazz genres. As an active performer, McCain performs regularly with the Laredo Philharmonic Orchestra, Monster Big Band, and Contemporary Works Jazz Orchestra (TX).





Dean McCarty - All Styles
USA - Houston, TX


Rath R9/Ferguson L
Rath R4/Elliott 100G8
Rath R10/Elliott 95B2
Freelance trombonist and studio musician, Houston, Texas. Recorded on Grammy winning "Chicanisimo" by Little Joe y la Familia in 2005. Bass trombonist with the Symphony of Southeast Texas, Beaumont, Texas. Leader of Bonafide, fusion trombone ensemble.






Bob McChesney - Jazz Improv
USA - Granada Hills, CA


King 2B Jiggs Whigham / Bach 7C / 11C
Bob McChesney was born in Baltimore, Maryland, and began studying the trombone at the age of nine. McChesney holds a bachelor's Degree from the State University of New York at Fredonia. In 1979, Bob moved to Los Angeles where he remains, working as a studio musician.





Barney McCollum - Classical
USA - Dallas, TX
Bass Trombone, Dallas Wind Symphony - McCollum is a former members of the "President's Own" United States Marine Band and former students of Neill Humfeld of East Texas State University.





Mark McConnell - Classical
USA - Atlanta, GA
Mark is principal trombonist with the Atlanta Opera Orchestra, the Gwinnett Philharmonic and the Columbus Symphony. He is also a member of the Atlanta Ballet Orchestra. Mark received his Bachelor and Master of Music degrees from The Juilliard School, where he was a student of Per Brevig.






Rob McConnell - Jazz Improv - Rob McConnell [bio at this site] 1935 - 2010
Canada - Toronto, Ontario


Shires - Conn 5G valve section modified onto an 8H bell.
McConnell, Rob (Robert Murray Gordon). Valve trombonist, composer, arranger, bandleader, b London, Ont, 14 Feb 1935; honorary D LITT (St Francis Xavier) 1986.





Michael 'Mac' McCreless - All Styles
USA - Tuscaloosa, AL


Yamaha 613G / Doug Elliott N Cup
Bachelor of Science in Music Education and Bass Trombone Performance from Jacksonville State University, Jacksonville, Alabama Band Director: Greenville High School, Greenville, GA - 1977- 1979 Band Director: Calera High School, Calera, AL - 1979-1981 Band Director: Bibb County High School.






John McDade - Swing
USA - Brandon, MS
John is along time friend and devout admirer of Carl (Fontana) the incomparable artist and the truly wonderful gentleman. John McDade is a trombonist, and a jazz trombone record collector, and according to Carl Fontana and Kai Winding, who have visited him at his home several times, he has the largest (trombone) jazz collection in the world.





Lorna McDonald - Classical
UK - Manchester
Greenhoe 62HI (Conn) / Greg Black 2G
Lorna began playing the trombone aged 10 whilst at school in Paisley, near Glasgow. In 1990 she commenced studies at the Royal Scottish Academy of Music and Drama under the tutelage of the late Ian Murray, Chris Stearn, Lance Green and Sue Addison, graduating in 1996 with Master of Music and B.A.





Michael McDonough - Classical
Bermuda
After graduating from Northeast Catholic High School in Philadelphia, PA Michael attended the Philadelphia Musical Academy studying Bass Trombone with Robert Harper and Richard Genovese. He taught high school music in the Philadelphia area school for over 10 years.





Ian McDougall - Jazz Improv - Ian McDougall [bio at this site]
Canada - Victoria, BC


Yamaha 697Z
Ian McDougall was born in Calgary, Canada, and grew up in Victoria, leaving there in 1960 to tour in Great Britain with the John Dankworth Band. He returned to Canada in 1962 and began a lengthy career as a freelance player, composer and arranger in Vancouver and in Toronto.





Brad McDougall - All Styles
USA - Maryville, TN


Greenhoe Double Valve Bass / Yamaha DY
Bass Trombonist, Knoxville Symphony Orchestra, Knoxville Jazz Orchestra, Matrix Originally from Illinois, Brad graduated from the University of Miami and toured for three years as a member of the jazz group, Matrix. He moved to New York City where he established himself as a free-lance bass trombonist.





Joseph 'Joe' McEttrick - Classical
USA - Boston, MA
Joseph McEttrick has performed worldwide as an orchestral musician and soloist. He received his Bachelor of Music degree in 2000 from the Curtis Institute of Music, where he studied with Glenn Dodson and Nitzan Haroz. He is currently a student of Norman Bolter at the New England Conservatory of Music.





Jim McFalls - Jazz Improv - Jim McFalls [bio at this site]
USA - Hanover, MD


Courtois
Born in Columbia, PA, Jim began studying trombone at age nine and, at fourteen, was performing professionally in local community concert bands and jazz combos throughout the Central Pennsylvania area. After his seventeen-year worldwide touring and recording stint with the Jazz Ambassadors.






Lou McGarity - Swing 1917 - 1971
USA
A very talented trombone soloist influenced by Jack Teagarden but possessing his own brassier sound, Lou McGarity was a strong asset to many bands and jam sessions. He started out playing violin when he was seven, not switching to trombone until he was 17. McGarity studied at the University of Georgia.





Cornell McGhee - All Styles - Cornell McGhee [bio at this site]
USA - Vauxhall, NJ


Yamaha JJ Model / Bach 6/12 AL
A native of Newark, NJ has been on the metropolitan jazz scene for the past twenty years. He is a product of the Newark public school system and also hold a B.A Degree from Fairleigh Dickinson University, Madison N.J. Has played on most of the major jazz venues in the metro.





Pete McGuinness - Jazz Improv
USA - New York, NY
Originally from West Hartford, Connecticut, Pete has been an active professional New York City jazz trombonist/composer-arranger since 1987. He has performed as trombonist with such groups as The Woody Herman Orchestra, Lionel Hampton, Jimmy Heath, and The Maria Schneider Jazz Orchestra, and appears on numerous jazz CDs.






Earl McIntyre - All Styles
USA - New York, NY
He served as guest conductor for the Brooklyn Philharmonic, wrote large ensemble compositions for (and directed ) the Musicians of Brooklyn Initiative Big Band, (an organization founded by Lester Bowie, Oliver Lake and others.) Mr. McIntyre was musical director for Town Hall's "Ragtime to Broadway".





Julia McIntyre - Classical
Canada - Winnipeg, Manitoba
Julia McIntyre Julia McIntyre (née Bantin) began playing the bass trombone at the age of fourteen, studying privately with Murray Crewe, Doug Sparkes and Gordon Sweeney. In 1991 she attended the Interlochen Arts Camp in Michigan.





Paul McKee - Jazz Improv
USA - Kansas City, MO


CG Conn - King
Trombonist Paul McKee received the Bachelor of Music in music education from the University
of Northern Iowa and the Master of Music degree in composition from the University of Texas at
Austin. Since 1984 he has been a member of Woody Herman's Thundering Herd and continues
to tour and record with the band. In addition to making frequent appearances as a guest artist and
clinician, Paul has served on the jazz faculty at DePaul University, Northern Illinois University,
Youngstown State University, University of Missouri-Kansas City and has recently joined the
jazz faculty at Florida State University as Assistant Professor of Jazz Trombone. His
compositions and arrangements have been performed and recorded worldwide by professional
and academic jazz ensembles. Paul's recording Gallery was released to critical acclaim on the
Chicago-based Hallway Records label and features special guests Carl Fontana, Bobby Shew,
Tim Ries and Ron Stout. Paul is a clinician for the Conn-Selmer company and plays King
trombones exclusively. - He settled in Chicago for a few years.





Rob McKenzie - All Styles
Canada - Vancouver, BC
Composer, conductor, performer and teacher, Rob McKenzie brings to his work a lifetime of experience in the Vancouver music scene. His interest in composition stems from early experimentation with pop, rock, and jazz improvisation. This lead to jazz and classical training in Vancouver, Los Angeles.





Daryl McKenzie - All Styles - Daryl McKenzie [bio at this site]
Australia - Melbourne, VIC


Boosey and Hawkes Soverign / Marcinkiewicz 10C
Trombonist/ Arranger/ MD. Australia - Trombonist/ Arranger/ MD. Australia - He was Trombonist/M.D. for a national Television show called Hey Hey It's Saturday. Also MD/Trombonist for television shows Dancing With the Stars and Australia's Got Talent. Has performed with Harry
Connick Jr, Bill Watrous, Tom Jones, Josh Groban and many more.





Russell McKinney - All Styles
USA - Salt Lake City, UT


Edwards
Russell McKinney is the Bass Trombonist of the Utah Symphony Orchestra, a position he has held since 1989. Before coming to Utah, he was Bass Trombonist of the Saint Louis Symphony Orchestra during the 1988-89 season as a sabbatical replacement, participating in all activities including tours.





Don McLean - Swing
USA - Riverside, RI


King Liberty 2B / Bach 7C





James McNair - All Styles
USA - Ft. Worth, TX


Edwards 336 / Black and Hill 5G/4G
James McNair is Assistant Professor of Music, Assistant Director of Bands and Coordinator of Instrumental Music Education at Texas Christian University. Mr. McNair earned a Bachelor of Music Education degree in 1991 from East Texas State University.





Andrew McNew - All Styles
USA - Boulder, CO
Since 1995, Andrew has been performing throughout the Eastern Slope and SW Colorado. In '97 he performed 2nd trombone with the New England Youth Ensemble for a tour in the Middle East by invitation of Queen Noir of Jordan; the group performed in the city of Amman, Bethlehem University.





John McPherson - Classical
Canada - Edmonton, AB
Principal Trombone, Edmonton symphony Orchestra For the past seventeen years, John McPherson has been Principal Trombone of the Edmonton Symphony Orchestra. A native Edmontonian, John has been both a Trombone and Euphonium soloist with the ESO.





James Meador - Classical
Mexico - Merida, Yucatan


Bach Greenhoe / Doug Elliott LB114, N, N9
James is currently plays bass trombone with the Yucatan Symphony Orchestra in Mérida, Mexico on the Yucatan Peninsula. He previously held the same position with the Iris Chamber Symphony under conductor Michael Stern and the Acapulco Philharmonic.





Adrian Mears - All Styles - Adrian Mears [bio at this site]
Germany - Wittlingen


Yamaha
Originally from Sydney, Adrian was born in 1969 in Australia and has been welcomed in Europe since his arrival in 1991. Already in Australia he was nominated as "best Australian Trombonist" receiving awards not only for composition but as well his quintet "Free Spirits" "Best Jazz Group 1990".





Constantin 'Kostaya' Medvedev - Classical
Israel - Jerusalem


Edwards 321CF / Schilke 53





Allen Meek - Classical
Singapore - Singapore
Hailing from Fairfax, Virginia in the United States, Allen Meek joined the SSO as Principal Trombone in January 1998. He received both his undergraduate and graduate degrees from the New England Conservatory of Music in Boston, Massachusetts. His principal teachers include Norman Bolter, Chester Schmitz.





Ozzie Melendez - Latin Ozzie Melendez [bio at this site]
USA - Centereach, NY


CG Conn
Ozzie has Toured And Recorded With Many Of The Biggest Names In The industry "Nothing turns me on more than playing great horn lines with a great horn section. Individually, there are many awesome players, but they don't have the concept of real section playing".





Garrett Mendez - Swing
USA - Urbana, IL
Currently working on his Doctorate in Musical Arts from the University of Illinois, Garrett has received a Bachelors and Masters Degrees in Trombone Performance and Chamber Music from the University of Michigan in Ann Arbor, MI.





Freddie Mendoza - Jazz Improv
USA - San Antonio, TX
Freddie Mendoza, a native of San Antonio, Texas, has been recognized by many as Austin's top call trombonist, and has been a fixture in the local Austin music scene since 1987. He received a Bachelor's Degree in Music Performance from the University of Texas at Austin, and a Master's Degree in Music.





Ruud Merx - Classical
Netherlands - Maastricht, LB





Lode Mertens - All Styles
Belgium - Geraardsbergen
Lode is a member of the Brussels Jazz Orchestra. Under their conducting, he played among others the music of Maria Schnieder, Kenny Werner, Toots Thielemans, Bert Joris, Michel Herr, Erwin Vann and many others...





Tovy Meshoulam - All Styles - Tovy Meshoulam [bio at this site]
Israel - Bat Yam


CG Conn 8H / Bach 5GB
Born in 1956, Israeli composer Tovy Meshoulam graduated in composition at the Jerusalem Academy of Music and Dance, and holds a Masters degree in composition from The Hebrew University of Jerusalem.





Robert 'Rob' Mesite - Classical
USA - Bolling, DC
Senior Master Sergeant Robert Mesite is a trombonist with The United States Air Force Ceremonial Brass, Bolling Air Force Base, Washington, D.C. Originally from Nokesville, Va.





John Metcalfe - Classical
USA - Inver Grove Heights, MN


King 4B / Griego 5
Bloomington Symphony Orchestra, Inver Grove Heights, MN Principal trombonist with Bloomington Symphony Orchestra since 1985. Trombonist with Minnehaha Brass Quintet. Member of Minneapolis Trombone Choir.





Adam Mewherter - All Styles - Adam Mewherter [bio at this site]
USA - Atlanta, GA


Bach 36 / Bach 6 1/2 AL
Originally from New Derry, Pennsylvania, Adam Mewherter has called Atlanta home for over 20 years. He is "a slide trombonist with a tuba toting, alter ego" (mrlee.com) and recently recorded with hip hop super-duo OUTKAST for the Universal Pictures movie "Idlewild."





John Meyer - Classical
USA - Grand Rapids, MI
John Meyer joined the Grand Rapids Symphony in the 1990-91 season and was named principal trombone in 1997. He has played with the Detroit Symphony Orchestra, Milwaukee Symphony Orchestra, Michigan Opera Theater Orchestra, Detroit Chamber Winds, Milwaukee Ballet Orchestra, Milwaukee Opera Company and many more.





Adam Meyer - All Styles - Adam Meyer [bio at this site]
Australia - Brisbane


Bach 42 / Bach 4G
Adam Meyer (b. 1981) is an active orchestral and solo trombonist, conductor, teacher and music writer. Adam MeyerBorn in Southport, Australia, Adam studied trombone and conducting at the Queensland Conservatorium and Queensland University of Technology.





Steve Meyer - Jazz Improv
USA - Las Vegas, NV


King 2B / Bach 11C
Steve Meyer currently resides in Las Vegas, Nevada maintaining a very active schedule as a free-lance trombonist, musical arranger, backup keyboardist and backup vocalist. For over twenty years, he has continued to earn a living performing jazz, classical, salsa, pop, R&B, funk, classic rock, and show music of every style. His performance credits include Tony Bennett, Natalie Cole, Johnny Mathis, The Temptations, The O'Jays, Wayne Newton, Frankie Laine, Marie Osmond, Regis Philbin, Kevin Spacey, Bobby Rydell, Allen Toussaint, Marlena Shaw, Michael Grimm, and many, many others over the years.





Marc Meyers - Classical
Luxembourg


Edwards T350 E / 319 CF / T-BCN
Marc Meyers is professor for trombone and chamber music at the Conservatoire de musique of Luxembourg. As an acclaimed soloist and a devoted chamber musician, he co-founded the Luxembourg Brass Ensemble and the Quatuor de trombones du Luxembourg, and currently enters a promising solo career..





Ivan Meylemans - Classical
Belgium - Sint-Niklaas
Ivan studied at the Lemmens Institute in Leuven (Belgium) and at the Royal Conservatory in Gent where he graduated in 1994 with honours for his Higher Diploma. He is laureate from various national competitions including the "Tenuto" competition.





Michael Millar - Classical
USA - Pasadena, CA
Michael holds the degree of Doctor of Musical Arts, with concentrations in Performance and Arts Administration, from Claremont Graduate University, in addition to performance degrees from the University of Colorado – Boulder and California State University – Los Angeles. His teachers have included George Roberts, Jeffrey Reynolds, Roy Main, Nancy van Deusen, and, in management and leadership, Peter F. Drucker and Jean Lipman-Blumen. He is a member of the music faculty at Cal Poly – Pomona and served as Director of the Entrepreneurship Center for Music at the University of Colorado - Boulder. A freelance bass trombonist in Los Angeles for over 20 years, Dr. Millar's credits include performances with the Los Angeles Philharmonic, Colorado Music Festival Orchestra, Boulder Brass, Harry James, Artie Shaw, and Ray Charles. He performed with Southwest Chamber Music on the 2004 Grammy-winning CD, Carlos Chávez: Complete Chamber Works, Vol. 2.





Karna Millen - Classical
USA - Albany, NY


Shires
Karna Millen is second trombonist of the Albany (NY) Symphony, a private lesson teacher for the Wellesley, MA public schools, and a freelancer with an increasingly busy career in Boston and throughout New England. She is a 2002 graduate of the New England Conservatory, where she studied with Norman Bolter.





Curt Miller - Swing - Trombonist | Recording Engineer | Arranger | Curt Miller [bio at this site]
USA - Las Vegas, NV



It was during his time at UNLV in the music department that Curt became serious about the trombone. Curt was at UNLV studying under trombone master Bill Booth, now one of the most sought after trombonists in the LA recording scene. The turning point was at the Orange Coast Jazz Festival where the UNLV Jazz Ensemble was competing. The "pro" band that was playing at night was the Maynard Ferguson band, and during that concert the excitement of the band was all Curt needed to become hopelessly addicted to the instrument and genre.






Glenn Miller - Swing 1904 - 1944
USA


Bach
Glenn Miller (March 1, 1904 - probably December 15, 1944) started life as Alton Glenn Miller in Clarinda, Iowa. Miller was an American jazz musician and bandleader in the swing era who was probably the genre's best-selling performer from 1939-1942.




James Miller - Classical
USA - Los Angeles, CA
James Thomas Miller is currently the associate principal trombonist with the Los Angeles Philharmonic, a position he has held since 1999. Raised in Cedar Rapids, Iowa, Mr. Miller began his musical studies on trumpet and quickly learned the other brass instruments, finally settling on trombone.





David Miller - Classical
USA - Washington DC, WA
Petty Officer Miller joined the Navy Band in 2005. Prior to that, he studied with Thomas Ashworth while earning a bachelor's degree at the University of Minnesota and with Nitzan Haroz while earning a master's degree at Temple University. He was a member of the Charleston Symphony.





Jeff Miller - All Styles
UK - Westcott, Dorking, Surrey
Tuba and Bass Trombone, London, UK - Jeff Miller was born in 1968 among the Blue Ridge Mountains of Virginia. He holds a Bachelor's degree in Music Education from the Shenandoah Conservatory of Music and a Master of Music in Tuba from the Mannes College of Music, Manhattan.





Gilles Milliere - Classical
France - Savieres


Courtois
Gilles Milliere, after studying at Conservatoire National Supérieur de Musique (CNSM) in Paris (Where he was awarded first prizes for trombone and chamber music), he was the first soloist for the Orchestre de l'Opera de Paris from 1972 to 1992.





Darrin Milling - Classical
Brazil - Sao Paulo


Edwards
Darrin is principal bass trombonist of the São Paulo State Symphony Orchestra (Brazil) and professor of low brass at the Center for Musical Studies of São Paulo (Centro de Estudos Musicais – Tom Jobim – ULM). He is also Cofounder of the US-based Low Brass Project chamber ensemble.





John Mindeman - All Styles
USA - Macomb, IL
John is Assistant Professor of Trombone & Euphonium at Western Illinois University. In addition to teaching in the private studio, he teaches low brass techniques, directs the WIU Brass Ensemble and Trombone Ensemble, and coaches chamber music. He performs regularly with the Lamoine Brass Quintet.






Dan Minor -Swing 1909 - 1982
USA
For a brief period of time, Dan Minor was the main trombone soloist with Count Basie's Orchestra but he was eventually overshadowed by stronger players; ironically, he is still best known for his period with Basie. Minor started out playing professionally in 1926 with the Blue Moon Chasers in Dallas.





Eber 'Eberbone' Miranda - All Styles - Eber Miranda [bio at this site]
Brazil - Sao Paulo, SP


Bach LT42COG / Christian Lindberg 5CL
Native of Osasco initiated his studies of trombone at 21 years of age with its friend and trombonist Calebe Tavares, studied in the Mu nicipal School of Music of São Paulo, integrated the Band Sinfonic Young of the State of São Paulo,Sinfonic Young of the State of São Paulo of Camara of the USP.





Aaron Misenheimer - All Styles - Aaron Misenheimer [bio at this site]
USA - Charlotte, NC


CG Conn Minick Modified
Aaron is a bass trombone soloist and advocate for audience friendly new music. As a soloist he has performed at every major university in the US Southeast, at the Eastern Trombone Workshop, and at the North Carolina Trombone Festival.





Alan Mitchell - All Styles
USA - Berrien Springs, MI


Bach 32 / Bach 6 1/2 AL
Alan Mitchell is an Assistant Professor of Music at Andrews University. His teaching responsibilities include the Wind Symphony and music education courses for the B.M. and M.M. in Music E ducation degrees. His performance organizations have performed throughout the United States, Canada, and Europe.





David Mitchell - Classical
USA - Cleveland Hts, OH
David is the most recent addition to the Kent State brass faculty as the trombone professor. He performs with the nationally touring ensemble, the Burning River Brass and is a Dorian Recording Artist. He is a member of the Cleveland Opera Orchestra and also performs frequently with other Orchestras.






Thomas 'Tom' Mitchell - All Styles 1926 - 2003
USA
Mr. Mitchell was a busy recording musician from the 1950's through the late 1980's. He recorded with Miles Davis, Dizzy Gillespie, Stan Getz, Cannonball Adderley, Tommy and Jimmy Dorsey, Coleman Hawkins, Jimmy Smith, Frank Sinatra, Tony Bennett, Barbra Streisand, Peggy Lee, Ella Fitzgerald, Dinah Washington, and many more.






Grover Mitchell - Jazz Improv 1930 - 2003
USA
Grover Mitchell is a soulful and expressive soloist who is best known for his association with swing greats, and has an appealing, very likable tone that was influenced by Tommy Dorsey. Born in Whatley, AL, and raised in Pittsburgh, he moved to the West Coast in the early '60s.





John Moak - Jazz Improv - John Moak [bio at this site]
USA - Portland, OR


King 2B Liberty '52 / Bach 11C
Jazz trombonist John Moak has performed with many notable jazz artists including: Ella Fitzgerald, Doc Severinsen, Jack Sheldon, Dave Brubeck, Urbie Green, Nat Adderly, Randy Brecker, Diane Schurr, Branford Marsalis, Slide Hampton, Clark Terry, Louie Bellson, Pete Christlieb, Herbie Mann, Rosemary Clooney, and many more.





Aaron Moats - Classical
USA - Bolling, DC
Technical Sergeant Aaron Moats is a trombonist with the Ceremonial Brass, The United States Air Force Band, Bolling Air Force Base, Washington, DC. Originally from Dayton, Ohio, his Air Force career began in 2003.





Jeremy Moeller - All Styles
USA - Chicago, IL
Jeremy is currently Assistant Principal/Second Trombone with Grant Park Orchestra in Chicago, and freelances in the Chicago area. Previously he served as Second Trombone of the Charleston (SC) Symphony Orchestra and Principal Trombone with the Sarasota Opera Orchestra.





Rik 'Boneman' Moens - All Styles
Belgium - Sint-Truiden, Limburg


Bach Stradivarius / Denis Wick 5






Miff Mole - Jazz Improv 1898 - 1961
USA
b. Mar. 11, 1898, Roosevelt, NY. d. Apr. 29, 1961, New York, NY For a period in the 1920s, Miff Mole was (prior to the emergence of Jack Teagarden) the most advanced trombonist in jazz. He had gained a strong reputation playing with the Original Memphis Five (starting in 1922).




James Monagham - Classical
USA - Boston, MA


Shires
Shires - Artist Relations/Production Coordinator James Monaghan, a native Texan, is an active chamber and orchestral musician in New England. Mr. Monaghan is currently the Bass Trombonist for the Brockton Symphony Orchestra, the New England Trombone Quartet, and the Riverside Brass Quartet.





Meco Monardo - All Styles - Meco Monardo [bio at this site]
USA - Tamarac, FL
Producer and studio musician Meco marked a confluence of the two dominant pop-culture preoccupations of the late '70s, shooting to fame on the heels of a chart-topping disco rendition o f the theme to Star Wars.





Chris Moncelli - All Styles - Chris Moncelli [bio at this site]
USA - Collinsville, IL


Bach 6, 8, 12, 16M, 36 / Bach Mt. Vernon 11C
Principal trombonist - St. Louis Wind Symphony. Composer, trombonist, arranger and teacher. Chris performs with local St. Louis bands including The Sessions Big Band, The Stan Fornaszewski Orchestra and Dave Mulford's Pipin' Hot Buttery Biscuits of Blues.





Grachan Moncur III - Jazz Improv
USA - Newark, NJ
Grachan was born in New York City at Sydenham Hospital on June 3, 1937 into a musical family that included his Uncle Al Cooper, leader of the Savoy Sultans, and Grachan's father, Grachan Brother Moncur II who played bass as a member of Savoy Sultans.





Jack Mootz - All Styles -Jack Mootz [bio at this site]
USA - Sacr, CA
Received my Master's in Music Performance from California State University, Northridge. He studied with Norm Fleming, and Bill Booth. Freelanced in Los Angeles from the late sixties, this being interrupted for a stint in the United States Marine Corps, and the Glenn Miller Orchestra/





Doug Moran - All Styles
USA - Newark, OH


Edwards Tenor / Doug Elliott 101 rim
Principal Trombonist - Land of Legend Phil., Heisey Wind Ensemble, Newark, OH





Daniele Morandini - Classical - Daniele Morandini [bio at this site]
Italy - Genova


Michael Rath R4F / Denis Wick 4BL custom
Sub-principal trombone of the teatro carlo felice orchestra (Genoa Opera house) - Italy - Bo rn in 1983. Graduated in Geneva Conservatory (switzerland) with andrea bandini in 2005. - Winner of an european brass scolarship award given by Yamaha Music Foundation of Europe in 2000.





Juan Antonio 'Sauco' Moreno - All Styles
Spain - Beniparrell, Valencia


King 4F / Benge 6 1/2 AL-L
Start playing euphonium at my hometown brass band. At 1997, change to trombone and play with the "Valencia Big Band", "Big Band Taller de Musicos" (Barcelona-Spain), and also play with some dancing bands. Last years, i begine to play with "Sedajazz Big Band" and "Sedajazz Latin Ensemble".






Russ Morgan - Swing 1904 - 1969
USA
Born into a Welsh family on April 29, 1904 in Scranton, Pennsylvania, Russ Morgan was encouraged to express himself musically from the tender age of seven. He came by his ability naturally since his father, a coal-mine foreman, was a former musician who played drums in the local band in his spare time.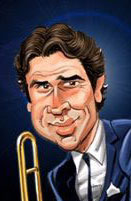 Charlie Morillas - Swing - Charlie Morillas [bio at this site]
USA - Los Angeles, CA
Charlie has enjoyed a varied and successful career as a freelance trombonist in Hollywood and the Southern California area. Charlie grew up in the San Francisco Bay area and then graduated from the University of Southern California. Charlie is also playing in Gordon Goodwin's : Big Phat Band.





Adrian Morris - Classical 1965 - 2015
UK - Manchester
Adrian Morris was born in Bridgnorth, Shropshire, in 1965 and started playing the Bass Trombone aged 10 with the Bridgnorth Town Band. Adrian studied at the Royal Northern College of Music from 1983 - 1987, Graduating with the PPRNCM Performers Diploma.





Criss Morrison - Brass Band
USA -Panama City Beach, FL


King / Schilke 47 and a Rudy Muck mouthpiece





Audrey Morrison - All Styles
USA - Chicago, IL
Audrey Morrison, a native of New York City, Audrey Morrison began her studies on trombone at age 9. As a high school student, she was a scholarship recipient at the National Music Camp in Interlochen, Michigan, principal trombone in the Mannes College of Music Wind and Brass Ensemble.





James Morrison - Jazz Improv - James Morrison [bio at this site]
Australia - Newport, NSW


Yamaha YSL-456GJII / Yamaha SL48 M. Shank
James Morrison is, by anybody's standard, a virtuoso in the true sense of the word. Besides the trumpet, this multi-instrumentalist also plays trombone, euphonium, flugel horn, tuba, saxophones, and piano. At the age of seven, he was given his first instrument, at nine he formed his first band.





Sarah Morrow - Jazz Improv
France - Issy les Mlx


Getzen
"Sarah Morrow holds the distinction of having been the first female instrumentalist to tour with Ray Charles, but the emphasis there should really be placed on instrumentalist rather than female, because she's an impressively strong and soulful player.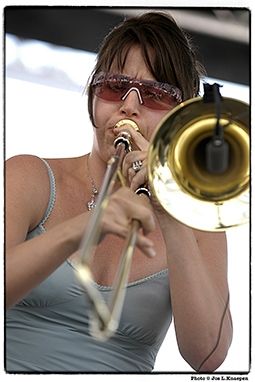 .






Buddy Morrow - Swing 1919 - 2010
USA - Winter Park, FL
Buddy, conductor of the Tommy Dorsey Orchestra, is recognized as one of the all-time great trombone players. He first came to prominence as a featured performer with such leading orchestras as Tommy Dorsey, Paul Whiteman, Artie Shaw and Jimmy Dorsey.





Benny Morton - Jazz Improv 1907 - 1985
USA
The trombone was a particularly effective musical device in swing music, and not only for its slurs, slides, growls, and groans. Benny Morton was known for his beautiful tone, advanced use of chromatics outside of the key signature, and tasteful understatement.





John Mosca - Jazz Improv
USA - New York, NY
John Mosca is a graduate of Juilliard, and has been on the faculty at the Manhattan School of Music, The New England Conservatory, and The University of Connecticut, among others. Modest by nature, he is one of the most respected instrumentalists in the world, a brilliant soloist. John is for years a member of the Village Vanguard Jazz Orchestra.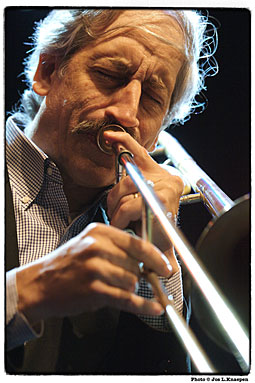 Rene Mosele - Jazz Improv - Rene Mosele [bio at this site]
Switzerland - Zurich


King 2B / Warburton
René Mosele was born 1976 in Switzerland in a very insignificant town called Olten. After playing the piano several years he soon discovered the trombone. With the age of about seventeen he started to take lessons in the Swiss Jazz School where he later studied one year in the bachelor program.






Lawrence 'Snub' Mosley - Swing 1905 - 1981
USA
Snub Mosley is perhaps best known for having invented the "slide saxophone," a horn that had both a saxophone mouthpiece and a slide; his 1940 recording "The Man with the Funny Little Horn" shows off his odd axe a bit. Mostly, however, Mosley made his living as a trombonist.





Frank Mowes - All Styles - Frank Mowes [bio at this site]
Germany - Nurnberg


Thein Van Dijk
www.basstrombones.com This is the ultimative website for all existing and future fans of the double-valve bass trombone. No matter, whether you need informations for the different instruments or you want to know, why there are so different valves or whether the opinions of other basstrombone players.





Peter Mueller - Classical
USA - Carrollton, GA


Edwards T350 / Griego 4.5
Peter Mueller began his professional career as principal trombonist of the Florida Symphony Orchestra in 1976. He h as also performed with the American Wind Symphony Orchestra, Baltimore Symphony Orchestra, Spanish Lyric Theater (Tampa, FL), Hollywood Bowl Orchestra, Georgia Brass Band.





John Mueller - Classical
USA - Memphis, TN
Assistant Professor of Trombone and euphonium, joined the faculty of The University of Memphis after a 21-year career with The U.S. Army Band (Pershing's Own) in Washington, D.C. As a member of The Army Band, Dr. Mueller was frequently featured as a soloist on both trombone and euphonium with The Army Band.





Ferg Mulcahy - Funk - Ferg Mulcahy [bio at this site]
UK - Warrington, Cheshire


King 3B / Yamaha 13C
Has been playing trombone for 27 years and have performed in many countries all over Europe in the last 15. Has been a performer and arranger for the soul band Goodfalles, arranging every song in their set.





Dave Mulligan - All Styles
USA - Hollywood, CA


Bach Stradivarius / Jet Tone 6 1/2 AL Alu
Sophisticated swing, latin and romantic ballads... Pretty music and swing - What more is there to life?





Mark Mullins - Rock
USA - New Orleans, Louisiana
Mark Mullins has made a reputation for himself in New Orleans as a multi-faceted musician who like a chameleon, fits perfectly in many situations without compromising his integrity. Mark began studying trombone at age eight, and at 13 had his own Dixieland band performing in Mardi Gras.




Chris Mundo - Classical
USA - Palm Coast, FL
Shires Osmun/Edwards / Schilke Charlie Vernon
University of Rhode Island, Master of Music Education, May 2001 Armed Forces School of Music, July 1991 Temple University, Graduate Study (23 credits), 1998 - 1990 Wilkes University, Bachelor of Music Performance.





Alberto 'Molote' Munoz - Latin - Alberto Munoz [bio at this site]
Netherlands - Utrecht


Yamaha yls 38 60 / Yamaha
Alberto 'Molote' Muñoz Alberto Muñoz Martinez was born in Havana, Cuba,1961. From his very youth his musical career has been inspired by two important factors: His home, where his father, the singing sigarmaker, created daily a musical ambiance by inviting friends and collegues.





Andrae Murchison - All Styles
USA - New York, NY
Andrae Murchison is one of the hottest young trombonist on the New York scene. When he arrived in 2004, he was immediately snatched up by trumpeter Roy Hargrove. Since then, his warm soulful sound has continued to catch people's attention and has brought him to perform with the likes
of Slide Hampton, Glady's Knight, Jay-Z, Clark Terry, Duke Ellington Orchestra, Lionel Hampton Orchestra, Count Basie Orchestra, Ekaya, and recent trombonist with the Skatalites. Murchison is a Savannah native (and student of Savannah's JazzmanTeddy Adams), who went through the public school system and graduated from Savannah Arts Academy. Thereafter, he recieved his Bachelor's from Oberlin Conservatory of Music and his Master's from Queens College.





Todd Murphy - All Styles
Brazil - Jacareí, Sao Paulo


Bach 50B / Schilke D. Yaxley
American bas s trombonist is currently living in Brazil (past 15 years) where he works as a freelance musician, composer, arranger and conductor. Born in Crossett Arkansas in 1964, Todd moved to Florida at the age of 14 and eventually made it all the way to Brazil with the Concert Jazz Band from Miami.






Turk Murphy - Swing 1915 - 1987
USA
b. Dec. 16 1915, Palermo, CA. d. May 30, 1987, San Francisco, CA Turk Murphy led one of the most popular bands of the San Francisco Dixieland movement. After playing with various big bands (including _Mal Hallett and Will Osborne).





Beth Murray - Brass Band
UK - Wirral


Blessing Scholastic
Trombonist, Wirral School's Brass Band, Wirral, UK - Played Trombone since the age of 9ish. Member of Wirral Schools' Brass Band and Wirral Schools' Concert Band. Intend to carry on at Uni, where she hopes to study Criminology or Criminal Justice. Really keen on Big Band and Brass Band music.





Colin Murray - All Styles - Colin Murray [bio at this site]
Canada - Toronto, Ontario


CG Conn 62H Shires / Yamaha Custom CM
Colin is active as a bass trombonist and has played with stars like Paul Anka, Frank Sinatra Jr., Aretha Franklin, Tony Bennett, Burt Bacharach and John Pizzarelli, and has performed and recorded with numerous big bands, brass ensembles, brass bands and symphony and theatre orchestras.





Jayne Murrill - Classical - Jayne Murrill [bio at this site]
United Kingdom


Bach 42GB Standard Slide / Denis Wick 4AL
Since leaving college Jayne has enjoyed a successful freelance career working with many of the major orchestras in London including the London Symphony Orchestra and the BBC Symphony Orchestra..





Volkan Mutaf - Classical - Volkan Mutaf [bio at this site]
Canada - Vancouver, BC


Yamaha YSL-882O / Yamaha Trudel
Volkan Mutaf is well known as a red-hot rivet in Vancouver's Latin music scene having recorded award winning CD's with groups like Orquestra BC Salsa and Orquestra Revolution. This has resulted in appearances at world music festivals throughout western Canada.





Christian Muthspiel - All Styles
Austria - Elsdorf
Born in Judenburg, Austria, in 1962; at the age of 6 piano lessons, of 11 additional trombone lessons. Studies at the Musikhochschule Graz (Trombone classical and jazz), all studies broken off in time; 1987/88 scholarship at the School of Fine Arts in Banff/Canada.





Timothy Myers - Classical
USA - Saint Louis, MO
Principal Trombonist, Saint Louis Symphony Orchestra. Timothy Myers, trombone, is the St. Louis Symphony Orchestra's Principal Trombonist and has also performed with the Minnesota Orchestra and the Chicago and Atlanta symphonies, and has toured with Summit Brass.






























Copyright 2022 René Laanen - Trombone Page of the World
Please direct comments and questions about this web site to René Laanen ~ contact