ROB MCCONNELL



This page is updated: October 16, 2020 10:49 AM
Rob McConnell passed away May 1, 2010 at the age of 75. Here is the Canadian Press obituary:
TORONTO - Canadian jazz musician Rob McConnell, who led Toronto's jazz popular Boss Brass orchestra during his lauded career, has died of cancer. He was 75.

Rob McConnellThe London, Ont., native took up valve trombone in high school and began his career in 1954 in Edmonton, where he played with saxophonist Don Thompson.

He formed the Boss Brass in Toronto in 1968 and guided the group through the tremendous growth that occurred over the following years, including a Juno win in 1978 for their "Big Band Jazz" album.

It was one of five Juno Awards for McConnell.

He also won three Grammy Awards, was appointed an Officer of the Order of Canada in 1998, and was inducted into the Canadian Music Hall of Fame in '97.

Grammy organizers called McConnell "a true renaissance man in the genre of jazz."
"A trombonist, bandleader, composer/arranger, songwriter, and music educator, he wore many hats and all contributed to his great body of work and his unwavering devotion to the music he loved," said a statement from Neil Portnow, president/CEO of the Recording Academy, which puts on the Grammys.

"His sense of storytelling and humour infused his dynamic career, which will be remembered and appreciated for generations to come. Our heartfelt condolences go out to his family, his friends, and all who have enjoyed his music."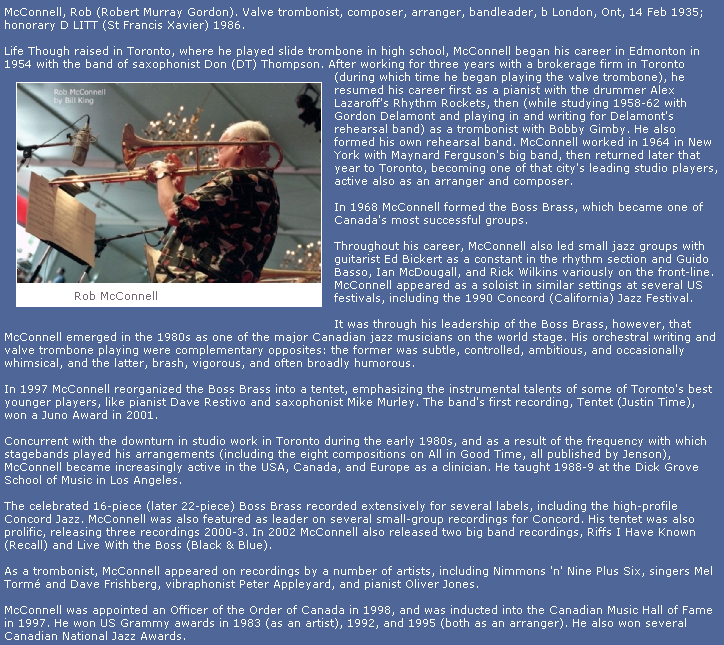 Rob's horn is listed as a Shires - though all of his Boss Brass recordings were done on a Conn 5G valve section modified onto an 8H bell. A beautiful set of 1st & 3rd slide tuning levers were custom designed & installed by Don Charlton of Toronto, probably in the late 1960's or early 1970's. These were later converted to quieter nylon ball & socket linkages by Toronto based repair technician Ron Partch in the early 1980's. Rob was thrilled by this as the studios could now "close mic" his horn - making his job a lot easier!



Copyright 2020 René Laanen - Trombone Page of the World
Please direct comments and questions about this web site to René Laanen ~ contact