TROMBONE - CD Releases-------------------------------------



This page is updated: December 14, 2014 1:05 PM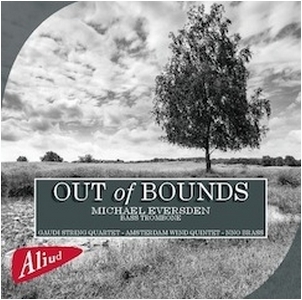 OUT of BOUNDS, a new solo CD featuring English bass trombonist Michael Eversden (North Netherlands Symphony Orchestra) has just been released.
The CD explores interesting and little known 20th and 21st Century music for bass trombone in a chamber music setting and features the instrument accompanied by brass and string quartets and a wind quintet, and duets with percussion, violin and flute.
To order: http://www.basstrombone.eu/




Requiem - Hansjörg Fink and Elmar Lehnen
An unusual journey into the spheres of improvisation and traditional requiem chants: Hansjörg Fink and Elmar Lehnen prove to be border crossers, demonstrating that contrasts can be tied together. Age-old tradition meets vibrant, jazzy joie de vivre; composed music meets improvisation; liturgy meets world; spirituality meets sensuality. Fink and Lehnen move assuredly on historic foundations, adding their own, liberal figures. Sombre moments of death appear here in a new, milder light.
....
more
...... >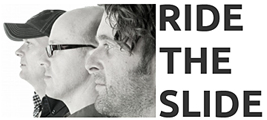 Mario Vavti
- trombone, loops and live electronics In his childhood he started his musical career as a drummer. Later he studied trombone with Erich Kleinschuster at the conservatory in Klagenfurt (A), with Bart van Lier at the conservatories in Hilversum and Rotterdam (NL) and with Ed Neumeister at the University of Music and Arts in Graz (A). Since 2004 he is living in Vienna (A) working as freelance musician, composer and arranger. Besides his work as bandleader he is internationally active as soloist and sideman.
....
more
...... >


THE JENS WENDOELBOE BIG BAND
Track Listing: Joy Spring; No Mercy; Black Narcissus; My Funny Valentine; Falling Grace; What A Trip; Nix Vogel; Suite to Bjorn.
Personnel:
Jens Wendelboe
: trombone; Deb Lyons: vocals; Tom Timko; alto saxophone, soprano saxophone, flute, clarinet, bass clarinet, baritone saxophone; Michael Migliore: alto saxophone; Mark Fineberg: tenor saxophone; Joey Berkley: tenor saxophone; Sam Bortka: baritone saxophone; Bob Millikan: trumpet; Steve Janowski: trumpet; Rick Savage: trumpet; Chris Rogers: trumpet;
Dan Levine
: trombone, euphonium; Charley Gordon: trombone; George Flynn: bass trombone, tuba; David Anderson: electric bass; Lee Finkelstein: drums; Bill Heller: piano; Ken Gioffre: tenor saxophone (5); Rob Paparozzi: harmonica (3); Vinnie Cutro: trumpet (1).
....
more
...... >


MARSHALL GILKES - sound stories
featuring:
Donny McCaslin - tenor saxophone
Adam Birnbaum - piano
Yasushi Nakamura - bass
Eric Doob - drums
....
more
...... >


Boys Night Out - The Michael Treni Big Band
"Boy's Night Out" is Michael Treni's fourth jazz release since he rededicated himself to music. Working in partnership with his equally gifted producer, Roy Nicolosi, Michael has gradually assembled The Michael Treni Big Band, a jazz orchestra loaded with heavyweight players. Boston tenor sax legend Jerry Bergonzi is the best-known player, but the 16-piece band features an array of veteran cats.
....
more
...... >


Under the Spell of Spain is the debut recording from Superbrass, an ensemble comprising some of the finest brass and percussion players working in the diverse London music scene. The recording is a deliberate and eclectic mix of original and arranged music for brass and percussion, all inspired by the vibrant country and people of Spain....more ...... >



Band of Bones plays swinging big band jazz with a new twist and a totally unique sound.
They have great arrangements, exciting, original soloists, and their own sound.
www.bandofbones.com






HR Big Band (Radio Big Band Frankfurt) featuring trombone soloist: Günter Bollmann
Conductor Örjan Fahlström arrangements from J.A.Keller (2010)
www.guenterbollmann.de

This is one of the finest recordings of "West Side Story" that it has been my pleasure to hear, his trombone playing in phenomenal...! ~ Cliff Stark

I agree with Cliff Stark, wat a great talent this guy! ~ René Laanen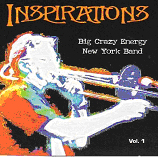 Jens Wendelboe's Big Crazy Energy New York Band "Inspirations Vol.1"
www.cdbaby.com/cd/bcenyb



Music for organ and trombone
Hansjörg Fink "Salve Regina"
Hansjörg Fink
"Salve Regina"
CD available here (Germany)
CD available here (Dutch)
CD available here (English)





PEPPE MEROLLA
Peppe Merolla
"Stick with me"
Stick With Me is percussionist Peppe Merolla's first album as leader with this sextet of excellent New York-based musicians. Personnel: Peppe Merolla: drums, percussion; Steve Turré: trombone, shells; Jim Rotondi: trumpet, flugelhorn; John Farnsworth: tenor saxophone; Mike LeDonne: piano; Lee Smith: bass
CD available here



BONES APART
Bones Apart
Bones Apart have just released their new CD 'ten' celebrating their 10th Anniversary.
CD available here

Steve Swell's '5000 Poems'
Steve Swell
Steve Swell's Slammin' the Infinite, a band with seven years of experience in New York's free jazz scene, lives up to its name in its fourth album release, 5000 Poems (NotTwo, 2010). Fans of free jazz will delight in the band's energy.
* Steve Swell – trombone, compositions
* Sabir Mateen – alto sax, tenor sax, clarinet, alto clarinet, flute
* John Blum – piano
* Matthew Heyner – bass
* Klaus Kugel – drums

John Fedchock - Live At The Red Sea Jazz Festival
John Fedchock
Trombonist John Fedchock achieved great notoriety for over two decades with his New York big band. In forming the John Fedchock NY sextet, he has created an agile group featuring sophisticated arrangements and originals, putting the focus on the group's all-star Big Apple soloists. Live At The Red Sea Jazz Festival gives us a close-up look at the sextet in action during their dynamic set at this iconic international event. Joining Fedchock on stage is trumpeter Scott Wendholt, tenor saxophonist Walt Weiskopf, pianist Allen Farnham, bassist David Finck and drummer Dave Ratajczak.


Robert Payne - Musical Chairs
Robert Payne
Stan Kenton, Woody Herman, Harry James, Les Brown, Benny Goodman, Nelson Riddle, Quincy Jones...ROBERT PAYNE has performed with them all and many more, including the BBJHF Orchestra. Hear his elegant talent in songs like Like A Lover, Star Eyes, You Go To My Head and other great standards.


Jens Wendelboe's Big Crazy Energy New York Band
Jens Wendelboe
Beautiful new orchestrated versions of old jazz masters combined with new original contemporary jazz big band compositions


NEW I TROMBONI CD "The Bad and the Beautiful"
www.itromboni.com
The new CD "The Bad and The Beautiful" has:
The Hungarian - A McDowell piano monsterpiece that is burning!
Romance - A romantic contemporary Canadian piece
I'm Getting Sentimental Over You - Arranged by Dave Robbins (trombonist with Harry James) and recorded with rhythm.
The Bad and the Beautiful - Beautiful theme music to a Kurt Russell film from the 50's. Again expertly arranged by David Robbins and recorded with rhythm.
Django - The jazz classic mashed up with a JS Bach violin theme. Again expertly arranged by David Robbins and recorded with rhythm.
The Humming Chorus - Puccini's crowd pleaser and our standard second encore
Quintet for Trombones - An ear friendly Canadian composition written for us by our friend Elizabeth Raum
Pictures at an Exhibition - 6 tracks from Mussorgskys work. Promenade 1, Bydlo,Promenade 4, Dance of the Unhatched Chicks, Baba Yaga and the Great Gate of Kiev.
From Russia With Love - The James Bond Classic
Salvation is Created - A stirringly beautiful mash-up of the Chesnikov choral work and Rimsky-Korsakov's Russian Easter trombone solo.
Bachianas Brasilieras #5 - Recorded with rising soprano star Simone Oborne and cellist Ariel Barnes.
Smile - The chaplin classic presented in bones a capella.
CD available here


MARK MCGRAIN
Mark McGrain
It's the long-awaited second CD from this unusual trio comprised of three of New Oreans' preeminent modern jazz players - Mark McGrain on trombone, Tim Green on saxophones and James Singleton on bass.
Release date November 2009
CD available here


WAYNE WALLACE
Wayne Wallace
The Wayne Wallace Latin Jazz Quintet - "¡Bien Bien!"
Featuring Julian Priester and Kenny Washington
Release date September 15th 2009
CD available here


SAMUAL BLASER
Samuel Blaser
"Pieces of Old Sky" is a fine and riveting set, with Blaser's rising star shining brightly
CD available here













The Schumacher / Sanford Sound Assembly
is a 17-piece collective of New York's finest players featuring the original compositions of David Schumacher and JC Sanford. Schumacher and Sanford strive for organic structures, extended forms, and motivic development through a colorful palette of orchestration. They intertwine improvised and composed elements in their work to create a natural, seamless evolution of material. It is a combination full of excitement and intrigue that will fulfill the most critical and demanding jazz audience.

Sound Assembly members, including drummer John Hollenbeck, pianist Deanna Witkowski, trumpeter John Bailey, trombonists Mark Patterson and Alan Ferber, and reedmen Chris Bacas, Ben Kono, and Dan Willis bring a vast range of experience to the group. The talents of these members showcase the unmistakable sound, style, and nuance of co-leaders Schumacher and Sanford.





NEW ALBUM DENIS LELOUP
Denis Leloup, a Fantastic French Trombone Player




JAMMIN'
Jay T. Vonada, of Aaronsburg Pennsylvania, will have his debut CD, Jammin', released on Tuesday July 22, 2008.




BETWEEN THE LINES
Samuel Blaser Quartet - 7th Heaven
Samuel Blaser (trombone)
Scott DuBois (guitar), Thomas Morgan (bass), Gerald Cleaver (drums)

Cédric Vergère

, Switzerland - Vétroz VS

Trombone and bass trombone soloist. Brass Band 13 Etoiles' bass trombone.

Study by Géo-Pierre Moren, and David Bruchez at Conservatoire de Lausanne. Then proficiency courses with Dany Bonvin, Armin Bachmann, Jacques Mauger and Christian Lindberg.

Luis Bonilla

, Trombonist New York

Bonilla and his group employ solid musicality and a broad knowledge on Terminal Clarity, successfully finding a common ground for free jazz and Latin music. Bonilla's compositional balance between written segments and experimental improvisation lays the foundation for a successful merging ~

The Latin Jazz Corner

BRIAN BENDER & LITTLE SHOP OF HORAS

"Eyn Velt" (FTM-2008)

Original and traditional Jewish melodies blended with Latin, Caribbean, African and Middle Eastern rhythms.

Brian Bender plays melodica, trombone and keyboards on all tracks.

BRIAN BENDER & THE WORLD BEATNIKS

"Urban Jungle" (FTM-2007)

Original Reggae, Funk, Samba, Calypso, Afrobeat, Middle Eastern and New Orleans "second line" compositions.

Brian Bender plays trombone and keyboards on all tracks.

Ten years after the release of the landmark Absolute Trombone CD, Hip-BoneMusic proudly presents Absolute Trombone II: New York, Los Angeles, London.
Includes all new original compositions for solo trombone, trombone duet, quartet, sextet, octet and tentet.

| | |
| --- | --- |
| | Joe Gil - "One Trombone backed by a killer rhythm section playing straight ahead fusion and jazz. If you like something different than the usual straight ahead jazz then you'll love this. Featuring all original compositions. On sale now at at CDBaby.com" |

Trombonist Michael Dease has just released a new CD with his sextet featuring Criss Cross recording artist Victor Goines on tenor saxophone and pianist Eric Reed entitled Clarity on the Bluesback Records label. Dease is a Michael Rath performing artist and clinician, and can be heard with a variety of ensembles around the greater New York City area, including Slide Hampton's Trombone All-Stars, Fat Cat Big Band and the Dizzy Gillespie Alumni Big Band.
Clarity is available through www.cdbaby.com


Gary Tole - and Legends of Swing Grammy nomination
Please consider voting for this CD in the next NARAS nomination round!




Don Immel - Long Way Home









The Rath Pack - With trombonists: Mark Nightingale, Marc Godfroid, and Bert Boeren.




Look Up [produced by Jimmy Haslip & Chris Weigers]





Rick Trolsen - Sunrise On Bourbon Street (trombone)






Hugo Assuncao




The Scott Kyle Quintet (trombone)





Travelling Hard by Robert Bachner (trombone)







Phil Wilson's Panamerican All-Stars (trombone)




The Steve Wiest Big Band (trombone)




Gordon Goodwin's Big Phat Band




Legends Of Swing - Gary Tole




Reflection - Ed Neumeister




Sammy Nestico - This Is The Moment




Michael Davis - TRUMPETS ELEVEN




New Orleans Trombonisms, with trombonist Craig Klein.



Against the Grain (trombones)




The Baileo Big Band - DVD
By Jack Bowers - All About Jazz I recently asked a pen-pal in the Netherlands, trombonist René Laanen, about the big-band scene there. "We have a pretty good new band, he said. "It's called the Baileo Big Band. Was he ever right! I've now had the pleasure of hearing and seeing the eighteen-piece Baileo ensemble on CD.




Robert Bachner Quintet (trombone)




Björn Samuelsson (trombone)




Phil Abraham (trombone)




New CD release Scott Kyle (trombone)




Trombonist John Hines




The Dease - Madsen Quintet (trombone)




The Highlight Jazz Orchestra with trombonist Bart Van Lier




New CD release Scott Reeves (trombone)




New CD release Vincent Nilsson (Sweden)


-


Copyright 2014 René Laanen - Trombone Page of the World
Please direct comments and questions about this web site to René Laanen ~ contact