H





Brian Haapanen - Classical - Brian Haapanen [bio at this site]
USA - Tulsa, OK


Getzen Custom / Doug Elliott 102N-XT
Coming from a musical home in Seattle, Brian started the trombone early at the suggestion of his father, a trumpet player.





Paul Hageman - All Styles
USA - Kingsville, TX
Paul Hageman is Chair of the Music Department and Professor of Trombone at Texas A&M University-Kingsville. He is also co-director of the jazz program and directs the Jazz Band.





Nicholas Hagen - All Styles - Nicholas Hagen [bio at this site]
USA - East Grand Forks, MN


CG Conn 88H / Bach
Currently a student at The Juilliard School, Hagen is primarely a classical musician, but does not limit himself to one style. He is at home with jazz, chamber music, orchestral playing, etc. He has performed with the Minnesota Orchestra, the Juilliard Orchestra, the Juilliard Symphony.





Earle H. Hagen - Swing
USA
b. July 9, 1919 - Hagan Hagan began his study of the trombone in his early teens, and after graduating from high school, began working professionally, playing with such bands as Jimmy Dorsey, Benny Goodman, and Isham Jones. During WW2, Hagan worked in the Army Air Corps' Radio and Film Unit in Santa Ana.





René Hagmann - All Styles - René Hagmann [bio at this site]
Switzerland - Geneva


René Hagmann® Free-Flow Valve
Before becoming a professional brass and woodwind repairman, René Hagmann was trained as a toolmaker. He graduated and obtained the federal Swiss diploma before joining the music trade in 1971.





Ryan Haines - All Styles
USA - Bolling, DC
Master Sergeant Ryan Edward Haines is a trombonist with The United States Air Force Ceremonial Brass, Bolling Air Force Base, Washington, D.C. Originally from Tucson, Az., his career in the Air Force began in 1989. Prior to joining The Air Force Band he was a member of the Air Force Band of the Golden West.





David Haldeman - All Styles - David Haldeman [bio at this site]
USA - Cincinnati, OH


CG Conn 88H / CG Conn CL4
Principle trombone, Cincinnati Brass Band. David also plays with the Clarion Bras s Quintet, the Gene Rahn Little Bitty Band, the Lebanon Symphony, the Sounds of Sousa Concert Band (under Marcus Neiman) and lead the Fleeting Moments Waltz & Quickstep Orchestra and the Fleeting Moments Big Band.





Michael 'Mike' Hall - All Styles
USA - Lawrence, KS


CG Conn
Mike began his appointment as KU Assistant Professor of Trombone fall 2000. In addition to studio teaching duties, Dr. Hall directs the KU Trombone Ensemble and performs in the Kansas Brass Quintet, KU's brass ensemble in residence for over 30 years.





Jeffrey Hall - Classical
Canada - Toronto, Ontario
Bass Trombone, Trombone, Toronto Symphony Orchestra Born in Ottawa, Jeff received his musical training at McGill University (Montreal) and New England Conservatory of Music (Boston). His principal teachers include Ted Griffith, Douglas Yeo and Richard Erb.





Stuart Hall - Brass Band - Stuart Hall [bio at this site]
UK - Reading, Berkshire


King 4B / Bach 6,5
Reading, England, United Kingdom - Studied at the Royal Northern College of Music in Manchester before commencing a military career with the Band of the Grenadier Guard s.





Mark Hamilton - All Styles
USA - Boston, MA
Brass Planet and Klezperanto, Boston, MA Playing Yiddish music has been very good to Mark Hamilton as he's toured throughout Europe, Australia, and North America and recorded nine CD's with the Klezmer Conservatory Band.





Klaus Hammer - Classical
Germany - Bayreuth


King 4B / Bach 5GS
Studierte Posaune an der Hochschule für Musik Nürnberg-Augsburg bei Silvan Koopmann, in Würzburg, in Mannheim bei Prof. Rückert und in Frankfurt bei Reinhard Nietert Studierte Tuba im Nebenfach bei Tatsuo Inada.






Slide Hampton - Jazz Improv
USA - Jeannette, PA
b. Locksley Wellington Hampton, 21 April 1932 - d. 20 November 2021, Jeannette, Pennsylvania, USA. Born into a musical family, several members of which played together for a while, trombonist Hampton joined Buddy Johnson's R&B band in the mid-50s.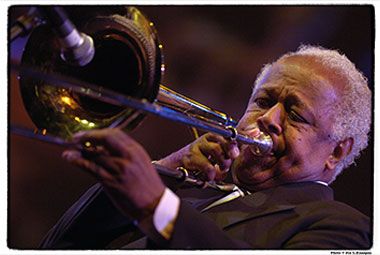 Kenneth 'Ken' Hanlon - All Styles
USA - Las Vegas, NV
A native Baltimorean, Hanlon graduated from Parkville High School in 1959 and attended the Peabody Conservatory of Music of the Johns Hopkins University on scholarship, earning a B.M. in 1963, an M.M. in 1965 and a D.M.A. in 1989.





Steen Nikolaj Hansen - Jazz Improv - Steen Hansen [bio at this site]
Denmark - Glostrup
Steen Hansen was born on November 27th, and plays trombone (2. & solo's) in the Danish Radio Big Band (October- April), and the Tivoli Big Band (April-October). He has his own Quartet and is a member of the group "Solid State". He performed in TV-Shows, musical shows, opera, ballet, studio gigs a.o.





Craig Hansford - Classical
Austria - Innsbruck, Tirol
Born in Ashtabula, Ohio USA, in 1969, Craig Hansford went to school in nearby Jefferson, where he graduated as best of his class in 1988. He then received a scholarship for the University of Akron, Ohio, where he took lessons with trombone Prof. Ed Zadrozny and graduated after four years.





Todd Keith Hanson - All Styles
USA - Bolling, DC
Master Sergeant Todd Keith Hanson is a trombonist with The United States Air Force Ceremonial Brass, Bolling Air Force Base, Washington, D.C. Originally from Scottsdale, Az., his career in the Air Force began in 1991.





Preston Hardage - Brass Band
USA - Washington, WA
Staff Sergeant Preston Hardage joined "The President's Own" United States Marine Band in October 2004.





Julie Harnois - Classical
Canada - Montreal, Quebec


Shires t47 - 1g / Laskey 57md





Nitzan Haroz - Classical
USA - Philadelphia, PA


Edwards
Nitzan Haroz joined the Philadelphia Orchestra as principal trombone in 1995. He previously served as assistant principal trombone of the New York Philharmonic and as principal trombone of the Rishon-Le Zion Symphony and Opera Orchestra.





Becca Harper - Classical
UK - Manchester


CG Conn 88HT-CL / Denis Wick 5ABL
Becca began her musical life at the age of 3 when she started playing the violin, since then she has tried the piano and clarinet before finally settling on trombone. She was in both the Leicestershire Schools Symphony Orchestra and the Derbyshire County Youth Wind Band before entering the RNCM.





Herbie Harper - Jazz Improv
USA - Los Angeles, CA
b. Jul. 2, 1920, Salina, KS A fine trombonist active in the West Coast jazz scene of the 1950s, Herbie has spent most of his playing time since 1955 as a studio musician although he occasionally re-emerges in the jazz world.




Martin 'Marty' Harrell - All Styles
USA - Memphis, TN
Marty was the trombonist and sometime orchestra leader from Elvis Presley.





David 'Dave' Harris - All Styles
USA - Boston, MA
Since coming to Boston in 1980, David Harris has distinguished himself as a trombonist, pianist and composer on countless recordings, movie and television soundtracks, and concert stages. He began writing for the JCA in 1997 after a decade performing with the Orchestra.






Bill Harris - Jazz Improv 1916 - 1973
USA
Bill Harris was one of the few modern trombonists of the 1945-1960 era who was not influenced by J.J. Johnson. A very distinctive player almost from the start with a strong and highly original wit, Harris became a professional musician in 1938, and toured with the big bands of Gene Krupa, Ray McKinley, and many more.





Chris Harris - Classical
Australia - Sydney, New South Wales
Trust and Trust Foundation Chair of Principal Bass Trombone, Sydney Symphony Orchestra South African born Christopher Harris emigrated to Australia in 1987 and completed his secondary schooling at Armidale High School. He was accepted to the Canberra School of Music to study with Michael Mulcahy.





Craig Harris - Jazz Improv
USA - Hempstead, NY
When Craig Harris exploded onto the jazz scene in 1976, he brought the entire history of the jazz trombone with him. From the growling gutbucket intensity of early New Orleans music through the refined, articulate improvisation of the modern era set forth by J.J. Johnson.





LaMar 'Bone' Harris - All Styles - LaMar 'Bone' Harris [bio at this site]
USA - St. Louis, MO


Bach LT16 / Denis Wick
LaMar Harris is a producer, arranger, band leader, trombonist and brass specialist. In addition to all these titles, he is also the band director at Crossroads School. Born Byron LaMar Harris in St. Louis, Missouri, he was raised by his grandparents in a small municipality called Pagedale.





William Harris - All Styles
USA - Syracuse, NY


Shires
William Harris, Principal Trombone with the Syracuse Symphony Orchestra, is a charter member of the orchestra (since 1961) and performs regularly with the SSO Brass Quintet. He was a former member of the United States Army Band at West Point and Principal Trombone with the Lake Placid Performing Arts Center.





Jimmy Harrison - Swing 1900 - 1931
USA
One of the many fine musicians to come out of Louisville, Kentucky, Jimmy Harrison played trombone with many historic outfits exploring syncopated music in the '20s. Although he began enjoying the horn as a 15-year old, making a livelihood from music did not seem to occur to him immediately.




Mark Hartman - Classical
USA - New York, NY
Mark Hartman, Professor of trombone at The Crane School of Music, State University of New York at Potsdam, Dr. Hartman is a graduate of Williamsport Area High School (Pennsylvania) and holds degrees from Mansfield University and Arizona State University. He has performed with the Phoenix Symphony, Vermont.





William Hartman - All Styles
USA - Springfield, MO
Before assuming his present position at Missouri State University in Springfield, Associate Professor William Hartman was a bass trombonist with the United States Marine Band, "The President's Own", in Washington, D.C., and the Stan Kenton Orchestra.





Scott Hartman - Classical - Scott Hartman [bio at the site]
USA
Scott Hartman is a trombonist and teacher. Currently, he is the trombone instructor at the Yale University School of Music and a frequent guest clinician and teacher throughout the world. Scott's performing career has been primarily as a chamber musician and soloist.





Achim Hartmann - Swing - Achim Hartmann [bio at this site]
Germany - Dortmund


CG Conn 70H laetzsch valve / Klier Titan Copy
Studied in Hilversum (Netherlands) with Erik van Lier, after that in Cologne (Germany) with Jiggs Whigham. Has been playing the musical "Starlight Express" since 1989. next to that subbing on: HR Big Band, WDR Big Band, Rias Big Band, NDR Big Band and others.





Martin Hartog - Jazz Improv - Martin Hartog [bio at this site]
Netherlands - Berkel en Rodenrijs


King 619F / Marcinkiewicz ET3





Peter Harvey - Swing
USA - Amsterdam, NY





Donald Harwood - Classical
USA - New York, NY


Edwards E-B454 .562
Donald Harwood has been the New York Philharmonic's bass trombonist since 1975, appointed to that position by Pierre Boulez. Prior to his tenure with the Metropolitan Opera Orchestra from 1969 to 1975, he served in the army for three years and played with the West Point Military Academy Band.





Joshua 'Josh' Hauser - All Styles
USA - Cookeville, TN
Joshua Hauser, associate professor of trombone at Tennessee Technological University, has performed extensively in styles ranging from classical to jazz and rock. He holds a Bachelor of Music degree from Oberlin College Conservatory of Music and a Master of Music degree from the New England Conservatory.





Leslie Havens - All Styles - Leslie Havens [bio at this site]
USA - Boston, MA
Leslie Havens performs frequently with the Boston Brass Ensemble, the Artie Shaw Orchestra, her own group Quintessential Brass, the Diva Jazz Orchestra and several other groups. She recently performed in Carnegie Hall with Arturo Sandoval and with Aretha Franklin at the Newport Jazz Festival.





Randall Hawes - Classical
USA - Detroit, MI
Randall Hawes has been bass trombonist of the Detroit Symphony Orchestra since 1985. He was born in St. Joseph, Mich., raised in Battle Creek and received a Bachelor of Music Education from Central Michigan University. Prior to joining the DSO, he was a member of the Kalamazoo Symphony, the Woody Herman Orchestra and many more.





J. Walter Hawkes All Styles - J. Walter Hawkes [bio at this site]
USA - New York, NY
Originally from the sleepy little town of Pascagoula, MS, Walter has been making music in NYC since 1995. He has played or recorded with many folks you may have heard of (Norah Jones, Elvis Costello, John Lithgow, The Four Tops/Temptations, Madeleine Peyroux, Slide Hampton, Kat Edmonson) and with many more you probably haven't. He has composed for many TV Shows and films, including Blue's Clues, Wonder Pets, Third & Bird, Bubble Guppies, and he is a music director/lead composer for Peg + Cat on PBS.





Christopher 'Chris' Hayes - Classical
USA - Athens, OH
An active performing artist, Christopher Hayes has appeared at national and international events including the Newport Music Festival, Music Educators National Conference, International Trombone Association conference, and the International Trumpet Guild conference.





John Michael Hayes - Classical
USA - Fort Worth, TX
John Michael Hayes began his musical career as a Texas All-State Euphoniumist, graduating from Plano Senior High School in 1979. Mr. Hayes won the position of Second Trombone in 1982 with the Fort Worth Symphony Orchestra while completing his Bachelor of Music Degree in Trombone Performance.





Andre Hayward - Jazz Improv - Andre Hayward [bio at this site]
USA - New York, NY
Andre Hayward, jazz trombonist for the Lincoln Center Jazz Orchestra, was born in Houston. Hayward started playing trombone and tuba at age 11, performing in his junior high school jazz band and studying with local trombonist Steve Baxter. He attended Texas Southern University.





Ted Heath - Swing 1900 - 1969 - Ted Heath [bio at this site]
UK
Born 30 March 1900, London, England - Died 18 November 1969, Virginia Water, Surrey, England Ted Heath was one of the most famous big band leaders in Great Britain of the 1950's. His bands played modernized swing music that was always danceable but occasionally had worthwhile solos.




Klaus Heidenreich - Jazz - Klaus Heidenreich [bio at this site]
Germany - Cologne



Cologne-based Jazz-trombone player, studies at "Musikhochschule Köln" with Prof Henning Berg. Working as freelance player with bands like "WDR-Big Band", "NDR-Big Band", "HR-Big Band", "Peter Herbolzheimer's Rhythm Combination & Brass" and "Tom Gaebel & BigBand". As well he can be heard with his own Jazz formation and the contemporary "Trombone-Jazz"- Band "Hornstrom" which he foundet in 2006 with Cologne Trombone-Player Tobias Wember. Won severlal Jazz and Classical Competitions and was finalist at "ITA-Carl Fontana Competition" in Las Vegas 2007. Lessons with: Nils Wogram, Adrian Mears, Robin Eubanks, Ed Neumeister, Bart van Lier, Marco Schröder (Music School in Celle), Nigel Moore (Music School in Celle).





Patrick Heinemann - Classical - Patrick Heinemann [bio at this site]
Germany - Berlin


Jupiter Tenor / Klier 3CL
born in 1967 in Detmold (Germany), started with tenor horn in 1978, living in Berlin since 1987, playing trombone since 1981, performed in brass choires, conducter of a brass choir since 1996, playing trombone in a brass orchestra and also in a big band.





John Helmer - Classical
Canada - Winnipeg, Manitoba


Bach 42 Greenhoe / Laskey 57MD
John Helmer was appointed Principal trombone of the Winnipeg Symphony Orchestra in 1982 at age 21. He is also Principal trombone of the Manitoba Chamber Orchestra and, from 1996 to 1998, of the Orquesta Sinfonica de Mineria in Mexico City.





Jay Heltzer - Classical
USA - Alexandria, VA


Edwards w/ Bach bell / Greg Black Cust 1G Med
Technical Sergeant Jay H. Heltzer is a bass trombonist with The United States Air Force Ceremonial Brass, Bolling Air Force Base, Washington, D.C. Originally from Sherman Oaks, California, his Air Force career began in 2004. Sergeant Heltzer received a Bachelor of Music degree in Trombone.





Wayne Henderson - Jazz Improv
USA - Los Angeles, CA
Wayne Henderson's trombone teamed up with Wilton Felder's tenor in the Jazz Crusaders to give the group its own trademark sound. A fine hard bop soloist who later in his career chose to become an R&B producer instead. Henderson first played regularly with Felder, Joe Sample and Stix Hooper in Houston.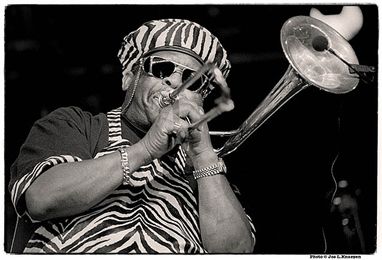 Laurent Hendrick - All Styles
Belgium - Brussels
Laurent Hendrick has studied at the Music Conservatories of Mons (B) and Paris (F), with M. Pire and C. Chevaillier. A freelance specialist of the bass trombone, he worked a.o. with the Opera van Vlaanderen, the Vlaams Radio Orkest, the WDR Big Band. He was a regular member of Act Big Band.





Nuno Henriques - Classical
Portugal - Lisbon
Nuno Miguel Morais Henriques was born in 1986. He is a native of Alcoentre (Lisbon). He began his musical studies in a local concert band, of your small village. He played with some local concert bands and with the Musical Association of Ribatejo's Brass Band.






Peter Herbolzheimer - Swing [bio at the site] 1935 - 2010
Germany - Cologne





Allen Hermann - Jazz Improv
USA - Boulder, CO
Trombonist, Hayes Kavanaugh's New York City Jazz Band - Carl Fontana, Al's mentor said: Nobody gets around the horn any better than Al Hermann. Woody Herman, Dave Grusin, Lionel Hampton (1979), Ellis Marsalis (1970-80), Recorded with Carl Fontana (2001).





Brad Herring - All Styles
USA - The Colony, TX
born in the Gulf Coast town of El Campo, Texas in 1960, Brad began his musical education by having an older brother who would take him to hear such groups as Stan Kenton, Woody Herman, and Count Basie as well as the Houston Symphony.





Benjamin Herrington - Classical
USA - New York, NY
As one of New York's leading trombonists, Mr. Herrington has performed with such notables as the Chamber Music Society of Lincoln Center, New Millennium Ensemble, Continuum!, St. Lukes Orchestra, New Jersey Opera, Philharmonia Virtuosi and the Sospeso Ensemble. He has toured worldwide in various groups.






Conrad Herwig - Jazz Improv
USA - Somerset, NJ


Bach
Herwig's technical fluency, honed on the often demanding musical complexities of Latin music, has allowed him to develop into areas of music where many other trombonists would not care to venture.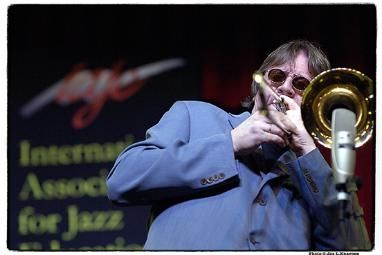 Gene Hessler - All Styles
USA - Cincinnati, OH


Conn 6H and 88H.
Born in 1928 in Cincinnati, OH. Degrees from the University of Cincinnati (Cincinnati Conservatory of Music) and the Manhattan School of Music. Played with Elliot Lawrence, Woody Herman, Buddy Rich, Sauter-Finegan, Richard Maltby and Billy May. Worked in NYC for 35 years doing free-lance recordings, concerts and Broadway musicals including Music Man, Camelot, How to Succeed in Business, Annie and many others; performed as a substitute with the New York Philharmonic, and was a member of the Radio City Music Hall Orchestra. Two U.S. State Dept. tours: Africa in 1964, and the Cincinnati Symphony Orchestra world tour 1966..





Mark Hetzler - Classical
USA - Madison, WI
Born in Sarasota, Florida in 1968, Mark Hetzler began playing the trombone at the age of twelve. He received a B.M. from Boston University and an M.M. from the New England Conservatory of Music. Hr. Hetzler was a fellow at the Tanglewood Music Center and worked under Seiji Ozawa, Simon Rattle and many more





Bruce Heuring - All Styles
USA - Toledo, OH
Bruce Heuring, trombone, is a Toledo area native and received a Bachelor Degree of Music Performance from the University of Toledo and completed his Masters work in Music Performance from the University of Akron. His primary trombone instructors include Edward Zadrozny and Peter Pettit.





Dean Hey - All Styles
USA - Lexington Park, MD


King Bass Trb. / Bach 2B
Performance Artist, Composer, Electronic Musician, DMA low brass. Teacher of numerous jazz musicians including Randy Sandke, George Lewis, Carolyn Wilkins, and Ray Anderson Contact George Lewis, Ray Anderson or Frank Tirro for further details.





Rob Higareda - Jazz Improv
USA - Iowa City, Iowa


King 606
Christian Lindberg 10C
Rhythm Majors/34th Army Band, Iowa City, Iowa Principal Trombone in 34th Army Band. Secondary Trombone Rhythm Majors.






J.C. Higginbotham - Jazz Improv 1906 - 1973
USA
b. May 11, 1906, Social Circle, GA d. May 26, 1973, New York, NY An extroverted trombonist with a sound of his own, J.C. Higginbotham was heard at his best during the late '20s: early '30s when he was one of the stars with Luis Russell's Orchestra.





John Hildebrand - Classical
USA - Tucson, AR


Bach 50B2 / Schilke
Musical studies 1947-56 private study of piano (Boston) 1948-54 private study of violin (Boston) 1956-62 private study of trombone and tuba with Josef Orosz (then Boston Symphony Orchestra) and John Coffey (formerly bass trombone, Boston Symphony).





Jay Hildebrandt - All Styles
USA - Newark, DE
D. Jay Hildebrandt, is Professor of Music and teaches low brass and jazz. He received his Doctor of Music degree from the Indiana University, where he studied with internationally recognized artists such as Harvey Phillips, David Baker, Wm. J. Bell, Jay Friedman, Lewis Van Haney, Henry C. Smith, Buddy Baker, and many more.





Richard Hill - All Styles
UK - London
Richard Hill's musical career began when he won an Open Scholarship to the Royal College of Music at the age of 17. There he studied trombone under Morris Smith, piano and harpsichord with Millicent Silver, composition with Philip Cannon and played principal trombone in the RCM first orchestra.





John Hines - Swing
USA - Westminster, CO
John Hines has been playing in and around the Denver area for the past ten years, and is now achieving recognition beyond his home market. Hines plays his ax with prime advanced harmonic ideas, certainly with liquid phrasing, & an attendant voicelike, yet abstract sound.





Dudley Hinote - Classical
USA - Bolling, DC
Chief Master Sergeant Dudley J. Hinote is the manager of the Airmen of Note, the premier jazz ensemble of the United States Air Force, The United States Air Force Band, Bolling Air Force Base, Washington, D.C. In addition to his leadership responsibilities, Chief Hinote plays bass trombone with the group.





Chip Hinshaw - All Styles
USA - Chicago, IL


Holton TR181 / Monette BT-2
Chip Hinshaw - Bass trombone, Chicago, Illinois - Studied Jazz at University of Miami, Florida. Plays frequent engagements around Chicago - Jazz, Pop/Rock, and recently in backing band at The Second City - Chicago. - Has numerous album and studio credits.





William Hipp - All Styles
USA - Calverton, NY


Edwards T327 / Monette TS6
Trombonist, Swing Hampton Orchestra, Calverton, NY Studied with Mark Hartman at the Crane School of Music and Hal Janks of the Metropolotan Opera Orchestra. Now a part time pla yer working mostly as a big band lead player, in his own quintet and in pick up orchestras for shows.





Prentiss Hobbs - All Styles
USA - Nashville, TN


Shires trombones
Prentiss Hobbs is one of the top call basstrombone session players in Nashville TN.
He has been on hundreds of recordings and 20 of them are listed in his name on the AMG website. He work with Barry Green, Roy Agee and Chris McDonald on a regular basis. Besides his session work he is also frist call bass and tenor sub with the Nashville sym. and he has also recorded with them sevaral times. He holds the position of 2nd trombone with the Chattanooga TN. sym. and he just started subbing on basstrombone with the Louisville KY. sym. He has recored with Wynonna Judd, FaithHill, and Amy Grant just to name a few.





Chip Hoehler - All Styles - Chip Hoehler [bio at this site]
USA - Staten Island, New York City


Rose Brass Holton TR-100 with an Urbie Green slide and a Bach 6-3/4C mouthpiece.
Chip is semi-retired and is living now in France





Bill Hoeprich - All Styles
USA - Amsterdam, NY
Bill is an instrumental music teacher in the Ravena-Coeymans-Selkirk Central School district. Bill has a Bachelor's degree from Fredonia State College and a Master's degree from North Texas State University, both in Music Education. He has performed locally and nationally with "Soul Provider".





Marta Hofacre - Classical - USA
Hattiesburg, MS
Dr. Marta Hofacre was born in Massillon, Ohio, and attended public schools of Dalton, Ohio. She received the bachelor of music education in 1976 from Bowling Green State University (Ohio), the master of music in trombone performance from The University of Michigan in 1977, and the doctorate of musical arts.





Clemens Hofer - All Styles
Austria - Wien
Clemens started playing the trumpet in the marching band of his homevillage at the age of ten. At the age of fifthteen he took the trombone and the euphonium as his main instruments. Eight years later he decided to study jazz and classical music at the Conservatory of Vienna. Between 2002 and 2005 he studied jazztrombone in Graz at the University of Arts.Since 2005 Clemens Hofer is living in Vienna as a freelance composer and musician, working in different orchestras, chambermusic ensembles and jazzbands, as well as a teacher.





Merle Hogg - Classical
USA - San Diego, CA
Merle E. Hogg was born in Lincoln, Kansas, where he attended the public schools. He completed his undergraduate studies at Emporia State University following service in the Navy. After two years teaching public school music, he began graduate study at the University Of Iowa where he earned the MA, MFA, and many more.





Simon Hogg - All Styles
UK
Simon Hogg (1958) commenced trombone lessons with his uncle, C.S.McCoy and later joined his father in the Coventry Salvation Army Band. He graduated to the National Youth Orchestra and the Royal Academy of Music, London where he won many major wind and brass prizes.





Kevin Holbrough - Jazz Improv
UK - Leeds, Leeds


Michael Rath R10 / Marcinkiewicz ET3 Charlie Loper
Freelance trombonist and brass tutor, Leeds, United Kingdom - Toured with Pop Artists- Embrace, Peter Grant, Tony Hadley, ABC and Martin Fry Tours with shows- Official Tribute to the Blues Brothers, The Rat Pack Live In Las Vegas, 42nd Street Bands and major jazz festival work with Dennis Rollins Boneyard.





Ned 'The Howler' Holder - All Styles
North Carolina, USA


Benge
Born and raised in North Carolina, Ned First played the cornet listening to Motown and R & B. At the age of 14, he broadened his musical horizons and turned to the trombone. Then, upon hearing some Urbie Green albums, he was moved by Jazz and never looked back.




William 'Bill' Holst - All Styles - William 'Bill' Holst [bio at this site]
USA - Colorado Springs, CO


Bach 42
Beginning trombone lessons with Porter Melton in 4th grade. Studies with Robert Glaskow , Edward Kleinhammer, and Darrel Raucher. Undergrad studies and degree in mathematics at Colorado State University. Graduate studies at North Texas. Principal trombone with the 6th Army Band - Presidio.





Steven 'Steve' Holtman - All Styles
USA - Valencia, CA
Steven Holtman – Los Angeles based trombonist, composer, orchestrator, and arranger. Steve has recorded with Arturo Sandoval, Earth, Wind, and Fire, and Manhattan Transfer, and has recorded for such films as Proof of Life, X Men II, Polar Express, and Bad Santa.





Matthew Hoormann - All Styles - Matthew Hoormann [bio at this site]
USA - Los Angeles, CA


CG Conn 88H / CG Conn CKB 5
Los Angeles-based Tenor/Bass Trombonist. Matt received his Doctorate in Musical Arts from UCLA under the tutelage of studio trombonist Bill Booth and has performed as substitute principal trombone for the San Diego Pops. Matt has also recorded with the Jim Widner Big Band and serves as staff bass trombonist for the Jim Widner Big Band Jazz Camps throughout the country.





Wesley 'Wes' Hopper - All Styles - Wesley 'Wes' Hopper [bio at this site]
USA - Boston, MA


Shires 2YM/ TW47G / Greg Black 4G/5G
Wesley studied at the B oston Conservatory under the tutelage of Larry Isaacson. He performs regularly with many local ensembles including the Portland Symphony, Old South Brass, the Vermont Symphony and the New Bedford Symphony. As a soloist he has performed both the Wagenseil and Larson concertos.





Thomas Horch - Classical - Thomas Horch [bio at this site]
Germany - Baldham
Thomas Horch was born in 1964 in Hanau on the Main. He studied with Hans Kuhner (Radio Symphony Orchestra, Frankfurt) and subsequently with Prof. Branimir Slokar at the Cologne Music Academy.





Maureen Horgan - All Styles
USA - Milledgeville, GA
Maureen Horgan is Professor Emeritus of Music at Georgia College in Milledgeville, GA. She holds degrees from the New England Conservatory, Yale University School of Music, and SUNY Stony Brook. Her principal teachers have been Pete Sexauer, John Swallow, John Coffee, Michael Powell, and Colin Williams. Now retired and living in New Hampshire, Maureen performed summers with the New Hampshire Music Festival from 1985-2017.





David Horger - All Styles
USA - Las Vegas, NV


Edwards Tnr - Bass / Bach 1/2 G, 5 G, 11C
Dearborn, MI 48124 Currently a free-lance trombonist, composer, arranger and music teacher in the Las Vegas area. David Horger, formerly a member of the USAF Band of Mid-America from 2001-2005. Prior to that, he taught at Eastern Kentucky University and was principal trombonist with La Orquesta Filamonica de la U.N.A.M.





Dave Horler - Jazz Improv
Germany - Cologne
Dave Horler studied at the Royal Academy of Music in London from 1963 to 1966. He played in the BBC Radio Big Band from 1970 to 1973 and has been involved in concerts and recordings with Maynard Ferguson, Ella Fitzgerald, Stan Getz, Bob Brookmeyer, Liza Minnelli, Bing Crosby and many other famous jazz artists.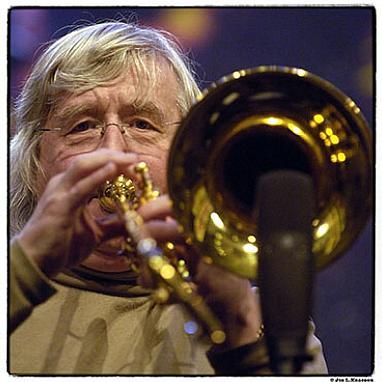 Otmar 'Ott' Horn - All Styles
USA - Jasper, TN


Holton TR158 / Bach 1 1/2 G
Born at Charleston, WV USA in 1939 now living in Jasper, TN. Lived in Florida for 30 years.






Mark Woolman Horner - All Styles 1973 - 1998
USA
Mark Woolman Horner died as a result of a homicide at his home in San Antonio, TX on Monday, December 14, 1998. He was born in Bar Harbor, ME on August 24, 1973. He graduated from Mount Desert High School in 1991 and went on to complete a Bachelor's degree in Music in 1995 at The Juilliard School in New York.





Allan Horney - Jazz Improv
USA - Charleston, IL
Allan L. Horney is Professor of Trombone and Jazz Studies at Eastern Illinois University in Charleston. In addition to applied trombone and euphonium, he teaches arranging courses, jazz methods and supervises student teachers in music.





Stuart Horton - Brass Band
UK - London





Raymond Horton - Classical
USA - Floyds Knobs, IN


Bach 50B3 / Yamaha Yeo Replica
Raymond Horton (b. 1952, Jeffersontown, KY) has had a long and varied career as a performer, composer, arranger, conductor and church musician in his native Louisvile KY, and southern Indiana area since winning the position of Bass Trombonist of The Louisville Orchestra in 1971 at the age of 18.





Donald 'Don' Hough - All Styles
USA - Knoxville, TN
Don Hough is an Associate Professor of Music at the University of Tennessee celebrating 40 years of teaching in 2005. He holds degrees from Lamar University in Beaumont, Texas as well as a Master of Music from the University of Tennessee. He studied with Richard Burkart of Ohio State, Frank Crisafulli.





Chris Houlding - Classical
UK - London


Edwards
Chris was appointed Principal Trombone of the Orchestra of Opera North, Britain's newest and most innovative opera company, when he was 21. Since then he has appeared as Guest Principal with most major UK ensembles including the London Symphony, London Philharmonic, Philharmonia, Royal Philharmonic, and many more.





James N. Houston - All Styles
USA - Las Vegas, NV


King 3Bf / Conn 6H / King 4Bf
Attended Tennessee Tech University and University of Tennessee, Knoxville. Studied under Larry Hoepfinger at TTU and Don Hough at UTK. Performances at Carnegie Hall (euphonium) as well as various Strip and off-Strip casinos. Current member of the Mellowtones, Las Vegas Jazz Express and the Arnie Webster Big Band.





Bob Hovey - All Styles
USA - Southold , NY


Bach Hybrid / Bach Custom Made
Trombonist, Bernardsville, New Jersey Freebop, jazz, and underground New Orleans stylist. Has performed with and led his own groups in and around NY for 25 years.





Ronald 'Ron' Howard - All Styles
USA - Atlanta, GA


Bach 42 / Bach 6.5 AL
Attended Univ of Southern Mississippi; BMusEd, Columbus State Univ, 1981; MMusEd, Univ of Florida, 1982; PhD, Univ of Florida, 2001. Curre ntly Chair, Music Dept, Atlanta International School, Dir of Bands, Dir of Jazz Bands. Adjunct instructor of music with Troy University and Florida Community.






Francis L. 'Joe' Howard - Swing 1919 - 1995
USA - Batesville, IN
November, 3 1919 Francis L. "Joe" Howard, trombone, b. Batesville, IN, USA. studied music as a child and later in L.A. City College. Played with such bands as Stan Kenton, Ben Pollack, Will Osborne, Woody Herman, Gene Krupa; Free-lanced Hollywood ('48- '55) and many more.





Brad Howland - Classical - Brad Howland [bio at this site]
Canada - Victoria, BC
Brad Howland holds the Principal Trombone chair of the Victoria Symphony Orchestra, and has performed with the Vancouver Symphony, the CBC Vancouver Symphony, and the Vancouver Opera Orchestra.





Ken Hoyne - Jazz Improv
USA - Sioux Falls, SD


King 2B / Giardinelli 5D
Ken grew up in Northwest Iowa and began playing trombone at the age of ten. Educated at the University of South Dakota in music, he played full time for eight years with national and regional bands such as The Fabulous Flippers.





Dean Hubbard - Jazz Improv
USA - San Francisco Bay Area, CA


Getzen 3508Y / Giddings & Webster Special
The "voice" of the teacher on Peanuts using a solotone mute. Played with: Dizzy Gillespie, Nelson Riddle, Sammy Davis, Ella Fitzgearld, Peggy Lee, XTC, Aaron Neville, Marty Paich, Buddy Morrow, Si Zentner, Tony Bennett, San Francisco Symphony, Opera and Ballet orchestra and many more.





Hamp Huckins - Jazz Improv
USA - Boston, MA


Shires 2 TruBore valves / Schilke 60
Free-lance bass trombonist in the Merrimack Valley north of Boston, Massachusetts. Hamp studied Bass Trombone with John Coffey in Boston and has pla yed for Perry Como, Tom Jones, Mitzi Gaynor, Carol Channing, and Jay Leno. Hamp plays a Shires double trigger Bass Trombone (with Trubore valves).





Rob Hudson - All Styles
USA - New York, NY


Bach 36 / Doug Elliott
Trombonist, composer, and arranger living in New York City; author of "Evolution: The Improvisational Style of Bob Brookmeyer," with 21 solo transcriptions, in-depth musical analysis, and an interview with Brookmeyer, published by Universal Edition, 2002.





Nick Hudson - Classical
UK - West Yorkshire


Boosey and Hawkes
Nick Hudson's musical foundations are firmly rooted within the brass band movement. He started playing at the age of eight and following initial tuition from his father and a brief spell in The Salvation Army, Nick was appointed principal trombone of the world famous Foden Motor Works Brass Band.





Bill Hughes - Jazz Improv
USA
Bill Hughes, who has led the band since 2003, joined the Count Basie Orchestra in September of 1953. A pharmacy student at Howard University in Washington, D.C, Hughes never expected to make a career out of music.





Bob Hughes - Classical
United Kingdom
Bob Hughes has nearly thirty years' experience as a bass trombonist in many of the UK's finest orchestras. After studying with Harold Nash at the Royal Academy of Music, he joined the BBC Scottish Symphony Orchestra in 1978. He left three years later to join the Scottish National Orchestra. During this time the SNO made many acclaimed recordings with conductor Neemi Järvi.





Joe Hughes - Classical
USA - Atlanta, GA


Edwards T350-E
Joe Hughes currently holds the position of Principal Trombone and Music Librarian with the Greenville Symphony Orchestra as well as Principal Trombone with the Augusta Symphony Orchestra. This is his 8th season with the Greenville Symphony. Over the last twelve years he has performed and recorded with many orchestras.





Doug Hulme - Classical
UK - Portsmouth, Hampshire


Shires Bass Trb. / SlideBone Kanstul GR
Bass trombone, Portsmouth, Hampshire, United Kingdom - Salvation Army Musician - Doug has played in a large number of Salvation Army bands and smaller ensemble work over the years and largely restricts his playing to Christian music these days.





Mike Humphrey - All Styles - Mike Humphrey [bio at this site]
USA - San Mateo, CA


King 2B / Bach 11C
originally from Oklahoma, studied with Paul Enix, Robert Gillespie, Joe Davis, Robert Marsteller, Bill Tole & Britt Woodman. Worked in LA for 2 years as a studio musician, playing fusion, jazz, cartoon background music, and television commercials & education TV programs.





Bob 'Bobby' Hunt - Swing
UK - St Albans, Hertfordshire


CG Conn 24H
Born just ouside London. England, in 1957. Started taking piano lessons at a very early age - don't remember exactly! Started playing cornet in the english brass-band movement around the age of 7 or 8, with designs on one day being a trumpeter in a big band. Played with Chris Barber.





Paul Hunt - All Styles
USA - Kansas, CO
Paul Hunt joined the faculty of Kansas State University in summer of 1998 as Department Head and Professor of Music. Prior to his appointment at KSU he served for five years as Chair of the Department of Music Performance Studies at the College of Musical Arts, Bowling Green State University, Bowling Green, OH. He was Professor of Trombone at the College of Musical Arts from 1983-1998. He also served from 1992-1993 as an Administrative Assistant to the Director of the School of Music at the University of Northern Colorado, Greeley, CO and was Instructor of Trombone at Ithaca College, Ithaca, NY, from 1982-83. Hunt also taught choral and instrumental music and drama at Kent Denver Country Day School (Grades 7-12), in Englewood, CO.





Stafford Hunter - Jazz Improv - Stafford Hunter [bio at this site]
USA - Queens, NY


Stafford plays XO Trombones
Trombonist/ sea shells, Stafford Hunter; born in 1969 in Atlantic City, NJ. Later, moved to Philadelphia and became a professional musician by the age of 16. He attended Penn State University for 2 years before moving to New York and graduating from the New School Jazz & Contemporary Music Program in 1994.






Jim Huntzinger - Jazz Improv
USA - Cleveland, OH
Jim was Frank Sinatra's favorite trombonist. Jim played in many an orchestra that backed Sinatra, both in Las Vegas and on the road. Sadly, Jim died in 1994. He was born in 1945 in Ohio. Jim was a stalwart trombonist in Las Vegas from 1967 until his untimely death in 1994. He was a favorite of Carl Fontana. The two often jammed together. Jim originally moved to Las Vegas (from Ohio) in 1967 to join Harry James Band. In those days the band worked something like 36 weeks a year in the lounge at The New Frontier Hotel and Casino.





Andy Hunter - Jazz Improv - Andy Hunter [bio at this site]
USA - Cleveland, OH
Andy Hunter is one of the most exciting up-and-coming trombonists on the jazz scene today. Also an award-winning composer and arranger, Andy is a graduate of Oberlin College and Conservatory of Music, where he earned degrees in Jazz Trombone (studying with Robin Eubanks) and Chinese Language and Literature.





Ross Hurley - Jazz Improv
New Zealand - Browns Bay, Auckland


New York Bach 6 ca 1939.
Originally from Palmerston North, Ross Hurley won the National Flugel Horn championship at 15. Following on from trombone studies and orchestral work in Australia he went to Europe to explore classical, jazz and commercial recording. Ross has recorded for Paramount Pictures, 20th Century Fox and Universal Pictures on a number of film soundtracks including Silence of the Lambs, The Piano, The Temp, Total Recall, Young Indiana Jones and more. - During his stay in Europe Ross performed with the best bands in Germany such as SDR and RIAS Big Band, associating with top jazz musicians, Jigg Whigham, Tony Bennett, Carl Fontana, Bill Watrous, George Roberts, Conti Condoli and others. The Berlin Concert with Metallica was also one of the numerous events Ross was involved with. - Ross was engaged on a regular basis with several symphony and opera orchestras through out Germany, Austria and Switzerland. He gained top playing positions including solo trombone at the Theater des Westens in Berlin, one of Germanys most famous musical theaters. - Ross returned to New Zealand 2003. He is now teaching brass and jazz ensemble in several Auckland schools. - Ross is the founder, organiser and conductor of the first Auckland Trombone Choir, he is also a member of the 2005 National Band of New Zealand.




Ingerid Annette Huseby - All Styles
Denmark - Frederiksberg
Bass trombone, tenor trombone Former musical partners: Aarhus Symphony Orchestra (1998-2000), Musikkorps Fyn, Den Jyske Opera, Klüvers Big Band, and Randers Byorkester. Ingerid Annette Huseby has also played in the orchestra of various theaters in Aarhus, Fredericia, and any more.





Thomas 'Tom' Hutchinson - All Styles
USA - New York, NY





Peter Hysen - All Styles - Peter Hysen [bio at this site]
Canada - London, Ontario
Peter Hysen is a freelance trombone, bass trombone, tuba, acoustic bass player and arranger living in London Ontario Canada.






























Copyright 2022 René Laanen - Trombone Page of the World
Please direct comments and questions about this web site to René Laanen ~ contact