G



Per Gade
- Classical
Denmark, Copenhagen

Per Gade was born in Denmark (1944) and raised in Copenhagen by an artistic family whose descendants can be traced to the composer bearing the same surname. He became the first trombone professor in Denmark.



Martin Gagg - Jazz Improv
UK - Birmingham, West Midlands

King 3B / Denis Wick 10C
British Trombonist now residing in Birmingam UK.



Gilberto Gagliardi
- Classical
Brazil - Rio de Janeiro, Rio de Janeiro

Weril
Prof. Gagliardi was Principal Trombone with the Spo Paulo Opera House for 35 years, and was Professor at the Municipal School of Music, in Spo Paulo, and at the University of Music from Spo Paulo. He was also Principal Trombone with the Jazz Sinf (nica Orchestra. He was the President of the Brazilian Trombone Association.



Jack Gale
- Jazz Improv
USA - New York, NY
Jack Gale attended Wichita University in Kansas as a theory and composition major. After coming to New York in 1957, he played with several major bands including Buddy Morrow, Maynard Ferguson, and Woody Herman, as well as with the Kai Winding Septet.



Robert Gale
- Classical
USA - Philadelphia, PA
Robert Gale is principal trombone with the Opera Company of Philadelphia, the Chamber Orchestra of Philadelphia and a member of the pit orchestra of the Walnut Street Theater. He has been a member of the music faculties of Swarthmore College and Valley Forge Military Academy.



Jeff Galindo
- Jazz Improv -
Jeff Galindo
[bio at this site]
USA - Melrose, MA

Williams 6 / Christian Lindberg 13CL
Born in San Francisco, California, Jeff Galindo attended Berklee College of Music in Boston, Massachusettso scholarship after high school. He also studied with Hal Crook, Jerry Bergonzi, and George Garzone with grants by the National Endowment of the Arts and began free-lancing in the Boston area.



Al Gande
- Swing
USA
The surname Gandee could potentially be mistaken for the great pacificist and liberator of the Indian nation, even when shortened to Gande as was often the case with the subject of this biography.



Cristian Ganicenco
- Classical
USA - Cincinnati, OH

Edwards T350
Cristian Ganicenco has been principal trombonist of the Cincinnati Symphony Orchestra since the fall of 1999. He is a native of Romania, where he began his musical studies. As a student at the George Enesco School of Music in Bucharest, he was a first prize winner of all the major national solo competitions.



Jacob Garchik
- Jazz Improv
USA - New York, NY
Trombonist and composer Jacob Garchik, born in San Francisco, has lived in New York since 1994. An active freelancer, Jacob has performed with Lee Konitz, Steve Swallow, and Joe Maneri. He is a regular member of about 20 ensembles, including the Lee Konitz New Nonet, the Ohad Talmor/Steve Swallow Sextet, and many more.



Antonio Garcia
- Swing
USA - Richmond, VA

Bach
Gacia is a performer, composer/arranger, producer, clinician, educator, and author in both instrumental and vocal genres. An Associate Professor of Music and Director of Jazz Studies at Virginia Commonwealth University, where he directs the Jazz Orchestra and instructs various jazz courses.



Raul Garcia
- Jazz Improv
USA - Tampa, FL

Bach 36 / Bach 5G Megatone



Raul Garcia Sanchez
- Classical
Spain - Barcelona, Barcelona

Bach 50 / Romera Raul Garcia 10
Born in Sagunto (Spain). First musical studies in the town band. Trombone studies in Valencia & Barcelona music school. Later, bass trombone studies in Indiana University with Keith Brown and Edwin Anderson. Also studies with Mel Culbertson in France.



Herb Gardner
- Swing
USA - New York, NY
Soon after moving to New York in 1963, Herb Gardner began touring with Wild Bill Davison, Kenny Davern and Dick Wellstood as well as becoming a regular at the Metropole, Jimmy Ryan's and Eddie Condon's nightclubs.



Ross Garin
- Classical
USA - Pittsburgh, PA
Ross Garin received his B.F.A. and M.M. degrees in Trombone Performance from Carnegie Mellon University where he studied with Peter Sullivan and the late Byron McCulloh.



-
Tom Garling
- Jazz Improv -
Tom Garling
[bio at this site]
USA - Chicago, IL

King 2B Jiggs Whigham / King 7C
After winning numerous awards in high school and at the Berklee College of Music, Tom went on the road with Buddy Rich in January of 1986 at the age of twenty. He was on Buddy's last touring band before he died in 1987.



Diego 'micino' Gatti
- Classical
Italy - Adro, Brescia
Greg Black



Jeffrey 'Jeff' Gaylord
- Classical
USA - Bolling, DC
Senior Master Sergeant Jeffrey J. Gaylord is a trombonist with the Ceremonial Brass, The United States Air Force Band, Bolling Air Force Base, Washington, D.C. Prior to joining The Air Force Band, Sgt. Gaylord served four years as trombonist with the United States Navy Band in Washington D.C.



Richard 'Rick' Gaynor
- All Styles
USA - River Falls, WI
Instructor of Trombone/Euphonium, also directs UWRF Brass Ensemble, Trombone Choir, and teaches Music Appreciation at UW-River Falls. He received his degree in Music Performance from UW-River Falls where he studied with James Gauthier and David Herring.



Clark Gayton
- Jazz Improv
USA - New York, NY
Clark Gayton is a composer, trombone and tuba player creating music for film, ensembles and orchestras.



Frank Gazda
- Classical
USA - Boston, MA

Shires Bass trombone / Doug Elliott K cup
Dr. Frank Gazda is Professor of Music at Delaware State University in Dover, DE where he teaches applied low brass, music history, brass methods, and directs the trombone and tuba-euphonium ensembles. He is a former member of the faculty of Wayne State College (NE) and Shepherd University (WV).



Markus Geiselhart
- Swing
Austria - Vienna
1977 - geboren am 27.Juli in Stuttgart 1986 - Beginn der musikalischen Ausbildung im heimatlichen Musikverein Lyra Schmiden am Tenorhorn 1992 - erster Posaunenunterricht 1994 bis 1999 - Mitglied im Jugend-Sindfonie-Orchester Stuttgart, damit Konzertreisen nach Ungarn (1995) und Brasilien.



Bill Gibson - Jazz Improv
USA -

Edwards
Trombonist Bill Gibson has recorded for CBS and NBC television. He has toured with the Tommy Dorsey Orchestra, Artie Shaw Orchestra, Jimmy Dorsey Orchestra, Guy Lombardo Orchestra and Ringling Brothers and Barnum and Bailey Circus. He has recorded 2 Cd's "Blues For Cook" and "Bundee Brothers Bone Band" the latter with trombonist Ron Wilkins. Bill Gibson has taught at several universities in the upper midwestern United States and is an Artist/Clinician for Edwards trombones. He is currently a Musical Director for Cunard.



Dave Gibson
- Jazz Improv
USA - New York, NY
When David Gibson moved to New York City in 1999, he was a little known musician with the desire to create music at the highest level. Since that time, he has been recognized as one of the leading trombonists in a new generation of jazz musicians.



Griz Gifford
- All Styles
USA - Glenville, PA

Bach 42B & 16M / Bach 5G & 5GS
Griz Gifford has enjoyed an extraordinarily varied and colorful career as a trombonist, performing virtually all styles of music that call for a trombone. His classical credits are mostly from his early years in Baltimore, including the Gettysburg and Annapolis Symphonies, Chesapeake Opera and Maryland Ballet, but his real passion is for popular and commercial music.



Joe Gil
- All Styles
USA - Lake Peekskill, NY
Joe Gil
is a native of Brooklyn, New York. After graduating from High School he attended SUNY at Stony Brook for two years and eventually transferred to SUNY at Old Westbury. At SUNY at Old Westbury he had the opportunity to study jazz with Makonda Ken McIntyre. And after graduating from SUNY at Old Westbury performed in Ken McIntyre's jazz orchestra. - After college he moved into Manhattan. He studied for a period of time at the Jazz Cultural Theatre run by Barry Harris and took lessons from both he and Benny Powell. Also at this time he continued to play in Makonda Ken McIntyre's jazz orchestra. Along the way this afforded him to opportunity to play with such players as David Murray, Craig Harris, Sonny Fortune, Cecil Bridgewater, Jimmy Owens, Arthur Blythe, Henry Threadgill and Hamiett Bluett. - During this time he also did gigs with various groups including playing with Warren Smith's Composer Workshop Ensemble. Also playing shows during the summers up in the Catskills. Plus doing many Latin gigs with such musicians as Willie Colon, Hector Lavoe and Yomo Toro. And from also played with a Haitian band called Skah Shah which toured in Haiti and most of the Eastern US and Canada. - At the present time Joe is currently leading some jazz groups of his own. His first CD release as a leader featuring all original compositions will be coming out shortly.



Brian Gilbert
- All Styles
USA - Plymouth, IN

Jupiter JSL-536 / Jet Tone U. Green S
Trombonist, Soloist, with Drinking Water Latin Band, The Marshall County Church Orchestra Organization of Plymouth, IN, the Glasgow Community Band of Glasgow, KY, The Glasgow Horns, and has performed with the Kosair Shriners Circus band in Louisville, KY. Plays tenor and soprano trombones and shell horn. Has written and arranged and is slowly working on a pedagogy publication. Studied at the University of Indianapolis School of Music under the tutelage of Indianapolis Symphony Orchestra principal trombonist James Beckel. With Roots in Classical and Jazz, Brian has expanded his interests into Cuban and fusion. Brian has tutored and volunteered himself musically in the community regularly.



Marshall Gilkes
- Jazz Improv -
Marshall Gilkes
[bio at this site]
USA - Brooklyn, NY
Marshall Gilkes is a trombonist and composer in his mid-twenties. After graduating from the University of Northern Colorado, he moved to the New York area, where he attended William Patterson University in New Jersey, studying with Conrad Herwig, Ed Neumeister, and Rufus Reid.



Kenneth Gilll
- All Styles
USA - Detroit, Michigan
Moved to Ohio to work on his master's degree. During his time in Kent he was in the jazz ensemble, graduate brass quintet, principal trombone in the orchestra and wind ensemble. His classical trombone instructor/advisor was David Mitchell: a member of the Burning River Brass. His jazz instructor was Charles Baker: a member of the Cleveland Jazz Orchestra. His mentor was ethnomusicology professor and graduate chair Dr. Kazadi wa Makuna. All of these professors played a great role in his taking his music to the next level! He ended his graduate school career with a Master's of Music degree and significant life skills.



Ray Gillette - All Styles
USA -
Father from Mic Gillette.
Frank Rosolino told Mic Gillette he was perhaps the finest trombonist he had ever heard.



Mic Gillette
- Funk -
Mic Gilette
[bio at this site]
USA - Manteca, CA

King 3B w/F / Marcinkiewicz ET5
Played trumpet at age 4, trombone vat 15. Leader of Tower of Power horns 1965-1984. Hundreds of recordings with and without Tower horns. Now a teacher and clinician as well. Father was Ray Gillette, world class trombonist.



Bill Gingrich
- All Styles
USA - Harrisburg, PA

Yamaha YSL691 / Bach 6 3/4Al
Trombone & Bass trombone.
Bill Gingrich
has toured the US, Mexico and Europe with numerous Big Bands, Jazz Groups and R&B Bands. He has done numerous recordings with local and regional acts.



Noah Gladstone
- Classical
USA - Los Angeles, CA

CG Conn 88H 1952
Noah Gladstone is a professional trombonist in the Los Angeles area. Noah specializes in the orchestral aspects of the trombone, including the large bore tenor, alto and bass trombone. He also performs on the bass trumpet, tenor horn, sackbut and euphonium. Born in Miami, Florida, Noah moved to Los Angeles.




Tyree Glenn
- Jazz Improv 1912 - 1974
USA
b. Nov. 23, 1912, Corsicana, TX, d May 18, 1974, Englewood, NJ
Tyree Glenn, who had the unusual double of trombone and vibes, was an important asset at various times to both Duke Ellington and Louis Armstrong. Glenn started out working in territory bands in Virginia, then moved to the West Coast, playing with groups headed by Charlie Echols (1936) and Eddie Barefield. After playing with Ethel Waters and Benny Carter, he became a longtime member of the Cab Calloway Orchestra (1939-1946). Glenn visited Europe with Don Redman's big band (1946). During his association with Ellington (1947-1951), he was an effective wah-wah trombonist in the Tricky Sam Nanton tradition and Ellington's only vibraphonist, being well-featured on the "Liberian Suite." During the 1950s, Glenn worked in the studios, led his quartet at the Embers, and freelanced in swing and Dixieland settings. Other than some European dates in 1947, Glenn's only extensive opportunity to record was for Roulette (1957-1958 and 1961-1962). During 1965-1968, he toured the world with Louis Armstrong's All-Stars. After leaving Armstrong, Tyree Glenn led his own group during his last few years. ~
Scott Yanow



David 'Dave' Glenn
- Jazz Improv
USA - Walla Walla, WA

CG Conn 100H / Monette Prana TS6
Dave Glenn
, Director of Jazz Studies and professor of low brass at Whitman College in Walla Walla, Washington received a Bachelor of Music in trombone performance from North Texas State University and a Master of Music in composition from the University of Northern Colorado.



Marc Godfroid
- Jazz Improv -
Marc Godfroid
[bio at this site]
Belgium - Opbrakel

Michael Rath
His musical career takes off in June 1981 with the BRT (Flemish radio) jazz orchestra after being invited to join by the leader Etienne Verschueren. In 1982 he was requested to and became a permanent member of the Tony Bauwens Sextet. That same year he won the soloist price at the Tros Big Band Festival in the Netherlands.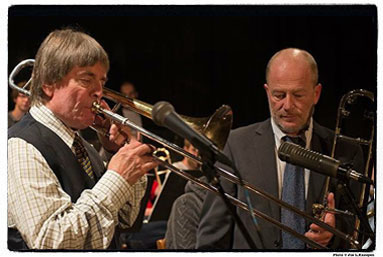 Marc Godfroid with Bill Watrous (2015)



Hall Goff
- All Styles
USA - San Francisco, CA
Hall Goff, received his B.A. from Oberlin College and M.M. from the Yale University School of Music. He has been a member of the San Francisco Ballet Orchestra since 1977, and a member of the San Francisco Contemporary Music Players since 1979. He has performed with the San Francisco Symphony and many other orchestras.



Gene Gogerman
- Reggae -
Gene Gogerman
[bio at this site]
USA - San Francisco, CA

Bach
Northern California tenor/alto trombonist, with international arranging, performing, recording, and bandleading experience. Jazz, funk, ska, blues. Spent 10 years with prominent show band and shorter stints with Pinche Hueros, Skankin' Pickle, Regatta 69, The Mighty 690, and many more.



Gölzenleuchter, Ina
Germany, Essen
Die "gebürtige Halbschwedin" studierte Posaune in den Niederlanden an der Amsterdamse Hogeschool voor de Kunsten, später in Hamburg und Essen. Seit ihrem Abschluss 2004 arbeitet Sie als freiberufliche Posaunistin, war auch Mitglied in der Deutsch-Skandinavischen Jugendphilharmonie.
Wirkte bei versch. Fernsehproduktionen (WDR und RTL) und bei Uraufführungen moderner Opern in Minden und bei Projekten der Rhein Ruhr Philharmonie mit. Sie gründete das Duo "Posaune und Tanz" mit Dagmar Stollberg, sowie das Duo "Svenska Folksvisor" mit Adrian Niegot wobei die Verarbeitung traditionell schwedischen Liedgutes und schwedischer Lyrik und Prosa im Vordergrund. In 2005 was sie als Interpretin Neuer Musik nach Zagreb zum Internationalen Festival für Neue Musik eingeladen. Weitere Projekte u.a. mit der Badischen Staatskapelle Karlsruhe und mit dem Folkwang Kammerorchester.



Carlos 'Bojardas' Gonalves
- All Styles
Portugal - Lisbon, Vila Franca de Xira

Thein / Marcinkiewicz
Banda da Armada, Vila Franca de Xira, Portugal - Bass and Contrabass Trombone player, free lance living in Portugal. Bass and Contrabass trombone soloist at Portuguese Navy Band, also plays Jazz with some Big-Band, and some trombone ensembles. As a studio musician, has recorded on severall CDs.



Walter Renato Gonçalves
- All Styles
Brazil – Araçatuba-SP

Bach 36-B Stradivarius – Schilke 50
Walter was born in 1968, he initiated his studies to the nine years in the municipal band of Guaraçaí-SP with my grandfather Benedicto Gonçalves - Walter was trombonist in the Army Band, and played in the municipal band of Campo Grande-MS, Guararapes-SP, Araçatuba-SP and currently with 42 years of age, he is the first trombone in the band of Birigui-SP. he also plays in a Big Band, 1977/1984 - Band of Guaraçai, 1985/1986 - Band of Araçatuba, 1987/1989 - Band of army, 1988/1989 - Band of Campo Grande, 1990/1991 - Band of Guararapes and Araçatuba, 1992 until today - Band of Birigui.



Irving Gonzalez
- All Styles
Puerto Rico - Mayaguez, Puerto Rico

Yamaha YSL - 643 / Bach 5GS
Began to study the trombone at 15(Escuela Libre de Musica de Mayaguez) with Eleuterio Quinones (Chilin) and the following year with new brass teacher Efren Gregory. Attended the Interamerican University(San German) from1972 to 1976 earning a B.A. in Music Performance (Cum Laude).



Richard Good
- All Styles
USA - Auburn, AL
Rick Good is Associate Director of Bands and Associate Professor of Low Brass at Auburn University in Auburn, Alabama where he teaches trombone, euphonium, and tuba. In addition, he directs the Concert Band, Tuba-Euphonium Ensemble, Trombone Choir, and co-directs the 350 member Auburn University Marching Band.



Wycliffe Gordon
- Jazz Improv -
Wycliffe Gordon
[bio at this site}
USA - New York, NY

Edwards T302
Wycliffe Gordon enjoys an extraordinary career as a performer, conductor, composer, arranger, and educator, receiving high praise from audiences and critics alike. Gordon tours the world performing hard-swinging, straight- ahead jazz for audiences ranging from heads of state to elementary school students.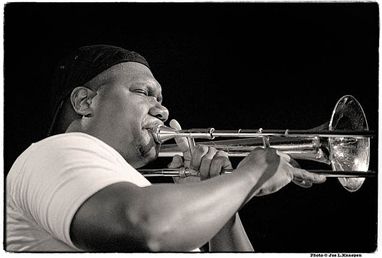 Craig Gosnell
- All Styles
Los Angeles- CA
Craig Gosnell is a freelance bass trombonist and vocalist currently residing in the Los Angeles area. In 1997 and 1998 he earned both bachelor's and master's degrees in music with an emphasis in instrumental performance from the University of Northern Colorado. In 2003, he earned the Doctor of Musical Arts degree from the University of Miami. He was born near Miami, Florida and attended public schools in Palm Springs North, FL. as well as Littleton and Lakewood, Colorado. He currently teaches trombone in the L.A. area, and doubles on other low brass instruments.



Christhard Gossling
- Classical
Germany - Berlin
Prof. Christhard Gössling was born in Westphalia. At the age of 13 he began to study trombone as a junior student with Prof. Willy Walther at the Detmold Musikakademie.



Dan Gottshall
- Jazz Improv -
Dan Gottshall
[bio at this site]
Germany - Hamburg

CG Conn 100H / Bach 7C
In addition to contributing to more than 60 CDs Dan has performed and recorded with artists such as Chaka Khan, Al Jarreau, Lena Horne, Gary Thomas, Albert Mangelsdorff, Chuck Brown, Charlie Mariano, Peter Herbolzheimer, The Clayton/Hamilton Big Band, Tony Bennett, The Funk Brothers, Norma Winstone, and many more.




Brad Gowans
- All Styles 1903 - 1954
USA
Brad Gowans had a colorful and versatile career in prebop jazz, seeking to stretch the boundaries of the music in unusual ways. A multi-instrumentalist who was skilled on both reeds and brass, Gowans alternated early on between clarinet and valve trombone. He worked with the Rhapsody Makers Band, and many more.




Philip Gray
- Swing 1925 - 2004
USA
Phil Gray played with a number of big bands and eventually settled in the Los Angeles area after joining the Spade Cooley Band on KTLA. Gray was the featured trombonist and male singer. Once in LA, Gray was asked to join Spike Jones as a featured trombonist and vocalist.



Phil 'Filet of' Gray
- Jazz Improv
Canada - Toronto, Ontario

CG Conn 6-H / Bach 12C
Phil, freelance trombonist, Toronto, Ontario, Canada, AFM local 149. Phil has thus far made his living freelancing on trombone, piano and keyboard. He also teaches privately and in a classroom setting, and on occasion arranges and composes.




Benny Green
- Jazz Improv 1923 - 1977
USA
Bennie Green was one of the few trombonists of the 1950s who played in a style not influenced by
J.J. Johnson
(Bill Harris was another). His witty sound and full tone looked backwards to the swing era yet was open the influence of R&B.





Urbie Green
- Jazz Improv 1926 - 2018
Urbie Green
[bio at this site]
USA - Delaware Water Gap, PA

CG Conn
Urbie Green is known as a fine jazz player with a beautiful tone who is highly respected by his fellow trombonists. He has recorded at least 24 albums under his own name, and appears on more than 250 recordings made by others.



Barry Green
- Jazz Improv -
Barry Green
[bio at this site]
USA - Nashville, TN

Edwards
1981 to Present: Studio musician based in Nashville recording albums for Michael McDonald John Michael Montgomery, Deanna Carter, Brenda Lee, Kenny Rogers, Shirley Caeser, Michael W. Smith, Lorrie Morgan, Self, Flick, Supermodel, Point of Grace Ray Stevens, Amy Grant, Vince Gill, Bela Fleck, Victor Wooten, and many more. Has been touring with Vince Gill for the past year and just did a live CD with Larry Carlton in Tokyo.




Charlie Green
- Jazz Improv 1900 - 1936 [CD Universe]
Charlie Green
[bio at this site]
USA
b. 1900 in Omaha, NE - d. 1936 in New York, NY One of the finest early trombonists and the first strong jazz soloist in the Fletcher Henderson orchestra (joining slightly before Louis Armstrong), Charlie Green played locally in Omaha (1920-1923) before his two stints with Henderson (July 1924-April 1926).



Keith Green
- Classic
USA - New York, NY
NYC freelancer playing all styles since 1976. Concerts, Opera, Ballet, Broadway, Big Band, Chamber music and recording.




Thurman A. Green
- Jazz Improv
USA - Los Angeles
Thurman Green, the internationally-known trombonist, began his professional career as a United States Navy Musician (1961-1965). His style, as described by Jazz columnist Zan Stewart .. "is deeply influenced by the intricate be-bop manner espoused by J.J. Johnson.... Green has a buttery tone and a keen sense for the ideal note choice." In his more that thirty-year career he has done sound recordings, theatrical and television sound tracks, live television, among others performed with: Gerald Wilson, Harold Land, Teddy Edwards, Horace Tapscott, Buster Cooper, Sonny Criss, Arthur Blythe, Hamiet Bluiett, John Carter, Mercer Ellington and the Ellington Orchestra, Louie Bellson's Big Band Explosion, Bill Berry-L.A.Bang, Capp/Pierce Juggernaut and The Clayton-Hamilton Jazz Orchestra.



Steven Greenall
- Classical
United Kingdom
Steven graduated from the University of Warwick with a Bachelor's degree in Electrical Engineering and a Master of Arts degree in European Cultural Policy & Administration. Manager of the Fine Arts Brass Ensemble from 1996-1998, Steven now works as a freelance arts management consultant and partner in the music publishing company Warwick Music.



Gary Greenhoe
- Classical
USA - Jackson, WI
Gary Greenhoe began playing the trombone when he was five years old. Early mentors included Glenn P. Smith of the University of Michigan and Sigurd Swanson. In ten seasons at Interlochen National Music Camp, he was a four-time concerto winner. From 1966 to 1969, Gary was a member of the 'President's Own''.



James Greening
- All Styles
Australia
One of Australia's leading jazz trombonists, James Greening has been widely praised for his work with such leading ensembles as Ten Part Invention, Wanderlust, The catholics, The Umbrellas and the Australian Art Orchestra.



Tyler Gregory - Swing
USA - Stevens Point, WI

Bach 42T / Bach 5GS
Formerly a somewhat talented musician, Tyler now spends his time dawdling around on his trombone yearning for days (and chops) past.




Al Grey
- Jazz Improv 1925 - 2000 >>
Find-A-Grave
[CD Universe]
USA
Al Grey's trademark phrases and often-humorous use of the plunger mute have long made him quite distinctive. After getting out of the service, he was with the orchestras of Benny Carter (1945-46), Jimmie Lunceford (1946-47), Lucky Millinder and Lionel Hampton (of and on during 1948-53).



Christan Griego
- All Styles
USA - Elkhorn, WI

Edwards T350-E / Griego 4.5 Deco
Christan Griego works with the Edwards Instrument Company as the Director of Development/Marketing. Christan has also developed his own line of trombone mouthpieces and actively freelances on tenor and bass trombones.
www.griegomouthpieces.com
and
www.edwards-instruments.com.



Dick Griffin
- All Styles -
Dick Griffin
[bio at this site]
USA
Dick Griffin is one of today's leading trombone players. In a career spanning over 30 years, he has performed with some of the biggest names in Jazz and Soul, as well as appearing with several symphony orchestras. A short list of the luminaries Mr. Griffin has worked with includes: Duke Ellington, Count Basie and many more.



Tony Grigsby
- Classical -
Tony Grigsby
[bio at this site]
USA - Ft Lewis, WA

Bach 50T3 / Yamaha DY
Tony Grigsby played the trombone from the time he was in middle school until graduating from Waxahachie High School in 2001. He was selected as a member of both the Waxahachie Jazz Orchestra, Waxahachie Wind Ensemble, 3-time participant in all-region, 2 time all-area (all-state alternate in 2000), and many more.



Wayne Groves
- Classical
Mexico - Aguascalientes

Bach 42B / Bach 4G
Born: Calistoga, CA early music education: Calistoga Elementary and High Schools Studied with Mark Lawrence, SFSO BA: California St. Univ. Hayward (now "East Bay") Studied with Dan Livesay, Oakland Symphony MM: Julliard School, studied with Per Brevig.



Alan Groves
- Swing
USA - Glenville, NY

King 3B Silversonic / Schilke 51B
Alan is currently the lead tromboni st with the Greg Nazarian Big Band located in the Albany, NY area. He is originally from Bel Air, Md. and is a graduate of Bel Air High School. He was originally a euphonium player and taught himself the trombone in order to play big band music.



John Groves
- Classical
USA - Kent, WA
John Groves earned his Bachelor of Arts Degree in Music from Central Washington University,
focused study in music education and trombone performance. Mr. Groves has studied trombone
with Kadie Nichols, Pacific NW Ballet Orchestra and Larry Gookin, Professor of Music Central
Washington University. Study of didgeridoo with Djalu Gurruwiwi, Northern Territory, Australia.



Craig Grubbs
- Jazz Improv -
Craig Grubbs
[bio at this site]
USA - Rose Bud, AR

Michael Rath R-10
Craig A. Grubbs - "Bad To The Bone" Craig Grubbs is a McDonald's All American Band Alumnus (1983), and has played the Trombone since the sixth grade. Craig has played with many Big Bands and Jazz Combo groups over the years, and he mainly plays Jazz! Craig currently leads his own powerhouse Big Band.



Valentin Gu

é
rin
- All Styles
Grance - Clermont-Ferrand, Auvergne

Pyro-Trombone
Valentin
Gué
rin
is a trombone player, inventor and traveller. He studied trombone in France under Jacques Mauger at the Paris Regional Conservatoire before completing an MA in trombone performance and pedagogy under Niels Ole BO Johansen at the Royal Academy of Music in Denmark. He then moved to the USA to train at the Butler School in Austin, under Nathaniel Brickens, at University of Texas.



Pierre Guicquero
- All Styles
France - Sac Pulses, Clermont-Ferrand
Aside from his tailgate chores with Sac a Pulses, he is the trombone soloist with the Big Band Turquoise of Cournon and he is a founding member of the latin jazz group Caliente featuring Miguel Fiannica. Pierre has shared the stage with Daniel Huck, Jean-Loup Longnon and Lanka.



Matt Guilford
- All Styles -
Matt Guilford
[bio at this site]
USA - Washington DC, WA
Bass trombonist Matthew Guilford began his musical training at the age of nine in his hometown of Middleboro, Massachusetts, one half hour south of Boston.



Eduardo 'Duda' Guimaraes
- All Styles
Brazil - Seropedica/Fazenda Caxias, Rio de Janeiro

Bach 50B3LOHG / Yamaha DY
Professor in Villa Lobos Music School and Bass Trombonist of the Symphonic Band of Brazil Marines Corp.



Kyle Guira - All Styles
USA - Lakeland, FL

Bach 42 w Thayer / Bach 5G



Nathaniel Gurin
- Classical
USA - Detroit, MI
Assistant Principal Trombone of the Detroit Symphony Orchestra since 1978, Nathaniel Gurin has been a member of the DSO Brass Quintet and is also a founding member of the DSO Brass Trio. Born in New York City, he grew up in Valley Stream, New York, and East Lansing, Michigan.



Jessica Gustavsson
- Classical
Sweden - Gothenburg
Jessica was the First prize winner of the international trombone competitions "Concours Branimir Slokar 2000 " in Switzerland and "Lieksa trombone competition 1998" in Finland. She also got third prize in "Concorso Internazionale Giovani Concertisti 2000" Porcia, Italy.



Robert Gutowski
- All Styles
Germany - Berlin
Robert Gutowski, in Rhode Island, USA, geboren, begann im Alter von 6 Jahren mit dem Posaunenspiel und studierte später bei Ronald Baedke (Richmond Symphony Orchestra), Jürgen Heinel (Staatsoper Berlin) und Buster Cooper (Duke Ellington Band 1961-1973).



Jonas Gwangwa
- Jazz Improv
South Africa
Composer, songwriter and musician from Soweto, South Africa, who has played an influential role in the evolution of South African jazz. A member, along with jazz pianist Abudllah Ibrahim (then, known as Dollar Brand), of the Jazz Epistles, the first Black South African to release an album.



Gyorgy Gyivicsan
- Classical -
Gyorgy Gyivicsan
[bio at this site]
Hungary - Totkomlos, Bekes

Kuehnl & Hoyer Slokar / Klier Special





























Copyright 2022 René Laanen - Trombone Page of the World
Please direct comments and questions about this web site to René Laanen ~ contact