BOB McCHESNEY



This page is updated: March 26, 2012 9:30 PM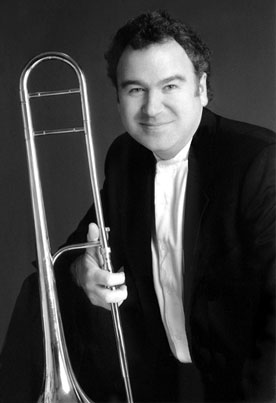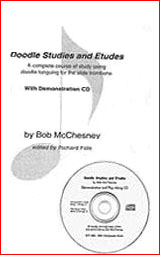 < < click the book!

Bob McChesney, Trombonist & soloist, Los Angeles, CA

Trombonist Bob McChesney was born in Baltimore, Maryland in 1956, and began studying the trombone at the age of nine. McChesney holds a bachelor's Degree from the State University of New York at Fredonia.

In 1979, Bob moved to Los Angeles where he remains, working as a studio musician and in a wide variety of musical situations including film, television, records, jingles and can be heard on the most recent CD recordings by Grammy winner Diana Krall -"When I Look In Your Eyes", Barry Manilow "Tribute to Sinatra", Chicago "Night and Day- Big Band", Natalie Cole, Mel Torme, Joey DeFrancesco, Art Garfunkel, Buddy Greco, Facundo Monty, Matt Catingub, Steve Allen, Adam Sandler, Bill Watrous, George Graham, Rebeka, Atlantic Rap - Tribute to Phil Collins, Louise Baranger, Barbara Morrison, Calabria Foti, Curtis Amy, Carl Saunders, Bobby Milano, Steve Lippia and Anita O'Day.

As a jazz soloist, McChesney is featured on Horace Silver's first album for Sony/Columbia Records
"Its Got To Be Funky" and on Bob Florence's Grammy winning CD "Serendipity 18", and Florence's "Earth" and "All the Bells and Whistles". He has performed live with Arturo Sandoval, Nancy Wilson, Kenny G, The Hollywood Bowl Orchestra, Rob McConnell, Lalo Schifrin, Frank Sinatra, Jr., Rosemary Clooney, Jack Jones, Bill Holman, Jack Sheldon, Frank Capp and Juggernaught, The Woody Herman Band, Supersax, and was recently seen on the Tonight Show.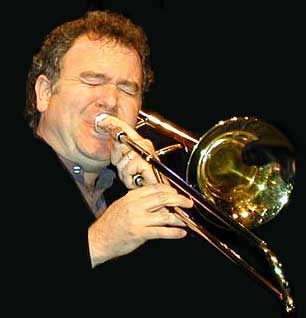 Some of his film and television credits include "Titan A.E.", "Soldier", "The Siege", "First Wives Club","Space Jam", "Dracula - Dead and Loving It", "Graceland", "Robin Hood - Men In Tights", "George of the Jungle", "The Durango Kid", "A Will of Their Own", "Rhapsody in Bloom", "Dennis the Menace II", - TVs "Jag", "The Simpsons", "Family Guy", "The King of the Hill", "From Earth to the Moon", "Futurama", "Providence", "Diagnosis Murder", "The Drew Carey Show", "The Gregory Hines Show", "America's Funniest Home Videos", "PBS's Great Performances",
"Access Hollywood" and a variety of cartoon shows.

McChesney's extensive music computer experience has earned him album credits as computer programmer on recordings such as Patti Austin's "Carry On", "Handel's Messiah - A Soulful Celebration" and the double platinum album "The Songs of West Side Story"- featuring Michael McDonald, James Ingram and Kenny Loggins.

In addition to his work as a performer and studio musician, McChesney has authored the trombone method on doodle tonguing entitled Doodle Studies and Etudes (Chesapeake Music).

Critically acclaimed and endorsed by the great trombonists Carl Fontana, Bill Watrous and Joseph Alessi, McChesney's book and recording is an in-depth analysis of the fast-legato multiple tongue technique. Respected as one of the foremost authorities on doodle tonguing, McChesney has contributed an article to the International Trombone Association Journal on his teaching method for the technique.

Also in demand as a clinician, teacher and guest soloist at schools and universities, McChesney gives masterclasses on trombone technique, jazz improvisation and doodle tonguing.

DOODLE STUDIES AND ETUDES


With Demonstration/Play-along CD
by Bob McChesney
Doodle Studies and Etudes by trombonist Bob McChesney was first published in 1992. For more than a thousand students and professional players it has proven to be an extremely valuable tool in improving fast legato skills on the trombone. Covering all aspects of the doodle tongue technique, this book was written for students, teachers and professionals alike. This complete method explains the fast legato technique in a step-by-step fashion, from how to correctly form the syllables to complex patterns incorporating natural downward slurs.
- A complete course of study in doodle tonguing
- 140 pages of step-by-step instruction
- 141 Exercises and Ten Etudes
- Included - a 52 minute CD with demonstrations by the author
and play-along tracks to practice with (replaces both cassettes)
A common belief is that fast, clean legato playing is difficult to achieve on trombone because the slide cannot be moved into position fast enough. Actually, the issue of fast legato playing on trombone is much more one of articulation than slide movement. Because there are no valves or keys, the trombonist must articulate differently than other wind players. In the doodle tongue technique, articulations can be executed very fast, smoothly and evenly with each articulation matching in sound, often making minor slide innacuracies unnoticeable.

----------------------------------------------------------------------------------------------

Introduction
Doodle tonguing is a multiple tongue technique used to facilitate smooth, fast legato playing on the slide trombone. Its main use has been in the performance of jazz and is employed by such notable trombonists as Bill Watrous and Carl Fontana. The technique is commonly called doodle tonguing because it uses syllables like those used when pronouncing the word doodle. (This method actually uses the syllables "da", "ul", and "la" to better convey the concept which is fully explained in Chapter One.) The broadest application of doodle tonguing is in jazz soloing, but it is also valuable in ensemble playing and in any situation where fast legato articulations are necessary. The technique is a powerful tool that will greatly expand the overall capabilities of the trombonist.
Because it is a multiple tongue technique, doodle tonguing allows the player to articulate much faster than is possible with the single tongue. The technique also produces much smoother articulations than can be achieved with the standard multiple techniques of double and triple tonguing. In addition to its speed and smoothness, doodle tonguing lends itself perfectly to music played with a swing feel. Even when rhythmic patterns may be slow enough to single tongue, doodle tonguing can often be preferable because it easily produces swing.
Many trombonists believe that doodle tonguing is performed using only a repetitive syllable pattern. Continuosly repeating a pattern of doodle syllables (referred to in this book simply as a basic doodle pattern) does allow for smoothness, definition and speed much of the time; however, when overtone changes on the trombone and/or rhythmic variations in the music are encountered, an alteration of the basic doodle pattern will yield a greater degree of clarity. While some players would use the basic doodle patterns excusively, regardless of the music, better overall clarity is obtained when the doodle patterns are altered to fit each musical situation.
In Doodle Studies and Etudes, a complete system of articulation is presented in which the syllable chosen to articulate each note maximizes definition and jazz feel without loss of speed. The result is a variety of syllable combinations and patterns dependent upon both the rhythmic structure of the music and changes in the overtone series on the trombone. The system will be referred to in this method as "the doodle tongue technique".
What you will learn in Doodle Studies and Etudes:
1) The four components of the doodle tongue technique and how to articulate them;
2) The application of the technique to a variety of rhythms;
3) The application of the technique to various melodic shapes, including upward and downward changes in the overtone series;
4) The combination of all of the above elements in the performance of jazz etudes.
It is the author's opinion that the doodle tongue technique is essential for all of today's aspiring trombonists and it is the only technique that properly satisfies the current demand for faster legato playing. It is not intended to replace the standard methods of trombone articulation, but this technique will add a new dimension to the trombonist's performance.
Once fully learned, the jazz trombonist could choose to combine this technique with single tonguing, double and triple tonguing, "against the grain" playing or any other articulations to make up an overall personal style of playing.
This method should not be approached as a compilation of licks and jazz patterns that happen to work well on the trombone. Some patterns are used within the method as examples, but the doodle tongue technique can be applied to a far greater variety of music than could ever be contained in this or any book. Doodle Studies and Etudes is a complete course of study. It contains 141 exercises and ten etudes with recorded examples on cassette tape. It is my sincere belief that after its completion, the doodle tongue technique can be used for the benefit and enhancement of your playing.
- Bob McChesney
1995 (2nd printing)

----------------------------------------------------------------------------------------------

Overview of the Method
Chapter One - The Basic Components
Chapter One is devoted to the practice of the syllables da, ul and la. Syllable combinations are practiced on rhythmic groupings that have a single pitch. The doodle articulations are practiced until they match the sound of standard legato tonguing (i.e. da-ul-la-ul-la vs da-da-da-da).
Chapter Two - Slide Movement Between Syllables, Displaced Accents
In Chapter Two the player practices groupings that require slide movement between the syllables. (These groupings do not cross up and down over partials.) The timing of each attack using the doodle syllables must be precisely coordinated with the positioning of the slide. This chapter also introduces the use of da for syncopated accents.
Chapter Three - Ascending Partial Changes, Pickups
The syllables da, ul and la are practiced on ascending partial changes. These syllables provide better timing control and better clarity than a natural upward slur. Upbeat pickup notes are also introduced and practiced with the da-da syllable combination.
Chapter Four - The Fourth Component, Descending Partial Changes
The fourth component, ah, is the natural downward slur. For maximum clarity of articulation ah is used on all single downward partial changes.
Chapter Five - Variations of the Doodle Pattern for Clarity in Downward Partial Changes
For maximum clarity, all downward partial changes (ahs) must be preceded by a da or a la. In Chapter Five the player practices figures where da is substituted for ul preceding each downward partial change.
Chapter Six - Successive Downward Partial Changes
Chapter Six addresses successive downward partial changes and the use of the da-ah syllable combination.
Chapter Seven - Remaining Details of the Technique
Chapter Seven addresses the more unusual syllable combinations - the "double ah" and the "triple da".
Etudes
These ten advanced studies are based on standard jazz tunes and progressions (i.e. Cherry Key, Take the A Tram, etc.)
© 1992 Chesapeake Music

----------------------------------------------------------------------------------------------

ORDER: click HERE
----------------------------------------------------------------------------------------------

"Your book stands out from what's generally being published now as a highly structured, intelligent, most importantly, comprehensive tome on it's subject - in the tradition of Rochut, Blazevich and Arbans. . . . it will probably be an important text for a long time."
- Jim Pugh
"Precisely the exercises I would have a student do."
- Carl Fontana
". . . I highly recommend it to all serious students of the trombone."
- Bill Watrous
"Bob McChesney has successfully produced studies to make the jazz lover's dreams come true. For a classical player like myself, this source is terrific ..."
- Joseph Alessi
Principal Trombonist, N.Y. Philharmonic
"I consider your book the definitive book on doodle tonguing for (at least) three reasons: (1) you have the syllables figured out 'cold' (2) the exercises are excellent, and (3) the etudes (heads) in the back are also excellent! I like your demo tape and the etude tape too!"
- Buddy Baker
Soloist, Jazz Educator
". . . provides insights to doodle tonguing not currently found in any other treatise."
- Paul Hunt
ITA President
"It works. After a week I'm playing things I never thought I would be able to . . . a revolution for trombone players all over the world."
- Erling Wicklund
Oslo, Norway
"McChesney has codified the fast articulated style of 20th century jazz trombonists such as Carl Fontana and Bill Watrous into a workable and concise etude book with 'oodles of doodles' to practice on the trombone."
- John Marcellus
Eastman School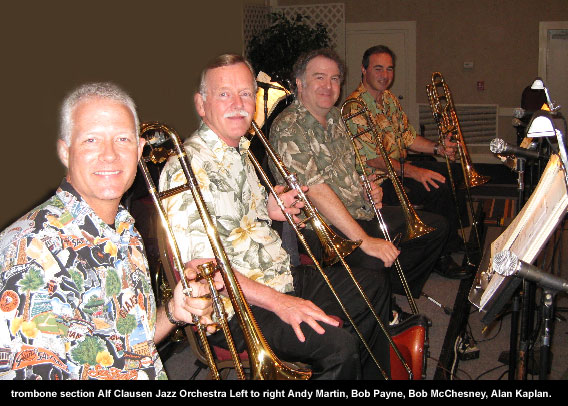 -



Copyright 1998 - 2012 René Laanen - Trombone Page of the World
Please direct comments and questions about this web site to René Laanen ~ contact