WAYNE ANDRE



This page is updated: April 2, 2022 6:58 PM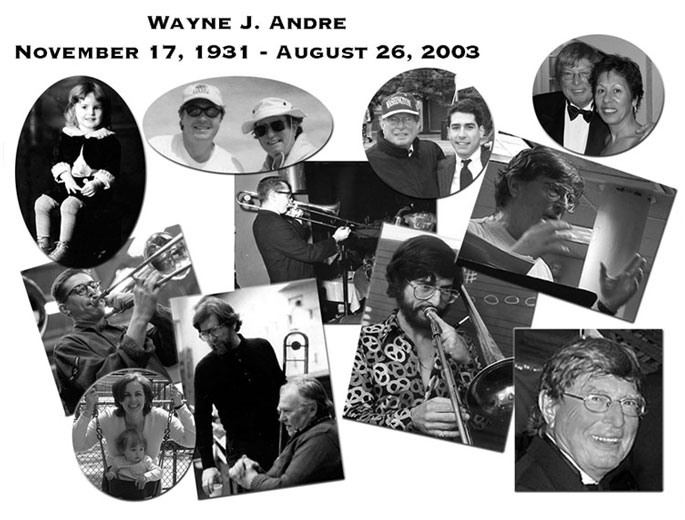 Letter from Mrs. Wayne Andre >
Wayne Andre passed away at home at 10:10pm on 8/26/03. We were all able to say good-bye and I was with him at the end.

We would prefer people make donations in his name to VH1 Save the Music.
They can be reached at 1-888-841-4687
or on line at www.vh1.com and click on the "Save the Music" icon at the bottom of the page. Then click "make donation" and indicate that the donation is in honor of another. You will be asked for Wayne's name after you fill out the donation form.

Or send check payable to:

VH1 Save the Music
1515 Broadway, 20th floor
New York, NY 10036

Lourdes Andre (Mrs. Wayne Andre)
323 West 101st. St
New York, NY 10025
llandre@pipeline.com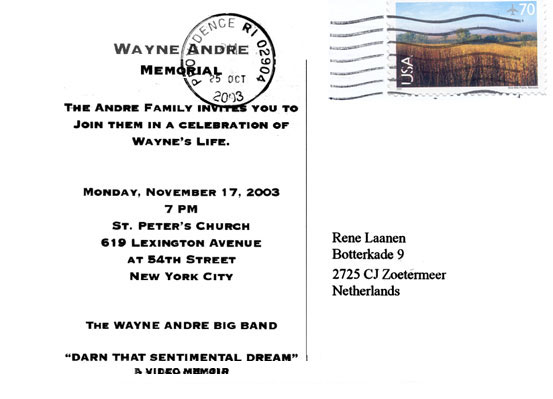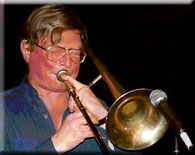 Wayne Andre photo Bill Spilka

Andre started his long career performing with and writing for Charlie Spivak, Sauter-Finnegan, and Woody Herman. He composed his "Nutcracker" and arranged "The Preacher" for the Kai Winding septet in the mid-1950's. Many of his arrangements, such as "Sentimental Over You", are still performed in music schools and by bands around the country. In the 1960's, he performed with Gerry Mulligan's first Concert Jazz Band, the Thad Jones-Mel Lewis Orchestra, and Clark Terry's big band. He also joined Benny Goodman's "Mission to Russia" in 1962.
After settling in New York City, Andre became a sought-after studio sideman and soloist, recording with top artists in many genres. His solos may be heard on such varied albums as Liza Minelli's "More Than You Know" on Liza with a Z, and Alice Cooper's "Blue Turk" on School's Out. The New York Chapter of the National Academy of Recording Arts and Sciences, the association that presents the annual Grammy Awards, presented Andre with the Most Valuable Player Award in 1982 and 1986. However, his heart remained with Jazz. During this time he also played with Lynn Welshman's Tentet, The Mingus Big Band and Epitaph Band, Jaco Pastorius' "Word of Mouth" band and many others. He also performed with his own quintet and septet. (continued) A graduate of Manhattan School of Music, Wayne Andre dedicated his life to the furtherance of music and music education, giving encouragement and inspiration to many young musicians and composers. In May, 1995 the NY Brass Conference honored him for his life-long dedication to music. At that event Berklee College presented him with a plaque in recognition of his "life long service to and contributions in the music industry".
Wayne Andre continued to write music throughout his life. He premiered his composition for trombone and symphony orchestra, "The Rise and Fall of Love," with the Oslo Big Band Orchestra in Norway. Andre enjoyed writing for and performing with his own big band. Recently he had been performing with Mike Longo's New York State of the Art Jazz Ensemble.
Wayne is survived by his wife Lourdes, his sons Matthew and Keith, his daughter-in-law Cynthia, his grand daughter Emily, his sisters Claire and Gail, his brother-in-law Kenneth, and countless others who loved him.

Dear Wayne, Thank you for sharing your marvelous trombone talents with the rest of us.
God Bless you! ~ René Laanen, Trombone Page of the World.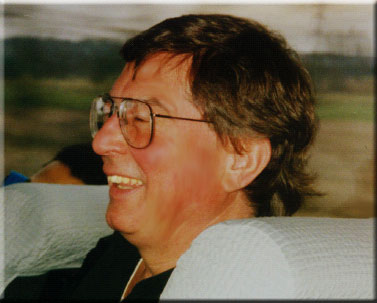 Wayne Andre (Photo Rodney Lancaster)
Discography
Gerry Mulligan Legacy (1949)
Yusef Lateef Every Village Has a Song: The... (1949)
Toots Thielemans Verve Jazz Masters 59 (1953)
Tony Bennett Jazz (1954)
Sarah Vaughan George Gershwin Songbook, Vol. 2 (1955)
Kai Winding Trombone Panorama (1956)
Woody Herman Blues Groove (1956)
Woody Herman & His Orchestra: 1956 (2000)
Gerry Mulligan with Ben Webster (1957)
Benny Goodman Yale Recordings, Vol. 4: Big Band... (1957)
Kai Winding Septet In Cleveland 1957
Kai Winding Septet Cleveland June 1957
Benny Goodman King of Swing 1958-1967
Various Artists Live at Newport 1960 (1960)
Bob Brookmeyer Gloomy Sunday and Other Bright... (1961)
Joe Morello Joe Morello (1961)
Gary McFarland How to Succeed in Business without (1961)
Manny Albam Jazz Goes to the Movies (1962)
Antonio Carlos Jobim Girl from Ipanema: The Antonio... (1962)
Various Artists Wave: Antonio Carlos Jobim... (1962)
Best of Esther Phillips (1962
Jimmy Smith Talkin' Verve: Roots of Acid Jazz (1963)
Billy Taylor Right Here, Right Now (1963)
Billy Taylor Trio Up-Tempo Taylor!
Sarah Vaughan Complete Sarah Vaughan on Mercury, (1963)
Carmen McRae Ultimate Carmen McRae (1964)
Erroll Garner Now Playing: A Night at the Movies... (1964)
Wes Montgomery Plays the Blues (1964)
Wes Montgomery Verve Jazz Masters 14 (1964)
Wes Montgomery Talkin' Verve: Roots of Acid Jazz (1964)
Wes Montgomery's Finest Hour (1964)
Sarah Vaughan Viva! Vaughan (1965)
Sarah Vaughan Sings the Mancini... (1965)
Wes Montgomery Goin' out of My Head (1965)
Oscar Peterson Trio With Respect to Nat (1965)
Kai Winding In Instrumentals (1965)
Astrud Gilberto Talkin' Verve (1965)
Manny Albam Brass on Fire (1966)
Jimmy McGriff Tribute to Count Basie (1966)
Wes Montgomery California Dreaming (1966)
Manny Albam Sketches from the Book of Life (1966)
Kenny Burrell Blues -- The Common Ground (1967)
Brass Janis Ian Janis Ian (1967)
Astrud Gilberto Beach Samba (1967)
Wes Montgomery Road Song (1968)
Kenny Burrell Night Song (1968)
George Benson Shape of Things to Come (1968)
George Benson Verve Jazz Masters 21 (1968)
Milton Nascimento Courage (1968)
Quincy Jones I Heard That! (1969)
George Benson Other Side of Abbey Road (1969)
Manhattan Transfer Jukin' (1969)
Best of Roy Ayers: Love Fantasy (1970)
Bill Evans From Left to Right (1970)
Quincy Jones Gula Matari (1970)
Best of Freddie Hubbard [Columbia] (1970)
Quincy Jones Smackwater Jack (1971)
Johnny "Hammond" Smith Wild Horses/Rock Steady (1971)
Yusef Lateef Part of the Search (1971)
George Benson White Rabbit (1971)
Lena Horne Nature's Baby (1971)
Grover Washington, Jr. Inner City Blues (1971)
Grover Washington, Jr. All the King's Horses (1972)
Randy Weston Blue Moses (1972)
Gabor Szabo Mizrab (1972)
Airto Free (1972)
Hank Crawford Help Me Make It through the Night (1972)
Deodato Prelude (1972)
Best of Paul Desmond (1972)
Hermeto Pascoal Hermeto (1972)
Freddie Hubbard Sky Dive (1972)
Jon Lucien Rashida (1973)
Various Artists Sondheim: A Musical Tribute (1973)
Original Soundtrack Godspell [Original Motion Picture... (1973)
Donny Hathaway Extension of a Man (1973)
Charles Earland Dynamite Brothers (1973)
Deodato Deodato 2 (1973)
Hank Crawford Wildflower (1973)
Roy Ayers Coffy (1973)
Luiz Bonfá Jacarandá (1973)
Dawn Dawn's New Ragtime Follies (1973)
Grover Washington, Jr. Soul Box, Vol. 2 (1973)
Grover Washington, Jr. Mister Magic (1974)
George Benson Bad Benson (1974)
Felix Cavaliere Felix Cavaliere (1974)
Freddie Hubbard Polar AC (1974)
Johnny "Hammond" Smith Higher Ground (1974)
O'Donel Levy Dawn of a New Day (1974)
Bob James One (1974)
Tony Mottola & the Brass Menagerie... (1974)
Janis Ian Aftertones (1975)
Bob James Two (1975)
Manhattan Transfer Manhattan Transfer (1975)
Judy Collins Judith (1975)
Chick Corea Music Forever and Beyond (1975)
Chick Corea & Return to... Leprechaun (1975)
Gloria Gaynor Experience Gloria Gaynor (1975)
Phil Woods New Phil Woods Album (1975)
Zulema R S V P (1975)
Bruce Springsteen Born to Run (1975)
Frankie Valli Closeup (1975)
Stanley Turrentine Man with the Sad Face (1976)
Hubert Laws Romeo & Juliet (1976)
Hubert Laws Say It with Silence (1976)
Gloria Gaynor I've Got You (1976)
Gato Barbieri Caliente! (1976)
George Benson George Benson Collection (1976)
Deodato Very Together (1976)
Eric Gale Ginseng Woman (1976)
Eric Gale Ginseng Woman/Multiplication (1976)
Dory Previn We're Children of Coincidence and... (1976)
Manhattan Transfer Pastiche (1976)
Weldon Irvine Sinbad (1976)
Bob James Three (1976)
Lalo Schifrin Black Widow (1976)
Bob James Heads (1977)
David Matthews Dune (1977)
Meco Star Wars and Other Galactic Funk (1977)
Walter Murphy Rhapsody in Blue (1977)
David Ruffin In My Stride (1977)
Jess Roden Band Player Not the Game (1977)
Patti Austin Havana Candy (1977)
Billy Cobham Simplicity of Expression: Depth of (1977)
Rachel Faro Refugees (1977)
Maynard Ferguson Conquistador (1977)
Fania All-Stars Rhythm Machine (1977)
Gloria Gaynor Glorious (1977)
Dexter Gordon Sophisticated Giant (1977)
Martha Velez American Heartbeat (1977)
Sylvia Syms She Loves to Hear the Music (1978)
Original Soundrack Wiz [Original Soundtrack] (1978)
Benny Goodman Live at Carnegie Hall... (1978)
Eric Gale Multiplication (1978)
Deodato Love Island (1978)
Billy Cobham Magic/Simplicity of Expression... (1978)
Mark Colby Serpentine Fire (1978)
Alessi Brothers All for a Reason (1978)
Brooks Arthur Ensemble Traces (1978)
Gato Barbieri Ruby, Ruby (1978)
Dean Friedman Well Said the Rocking Chair (1978)
Heath Brothers Passin' Thru (1978)
Van McCoy My Favourite Fantasy (1978)
Best of Bob James [Castle] (1978)
Buddy Rich No Jive (1978 )
Jimmy Owens Headin' Home (1978)
The Players Association Born to Dance (1978)
Orchestra David Spinozza Spinozza (1978)
Wilbert Longmire Champagne (1979)
New York City Band New York City Band (1979)
Heath Brothers In Motion (1979)
Terumasa Hino City Connection (1979)
Rupert Holmes Partners in Crime (1979)
Bob James Lucky Seven (1979)
Bob James Touchdown (1979)
Gato Barbieri Euphoria (1979)
Tina Turner Love Explosion (1979)
Steely Dan Gaucho (1980)
Randy Crawford Everything Must Change (1980)
Sesame Street In Harmony (1980)
Jess Roden Band Stonechaser (1980)
Wilbert Longmire With All My Love (1980)
Meco/Various Artists Christmas in the Stars... (1980)
Marlena Shaw Take a Bite (1980)
Lena Horne Lena Horne: The Lady and Her Music (1981)
Judy Collins Times of Our Lives (1982)
Jaco Pastorius Big Band Twins Live in Japan 1982 [2 CD] (2000)
Bob James Hands Down (1982)
Glenn Miller Orchestra In the Digital Mood.. (1983)
Jaco Pastorius Invitation (1983)
Tramaine Search Is Over (1983)
Various Artists Digital Big Band Bash (1983)
Frank Sinatra L.A. Is My Lady (1984)
Bobby Short 50 by Bobby Short (1986)
Pat Williams Pat Williams:.. Think (1986)
Patrick Williams New York... 10th Avenue (1986)
Cleo Laine Cleo Laine Sings Sondheim (1987)
Various Artists Compact Jazz: Best of the Big... (1987)
Wes Montgomery Compact Jazz (1987)
Urbie Green 21 Trombones, Vol. 1 (1987)
Stephanie Nakasian Comin' Alive (1988)
Hermeto Pascoal Brazilian Adventure (1988)
Jimmy McGriff Funkiest Little Band in the Land... (1991)
Glenn Miller Orchestra In the Digital Mood (1991)
L.J. Reynolds (1991)
Manhattan Transfer Anthology: Down in Birdland (1992)
Gerry Mulligan Jazz 'Round Midnight... (1992)
Doc Severinsen Good Medicine (1992)
James L. Dean Mise En Scene (1992)
Benny Goodman Compact Jazz (1992)
Various Artists GRP 10th Anniversary Collection (1992)
Various Artists Meltdown: The Birth of Fusion (1992)
Various Artists Big Band: Jazz 'Round Midnight (1992)
Various Artists Meltdown: The Birth of Fusion (1992)
Various Artists Jazz 'Round Midnight: Big Band (1992)
Benny Goodman Swing Swing Swing, Vols. 1-5 (1993)
John Pizzarelli Naturally (1993)
Steely Dan Citizen Steely Dan (1993)
Various Artists Four Jazz Legends Live at Newport... (1994)
Gerry Mulligan Verve Jazz Masters 36 (1994)
Gerry Mulligan with... Concert Jazz Band (May) (1994)
Leon Bryant Mighty Body (1994)
Trombone Patti Austin Best of Patti Austin [Columbia] (1994)
Benny Goodman Verve Jazz Masters 33 (1994)
Kenny Burrell Verve Jazz Masters 45 (1995)
Roy Ayers Evolution: The Polydor Anthology (1995)
Cynthia Crane & Mike Renzi Blue Rendezvous (1995)
Oliver Nelson Verve Jazz Masters 48 (1995)
Various Artists Sax for Lovers [Sony] (1996)
Various Artists Bending Towards the Light: Jazz... (1996)
Various Artists Jazz Big Names, Vol. 2 (1996)
Various Artists Groovy, Vol. 1: A Collection of... (1996)
Various Artists Gentle Jazz (1996)
Astrud Gilberto Jazz 'Round Midnight.. (1996)
Freddy Cole It's Crazy, But I'm in Love (1996)
Maynard Ferguson This Is Jazz, Vol. 16 (1996)
Best of Grover Washington, Jr. (1996)
Various Artists Cool Fever: From Disco Jazz to... (1997)
Various Artists Vanguard Collector's Edition (1997)
Various Artists CTI Records: The Birth of Groove (1997)
Leon Bryant Finders Keepers/Mighty Body (1997)
Judy Collins Forever: An Anthology (1997)
Meco Best of Meco (1997)
Laura Nyro Stoned Soul Picnic: The Best of... (1997)
John Pizzarelli Our Love Is Here to Stay (1997)
John Pizzarelli Meets the Beatles (1998)
Various Artists Atlantic Jazz: Vocal Classics (1998)
Various Artists Complete Johnny Mercer Songbook (1998)
Various Artists Uno Dos Tres: Latin Jazz Grooves (1998)
Various Artists Pure Swing: Jivin' Jams [Two Disc] (1998)
Various Artists Pure Swing: Hold Your Hats (1998)
Various Artists Trip to Brazil: 40 Years of Bossa... (1998)
Manny Albam Sketches of Jazz: Music From the... (1998)
Grover Washington, Jr. Ultimate Collection (1999)
Chris Connor Warm Cool: Atlantic Years (1999)
Conte Candoli/Lou Levy... West Coast Wailers/Sings Ballads... (1999)
Neal Fox Painting Carol Fredette Everything I Need .. (1999)
Erroll Garner That's My Kick/Gemini/Magician... (1999)
Benny Goodman Ain't Misbehavin' (1999)
Ricky Martin Sound Loaded (2000)
Mike Longo Explosion (2000)
Jaco Pastorius Incontournables (2000)
Various Artists Night Out With Verve (2000)
Various Artists Ken Burns Jazz: The Story of... (2000)
Paul Desmond Lemme Tell Ya 'Bout Desmond (2000)
Gato Barbieri Gato Barbieri's Finest Hour (2000)
George Benson Anthology (2000)
Woody Herman Complete Capitol Recordings of... (2000)
Sarah Vaughan Sarah Vaughan's Finest Hour (2000)
Charles Earland Anthology (2001)
Very Best of Patti Austin (2001)
Best of Judy Collins (2001)
The Blackbyrds & Charles... At the Movies (2001)
Soloist Deodato Preludes & Phapsodies (2001)
Astrud Gilberto Astrud Gilberto's Finest Hour (2001)
Mike Longo Aftermath (2001)
Quincy Jones Q: The Musical Biography of Quincy (2001)
Bob James Restoration: The Best of Bob James (2001)
Johnny "Hammond" Smith Wild Horses [Japan] (2001)
Bob James Essential Collection: 24 Smooth... (2002)
Bob James Lucky Seven [Japanese Bonus Track] (2002)
Bob James Three [Japanese Bonus Track] (2002)
Bob James Touchdown [Japanese Bonus Track] (2002)
Bob James One [Japanese Bonus Track] (2002)
Bob James Heads [Japanese Bonus Track] (2002)
Bob James Hands Down [Japanese Bonus Track] (2002)
Bob James Two [Japanese Bonus Track] (2002)
George Benson Bad Benson [2002 Reissue] (2002)
Deodato Eumir Deodato Plays Marcos Valle (2002)
Various Artists Mercury Songbook (2002)
Deodato Deodato 2 [2002 Reissue] (2002)
Deodato Skyscrapers (2002)
Fania All-Stars Que Pasa The Best of Fania All... (2002)
Jerry Jerome Something Borrowed, Something Blue (2002)
Various Artists Bossa Nova for Lovers (2003)
Bob James One Two Three & BJ4 (2003)
Jaco Pastorius Punk Jazz: The Jaco Pastorius... (2003)
Dean Friedman 25th Anniversary... (2003)
Astrud Gilberto That Girl from Ipanema
Astrud Gilberto Diva Series (2003)
Sarah Vaughan Diva Series (2003)
George Williams Swing Classics in Stereo/Put on... (2003)
Johnny "Hammond" Smith Prophet































Copyright 2022 René Laanen - Trombone Page of the World
Please direct comments and questions about this web site to René Laanen ~ contact