FRANS VAN DYCK



This page is updated: April 13, 2022 11:14 AM
Frans Van Dyck, aka 'Frankie Dake', is a Belgian jazz trombone player. He was born in Edegem (Antwerp) in Belgium on October 31st, 1923 and past away March 17, 2018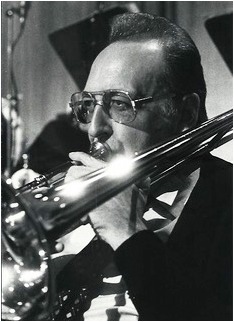 | | |
| --- | --- |
| | A beautiful solo from Frans with the BRT Orchestra in Brussels |
Like many other musicians of the late 1930's he started as a self-taught player in the local music associations.
In 1943 Frans Van Dyck became "First Price Laureat Trombone" at the Flemish Royal Music Conservatory in Antwerp. Shortly after he began playing with the famous orchestras of Harry Bart and Willy Rockin.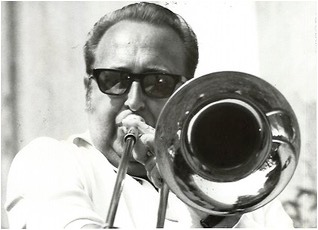 The entertainment music brought him on tour in Belgium and The Netherlands. It earned him performances before the Canadian Army and, gigs with well known American musicians as Nat Peck (trombone) and Jay Cameron (Sax). Further more he played with Belgian stars as Christian Kellers, Jean Warland, Bobby Jasper and Jack Sels with his big Be-Bop Orchestra. Many others followed, ie Fud Candrix, Ernst van 't Hof, Kurt Edelhagen, Johnny Dover, Caravelli, Theo Mertens, Eddy House, Freddy Sunder, Gery Liekens. Worthwile to mention is him playing with The Jiggs Whigham Group, a well known American trombonist with a innovative new sound.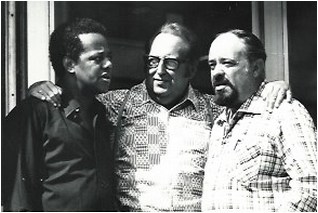 Frank with Slide Hampton and Sadi (1974)
For a while he participated in The Orchestra Henry Segers (1952) and in the Entertainment Orchestra of Francis Bay (1955). With Henry Segers he played at the wedding of King Boudewijn. With Francis Bay he won 'The Golden Gondola' at the Venice festival. Finally he played at the BRT (Belgian Broadcast Chain), initially with the Festival Orchestra conducted by Fernand Terby and subsequently with the Jazz Orchestra led by Etienne Verschueren. Frans Van Dyck had the opportunity to play with Slide Hampton, Frank Rosolino, and so many others
As trombonist and soloist of the BRT Jazz Orchestra, Frans Van Dyck enjoyed traveling around the world. Accordingly he performed in many places ie Denmark, Zaïre, Japan, Russia, Spain, Senegal, Tunisia, Swiss, etc.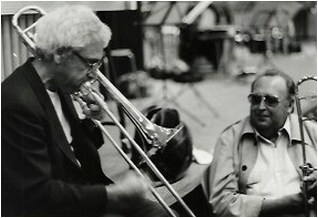 Frank with Frank Rosolino (1978)
He is specialized in combo music, in big band and commercial dance music. On top of that he is well versed in music for brass band, concert band and marching band. Overall he composed his own collection of about 400 printed arrangements for orchestra; publicised at Mottart, Leuven.
Will be further completed and you can also find more information here: https://fransvandyck.wordpress.com
Some of his musical works: The Swinging Bones, Jogging Samba, Taxi Mambo, Salsa Sentimental, Qui vivra verra, Millenium Mania, Just Like Basie, Europarade, The Count, Nathalie in Italy, Disco Mambo, ......




Copyright 2022 René Laanen - Trombone Page of the World
Please direct comments and questions about this web site to René Laanen ~ contact