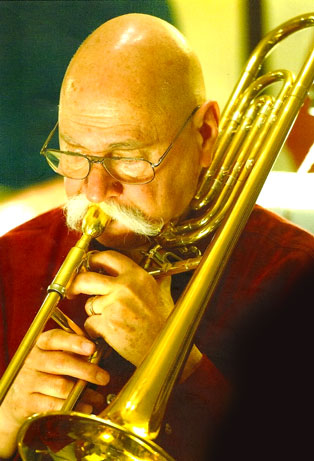 I joined the 60-piece Santa Clarita Concert Band on 3rd (not being the pushy type) & ended up as Principal. A really excellent conductor & some fine musicians there. Seeking out other chances to play I found a little group of about a dozen Senior citizens puffing & scraping away in a little outfit they called an "Orchestron."
The trumpet player's husband plays banjo, keyboard, guitar, autoharp, guitar, snare drum & six strings. The leader would pass out "lead sheets" to old Pop songs & sing each part to the string players until they memorized them! I got tired of hearing everybody playing unison followed by a melodic solo & a unison Out Chorus. I would fake my own harmony lines - he loved that - but he passed away last December & somehow I became the Musical Director, conductor, librarian & chief bottle-washer. I brought in a couple of old Jack Mason & Johnny Warrington charts that had real string parts & now the group is starting to sound a lot better.
After subbing in several "kicks" bands (there are a lot of unemployed studio-
quality players who play in these bands because the work is no longer around & they've got to keep their chops up). Musically, for my taste my regular Wednesday night "gig" (no money is involved) in a Mexican restaurant is the most satisfying. Led by a former Stan Kenton bassist, the outfit includes veterans from Les Brown's band & the stalwart & versatile Dave Wells in the jazz chair. (I do get an occasional solo, 'tho). We also get a very occasional paid gig, but there's nothing like playing with the same guys each week to help develop an ensemble sound.
Of course L.A. is a mecca for some of the finest players in the world & I'm still doing my video interviews with the surviving original sidemen from the Big Band Era who have settled out here. I've recently expanded my territory to include the wonderful players still living & working in Las Vegas. I'm donating all of my tapes to the Arnold Shaw Popular Music Research Center at the University of LV, directed by Ken Hanlon, which has a generous endowment for properly cataloging, storing & preserving my materials. It's the only Educational facility I know of that has not been affected by the budget-slashing economic problems all the rest of them have.
I also cover some of the many live jazz club appearances of my favorite players as well as events produced by the L.A. Jazz Society & the L.A. Jazz Institute. In 2011 the LAJS presented a well-deserved award to Ira Nepus as Jazz Educator of the year & Ken Poston's LAJI puts on two 4-day Jazz Festivals every year at the LAX Marriott that feature a plethora of big bands composed of the cream of LA studio players & Alumni. Next month they're having a 100th Anniversary Tribute to Woody Herman & are inviting all of the surviving alumni to come to play & reminisce about some of the greatest bands of my generation. I'm looking forward to covering every minute of it as I have the last three Festivals..
BILL SPILKA - MY QUALIFICATIONS:
(OR WHY YOU SHOULD HIRE ME INSTEAD OF ANDY MARTIN)
APPEARANCE: I'm taller & wider than Andy Martin...so I'll make your trombone section look bigger!
BACKGROUND: I got my first horn before slide locks were invented, so I have an exceptionally strong left pinkie grip. I also finished the complete Tune-A-Day book well before Andy Martin was even born!
TECHNIQUE: Can play one 64th note at any tempo.
RANGE: Strong Double High F (2nd ledger line above staff).
ENDURANCE: Will stand for solos upon request.
SIGHT-READING: Excellent! Read almost anything after the fifth run-through (& play pppp the 1st time!)
VERSATILITY: Can play in keys with as many as 3 flats or even 1 sharp!
TRANSPOSITION: Can read from Eb Alto or Baritone sax parts if needs be.
ADAPTABILITY: Know Alto, Tenor & Treble clefs when I see them. I don't play them, but I recognize them.
REPERTOIRE: Memorized: 2348 Standard melodies, 114 bridges & 6 verses, but not where I parked my car.
COOPERATIVE: Will wear funny hats, play "The Saints" & march in parades as far as two blocks.
FEARLESS: Will mark parts in ink!
AUTHENTIC JAZZ PLAYER: "I'm a very creative player. I never play a solo the same way twice." The same might be said about my lead playing as well.
WARDROBE: Soon-to-be-back-in-style Powder Blue Shawl-collar Bell-Bottom After Six Tuxedo; matt-finish Patent Leather dress slippers, freshly-vulcanized elastic-top black knee-high sox; French Cuff, ruffled-front shirts in pink, green & yellow, plaid cummerbund & bow tie, large "gold" nugget cuff links. Snazzy! For Pit Work I have an All-Black outfit: Shirt, Sox, Shoes & Pants. For a long run will also blacken my hands & head.
EQUIPMENT: .500 bore tenor trombones by Cleveland, Bundy & Buescher; Olds Ambassador with trigger; French Bisson valve trombone for playing Caravan & 3-valve almost-in-tune Edsel Concert Baritone Horn plus a full range of professional mutes: straight, cup; Harmon; solotone; pixie; rubber plunger & pierced felt hat crown. Knew Harry Berg of Humes & Berg personally. Have own trombone stand, music stand & stand light!
EXPERIENCE: Know several alternate positions...including some with the horn.