DAVID STEINMEYER



This page is updated: April 2, 2022 6:37 PM


| | |
| --- | --- |
| | The Rainbow |
| | All Or Nothing At All |
| | Spain |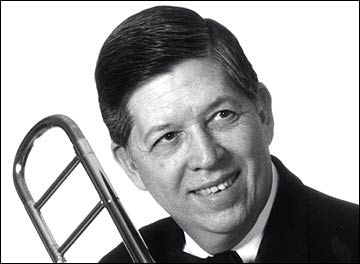 David Steinmeyer, Trombonist & soloist, USA
Dave Steinmeyer is one of the music world's most sought-after jazz trombonists. "Stumpy," as he is known to his associates, is truly a musician's musician. His reputation was forged during his 28 years as a musician in the United States Air Force, with 24 or those years playing lead trombone with the world famous "Airmen of Note" and the last ten years of his tenure as that ensemble's director. During his days with the "Airmen of Note," the band played a weekly live radio show in Washington, D.C. and traveled to Los Angeles three times a year to record albums with many famous musical stars, including Sarah Vaughn, Joe Williams and Frank Sinatra. Dave has produced 10 big band jazz albums with the Airmen of Note and is a featured jazz soloist on the album LEGACY, recorded after his retirement.
Dave currently lives in Jacksonville, Florida and works in the local area as a full-time trombonist. He has performed at the Wolf Trap Filene Center, the Kennedy Center, and various other concert halls with the Smithsonian Jazz Masterworks Orchestra and with artists ranging from Tony Bennett and Johnny Mathis to Christina Aguilera and Marc Anthony. Dave has performed at the White House for seven Presidents, most recently for the inauguration of President George W. Bush.

In addition to these local events, Dave is a world-renowned clinician for Leblanc, making guest appearances as far away as Sydney, Australia, where he was a guest soloist at the Sydney Opera House. In the United States he appears frequently in high schools, colleges, conventions, and many jazz festivals. His clinics cover subjects including upper register, club-dating, ensemble playing, military music as a career, and alcohol/drug-free lifestyle. Dave is known for his high-range ballad style of playing and his love of working with young musicians.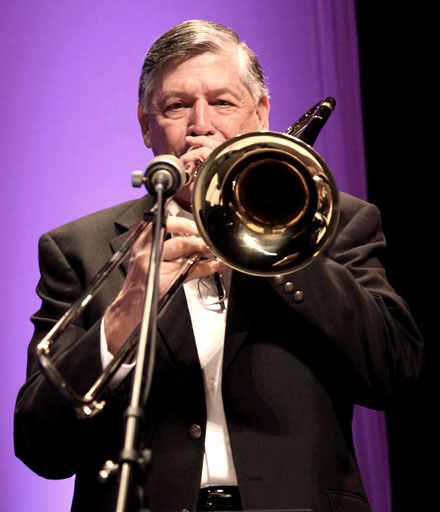 Dave Steinmeyer is one of the music world's most sought after jazz trombonists. The mention of his name brings nothing but praise and smiles. "Stumpy", as he is know to his associates, is truly a musician's musician. Among Dave's credits are the following: 28 years as a musician in the United States Air Force, with 24 or those years playing lead trombone with the world famous Airmen of Note and the last 10 years of his tenure as the "Note's" director. During his days with the "Note" the band played a weekly live radio show in Washington, D.C. and traveled to Los Angeles three times a year to record albums with many famous musical stars, including Sarah Vaughn, Joe Williams, Rosemary Clooney, Frank Sinatra, Patrick Williams, J.J. Johnson, Lou Rawls and Diane Schuur. Dave has produced 10 big band jazz albums with the Airmen of Note and is a featured jazz soloist on the album LEGACY, recorded after his retirement. - Joshua Brown ITA





























Copyright 2022 René Laanen - Trombone Page of the World
Please direct comments and questions about this web site to René Laanen ~ contact