PHIL WILSON



This page is updated: October 31, 2017 11:13 AM

| | |
| --- | --- |
| | |
Phil Wilson



Phillips Elder Wilson, Jr. Born Jan 19, 1937 in Belmont, MA

This is the latest blurb out of Berklee where they are preparing to give Phil Wilson an honorary degree April 16th 2004 at the Fortieth anniversary concert of the Rainbow Band.

Phil Wilson's Rainbow Band

Few have played as active a role in Berklee's evolution into the internationally acclaimed institution it is today as Phil Wilson. Before joining the faculty in September 1965, Wilson had already made a name for himself as a cutting-edge trombonist and big band arranger, recording with Woody Herman, Sarah Vaughan, and Clark Terry, and performing with, among others, Louis Armstrong, Tony Bennett, and the Dorsey Brothers. The busy Berklee teacher became a principal arranger for Buddy Rich, garnering a GRAMMY® nomination for "Mercy, Mercy, Mercy," the last Top 40 big band hit, and wrote what remain saxophonist Illinois Jacquet's most popular big band arrangements. As a trombonist, Wilson performed with such artists as Lionel Hampton, Joe Henderson, Frank Sinatra, Herbie Hancock, and Thad Jones.

During Wilson's first year at Berklee, he formed an after-hours student band that emerged as one of the college's most prestigious classroom ensembles -- and one of its leading ambassadors. In 1967, the band presented its first end-of-semester concert, a custom that continues 37 years later, and in 1968 made the first of over ten appearances at Berklee's Annual High School Jazz Festival. By the early '70s, Wilson's Thursday Night Dues Band had earned a reputation as one of the country's top college jazz bands, and began making high profile appearances at the Boston Globe Jazz Festival, at Boston Sackbut Week, and at Symphony Hall with the BSO. In 1973, to reflect the band's composition, they became the International Dues Band.

By the early '80s, the band was performing on national television and at jazz festivals. In 1985, as the number of international students grew, Wilson changed its name again, and the Berklee Rainbow Band embarked on a six-week Latin American and Caribbean tour for the United States Information Service.

In recent years, the band has been invited to the Juan-les-Pins Jazz Festival in the south of France, the San Jose Jazz Festival, the International Association for Jazz Education, the Tri-C JazzFest in Cleveland, "Autumn Eve - a Tribute to Woody Herman" at the Hollywood Bowl, and with the Jazz Ambassadors of the U.S. Army Field Band. This summer, the Rainbow Band All-Stars will perform for the third time at "Vineyard Vibes" on Martha's Vineyard.

Wilson continues to make worldwide appearances as a trombonist soloist. At Berklee, he has developed new approaches to brass technique and has also made significant contributions to the arranging curriculum. Wilson, who has presented clinics at universities on five continents, is the former chair of the Afro-American Department at the New England Conservatory of Music. He chaired Berklee's Trombone Department until 1974 and is a member of the Board of Directors of the International Trombone Association.

Many of today's most respected musicians began their performing careers in Phil Wilson's student bands, including Greg Abate '68, Gary Anderson '69, Darren Barrett '90, Art Barron '78, Seamus Blake '92, Alan Broadbent '69, Tommy Campbell '79, Terri Lynne Carrington '83, Carol Chaikin '80, Cyrus Chestnut '85, Anat Cohen '98, Joe Cohn '90, Richie Cole '67, Hal Crook '71, Mike Crotty '72, Billy Drewes '74, Christine Fawson '02, George Garzone '72, Dino Govoni '83, Jan Hammer '69, Roy Hargrove '89, Kari Harris '00, Antonio Hart '91, Christopher Hollyday '96, Christian Jacob '84, Mark Kelley '03, Dave Kikoski '82, Alisa Miles '02, John LaBarbera '67, Abe Laboriel, Jr, '93 and Sr.'72, Kuumbwa Frank Lacy '81, Tony Lada '72, Nick Lane '77, John Lockwood '77, Harvey Mason '68, Bill McFarlin '81, Rob Mounsey '75, Wolfgang Muthspiel '90, Wayne Naus '76, Tiger Okoshi '75, Greg Osby '83, Makoto Ozone '83, Keith O'Quinn '73, Danilo Pérez '88, Bill Pierce '73, Marty Richards '86, Scott Robinson '81, Claudio Roditi '70, Adrian Ross '96, John Scofield '73, Daniela Schächter '02, Kendrick Scott '03, Sal Spicola '71, Harvie Swartz '70, Jack Walrath '68, Mamiko Watanabe '03, Ernie Watts '66, (Count Basie and Manhattan Transfer arranger) Dennis Wilson '74, Marshall Wood '83, and Chihiro Yamanaka '00. Says Phil Wilson of his current Rainbow Band, "It's as strong as any band I've had in nearly 40 years."

On December 9, 1995, declared "Phil Wilson Day" in the City of Boston by Mayor Thomas Menino, the college honored Wilson with a 30th anniversary International Dues Band Reunion Concert.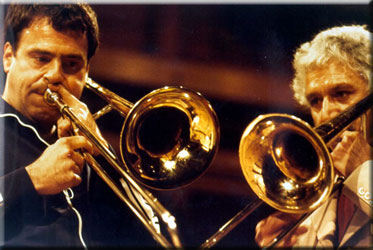 Phil Wilson with Frank Rosolino (Photo Harvard University)

Phil Wilson
It is fitting that Phil Wilson should dedicate his life to education. Careers in education are a family tradition. His grandfather was the first headmaster of the Belmont Hill School in Belmont, Massachusetts, and his father taught at both Belmont Hill School and Phillips Exeter Academy in New Hampshire. Wilson began playing piano at age 5 and was writing arrangements by age 9. After graduating from Phillips Exeter Academy, he studied at the New England Conservatory. He left to go on the road with the Dorsey Brothers Band, playing trombone and later piano. When he was drafted in 1960, Wilson soon became soloist and arranger for the North American Air Defense Command (NORAD) band and studied at the Navy School of Music. Soon after his discharge, he became lead trombone player in Woody Herman's now-famous 1960's band lineup, playing on and contributing arrangements to nine Woody Herman albums.

Wilson joined the Berklee College of Music faculty in September 1965 and has been an active part of the evolution of Berklee into an internationally acclaimed institution. As part of Berklee's Trombone Department (which he chaired until 1974) and Brass Department (of which he is Professor), Wilson has been among the key faculty members who developed new approaches to brass technique. He has also made significant contributions to the arranging curriculum. Wilson also has directed clinics at Frankfurt Conservatory, Harvard University, Kansas State University, Mellon Arts Center, Sidney Conservatorium, University of California, and Yale University. He is the former chair of the jazz division at Boston's New England Conservatory of Music and a former member of the Board of Directors of the International Trombone Association.

Wilson has performed with Louis Armstrong, Buddy Rich, Frank Sinatra, Herbie Hancock, Woody Herman, Thad Jones, Clark Terry, as well as the Dorsey Brothers Orchestra, Frankfurt Radio Big Band (Germany), Hanover Radio Symphony Orchestra, Danish Radio Big Band, Metropole Orchestra (the Netherlands), and NDR Big Band (Hamburg, Germany). He has recorded for the Boston Pops, RCA, Polydor, Capri, Columbia, Famous Door, Freeform, Seaside, and SESAC. . Wilson appeared in November 2001 on Marian McPartland's "Piano Jazz" on National Public Radio

-



Copyright 1998 - 2018 René Laanen - Trombone Page of the World
Please direct comments and questions about this web site to René Laanen ~ contact